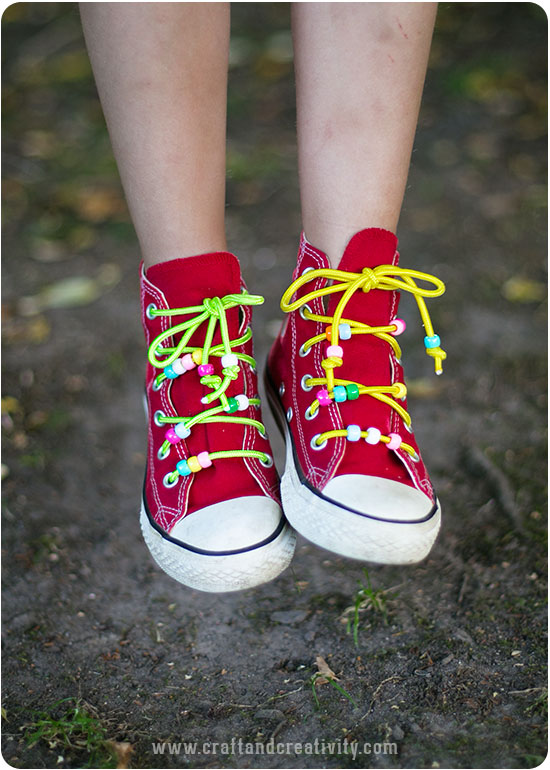 Vanliga skosnören kan ju vara rätt tråkiga och bli slitna med tiden. Byter man ut dem mot färgglada knytsnören och dessutom lägger till lite söta plastpärlor så blir skorna helt unika! Då är det heller ingen risk att de blandas ihop med andra barns skor på skolan eller fritids.
—————
Ordinary shoelaces can get quite dull so why not replace them with colorful nylon cord? If you also add some plastic beads you can give the shoes a unique new look and there is no risk of confusing them with other kid's shoes at school.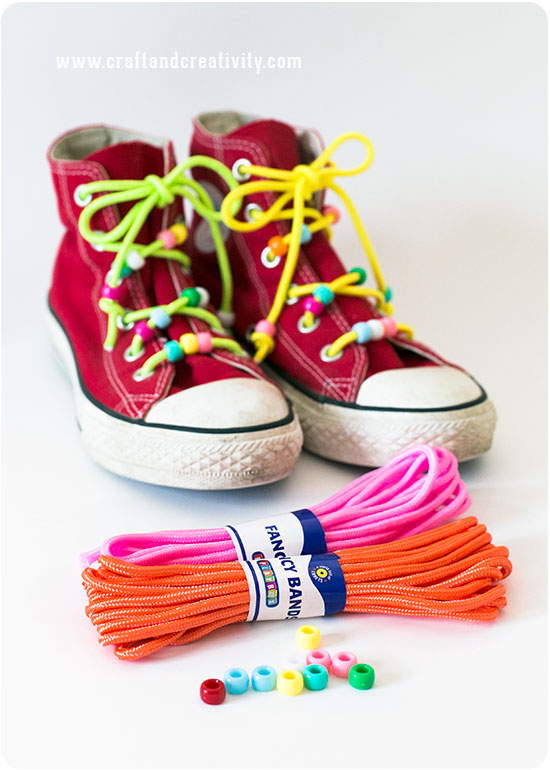 Tjocka knytsnören (även kallad Paracord) används oftast till att knyta armband, nyckelringar eller hundhalsband men de fungerar utmärkt som skosnören också.
———–
Thick nylon cord with a white core (i.e. Paracord) is often used for making bracelets, key chains or dog collars but they work great as shoelaces as well.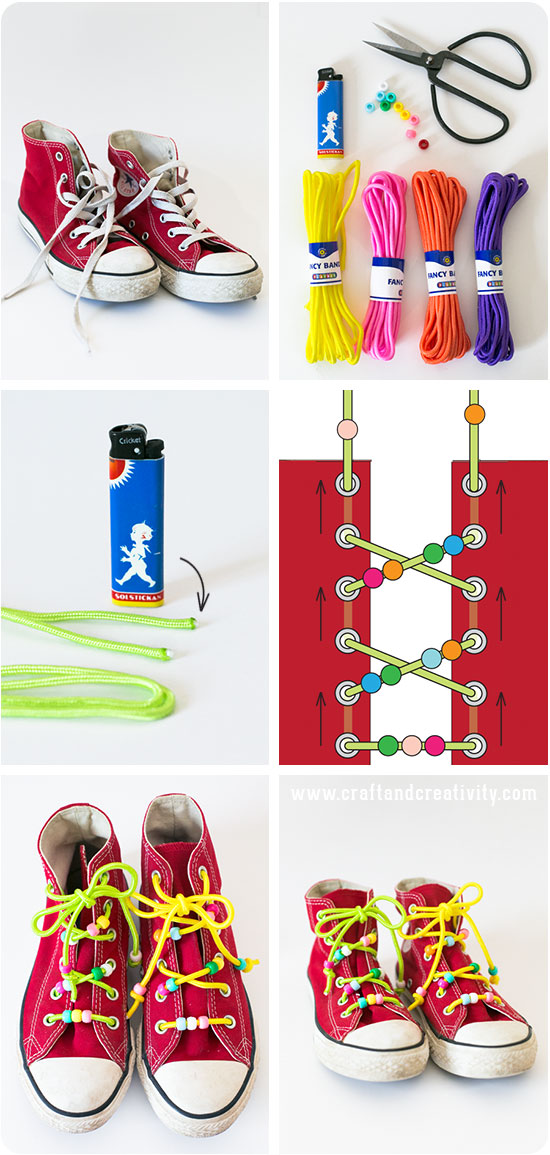 Allt du behöver är: 4-5 mm tjocka knytsnören i en eller två färger, 10-15 st kongopärlor eller andra plastpärlor med 3-4 mm hål, en sax och en tändare.
Gör så här: Trä ur de gamla skosnörena, måtta hur långa de är och klipp till två bitar knytsnöre som är lika långa. Till min 8-åriga dotters skor gick det åt 2×1 meter. Smält ändarna på knytsnöret med en tändare så att de inte repas upp. Var försiktig så att du inte bränner dig. Snöra skorna på valfritt sätt, vi valde att snöra dem enligt schemat ovan för att pärlorna skulle synas bäst. Det är dessutom den typ av snörning som kräver kortast skosnören. Trä pärlorna på snöret allt eftersom du knyter. Avsluta med en pärla på varje ände och knyt en knut.
————-
All you need is: 4-5 mm thick nylon cord in one or two colors, 10-15 plastic beads with big holes, a pair of scissors and a lighter.
Do like this: Unthread the old shoelaces, measure their length and cut two pieces of nylon cord that are equally long. For my 8-year-old daughter's shoes we needed 2×1 meters (2×3.2″). Melt the ends of the cord so that they don't unravel. Be careful not to burn yourself. Lace the shoes in any way you want. We chose to lace them in the way illustrated above. This way the beads stay on top and it requires the least amount of string. Thread the beads on the cord as you go along. Finish with a bead on each end and tie a knot.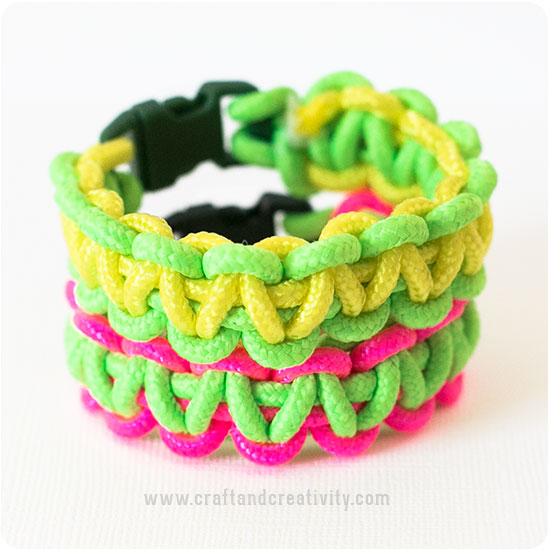 Får du knytsnören över och vill göra matchande armband så ta en titt på min video där jag visar hur du knyter makraméarmband på ett enkelt sätt.
———-
With the access cord you can make a matching bracelet. Take a look at my video tutorial if you want to learn how to tie basic Paracord bracelets.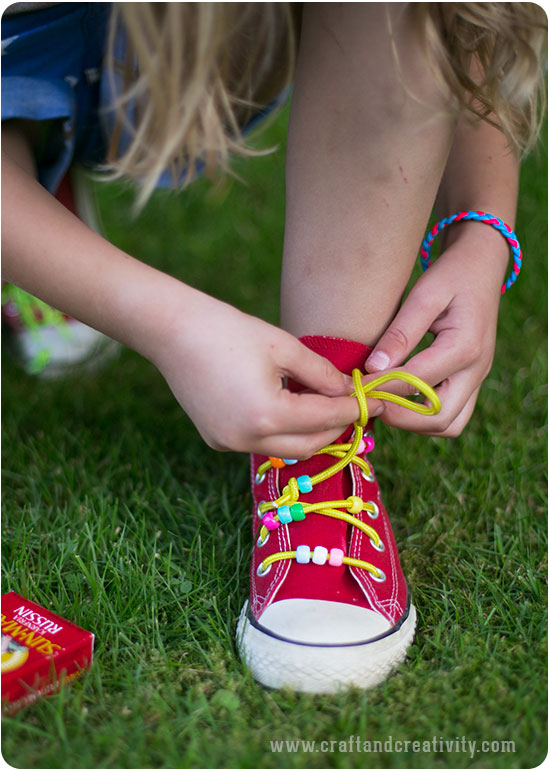 Kika in hos Karin & Freja på bloggen Pysselbolaget för fler tips på hur du kan dekorera tygskor. De visar hur du enkelt kan måla dina eller barnens skor i roliga mönster.
————
Take a look at Karin & Freja's blog Pysselbolaget for additional tips on how to decorate canvas shoes. They will show you how to paint your or your kid's shoes in fun patterns.