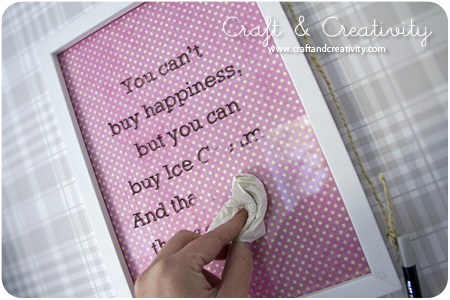 Det här är ett enkelt pyssel som går att variera i det oändliga.
Du behöver:
– Ram med glas
– Möstrade eller enfärgade papper
– Whiteboard-penna
– Snöre
– Tavelkrok eller spik
Gör så här:
Klipp till pappersarket så det passar ramen, måtta gärna med hjälp av glaset eller ramens baksida. Om du vill så klipper du till flera ark med olika färger och mönster för variation när andan faller på. Förslut ramen på baksidan och häng upp din tavla på väggen. Fäst ett lagom långt snöre på whiteboard-pennan och låt den också hänga på tavelkroken. Börja skriva! Det kan vara inköpslistor, veckans matschema, ett klokt citat eller en dikt.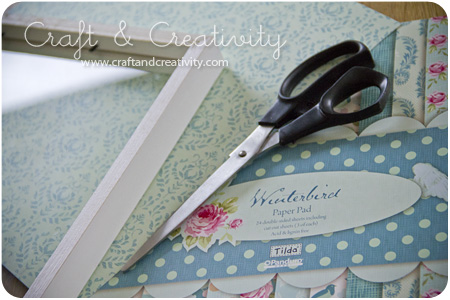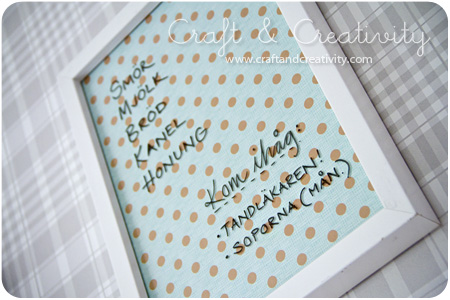 This is really easy to do and can be varied in so many ways. 
You will need:
– Frame with glass
– Patterned or plain paper
– Whiteboard (dry-erase) pen
– Twine
– Picture hook or nail
How-to:
Cut a sheet of paper so it fits the frame, measure with the help of the glass or the back of the frame. If you want to, cut out a number of sheets of various colors and patterns, for variation when you feel like it. Seal the frame on the back and hang your erasable board on the wall. Attach a twine of suitable length to the dry-erase pen and let it hang on the same picture hook as the frame. Start writing! For example write down shopping lists, the week menu, a quote you like or a poem.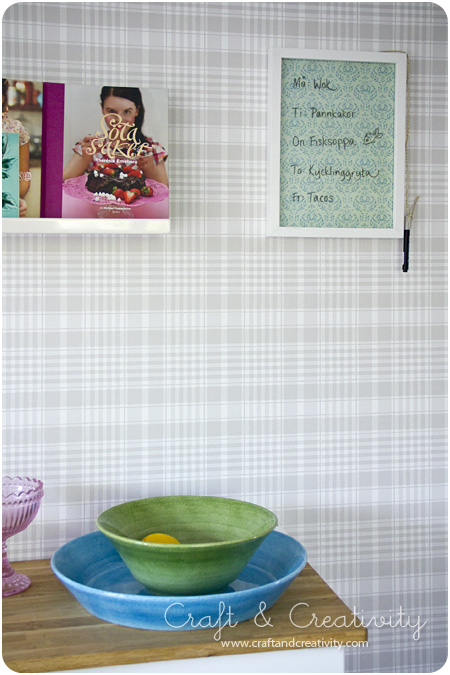 För variation av handstil är ett tips att skriva önskad text i Word, skriva ut den på skrivaren, lägga utskriften under glasskivan och kalkera med whiteboard-pennen. Det blir riktigt snyggt! Jag har gjort en pdf med texterna jag använde, som du kan ladda ner här om du vill.
——
To variate your own handwriting, try this: Type the text you want in MS Word, print it on your printer, put the print-out under the frame glass and trace the text with your dry-erase pen. The result is really neat! I've made a pdf with the texts I used, which you can download here if you like.