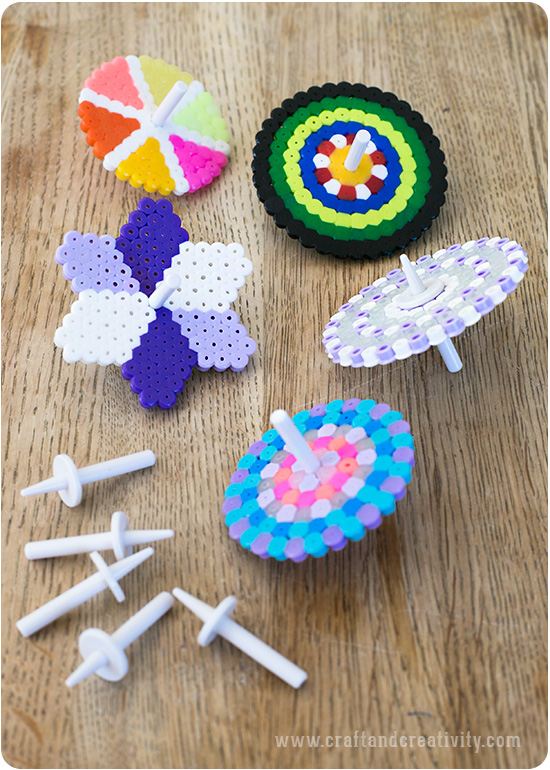 Med små fiffiga plastpinnar, s k gyropinnar, kan du göra världens roligaste snurror av vanliga rörpärlor/strykpärlor/nabbipärlor (kärt barn har många namn). Låt barnen experimentera med olika färger och mönster på sina pärlplattor. När snurrorna snurras så blandas färgerna vilket dessutom kan lära barnen en del om färglära. En gul och blå snurra kan t ex upplevas som grön när du snurrar på den, beroende på hur man lagt mönstret.
———
Did you know that you can make fun spin tops using only ordinary ironing beads and a plastic stick, called gyro stick? Let your kids experiment with different colors and patterns on the pegboards. When you spin the spin tops the colors will blend, which also teaches the kids about basic color theory. A yellow and blue spin top can for example be perceived as green when you spin it, depending on how you made the pattern.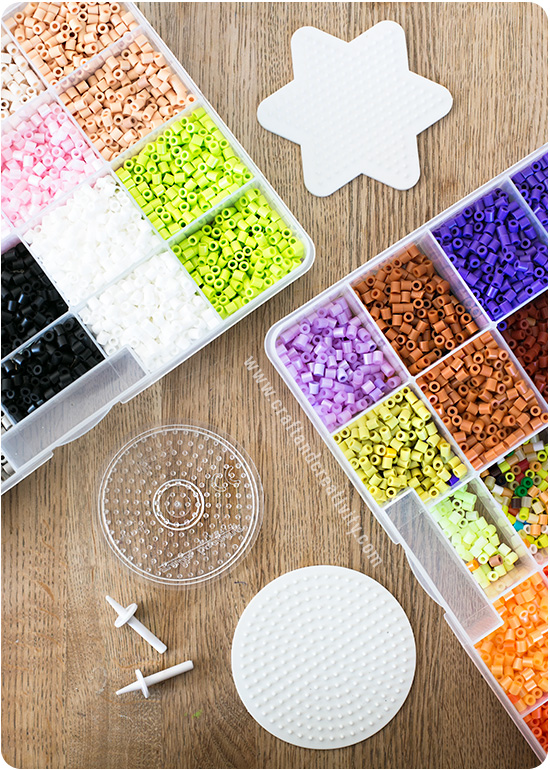 Du behöver: Rörpärlor (även kallade nabbipärlor, strykpärlor eller pärlplattepärlor) i olika färger, små stiftplattor/pärlplattor och gyropinnar. Bakplåtspapper och ett strykjärn behövs när du ska smälta pärlplattorna.
——–
You will need: Ironing beads, small peg boards and gyro sticks. For melting the beads you need parchment paper and an iron.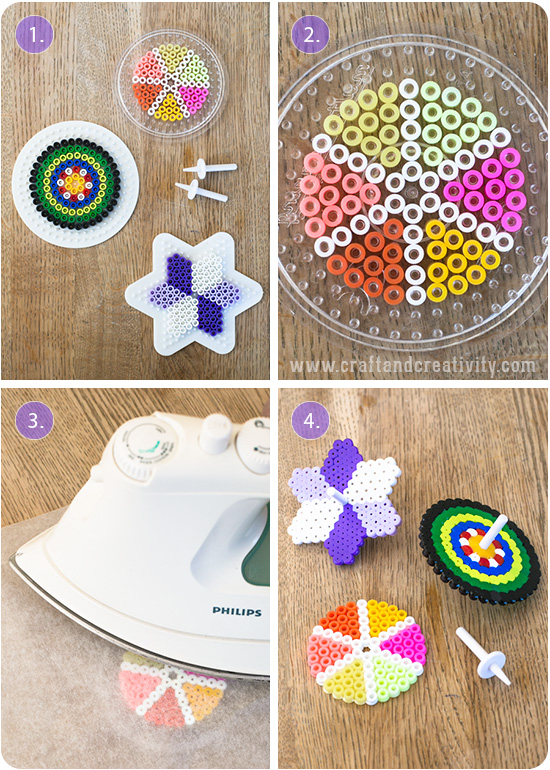 Gör så här: Lägg valfritt mönster med dina pärlplattor men lämna ett hål i mitten där pinnen ska sitta (se bild 2). Pärlorna behöver inte täcka hela pärlplattan utan kan med fördel vara lite mindre, ca 5-6 rader. När du pärlat klart är det dags att smälta pärlorna. Sätt strykjärnet på högsta värmen. Lägg ett ark bakplåtspapper ovanpå pärlplattan och stryk tills pärlorna smält samman. Stäng av ångfunktionen på strykjärnet. Små barn kan behöva hjälp med detta moment. Låt pärlplattan svalna lite, lossa ditt motiv från pärlplattan och trä sedan gyropinnen i hålet. Nu är snurran klar!
———–
Do like this: Create any design you like with the beads on the peg boards, but leave a hole in the middle (see picture 2). The beads need not cover the entire peg board, 5-6 rows is enough. When your done beading, it's time to melt your design. Heat the iron to a medium to high level. Turn off the steam function. Place a sheet of parchment paper on top of the peg board and iron until the beads have fused together. Young children might need help with this. Let the beads cool off, remove the design from the peg board and put the gyro stick in the middle. Now your spin top is done!
Att göra snurror är ett garanterat roligt pyssel för barn (och vuxna) i alla åldrar! Detta får bli vårt bidrag till Monthly Makers tema Pärlor som hålls av Mikaela. 🙂
———
Making spin tops is a guaranteed fun activity for kids (and adults)!