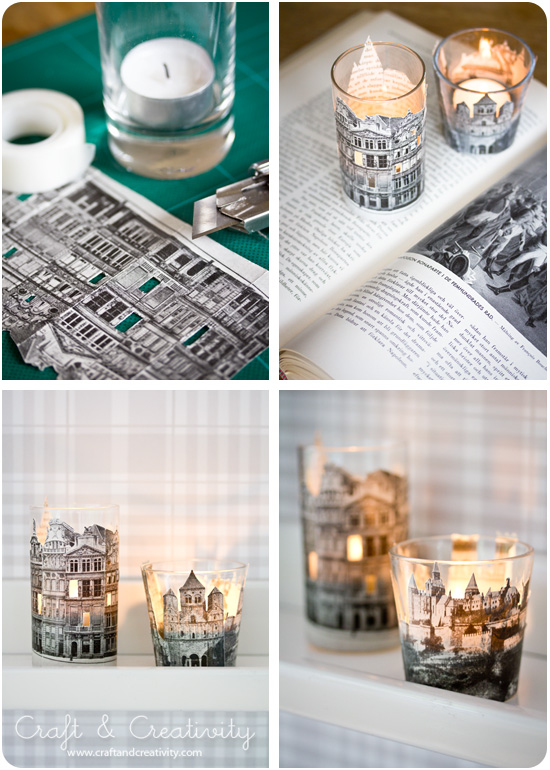 Efter pärlträffen förra helgen var jag och mamma på loppis. Jag var på jakt efter gamla böcker och fick med mig sju tunga, tjocka uppslagsböcker hem. Jag ville testa en pyssel med utklippta pappershus runt ljushållare, som jag sett bland annat hos Sweet Paul.
—
After the bead meet last weekend, my mom and I went to a flea market. I was on the search for old books and I brought seven heavy encyclopedias with me home. The plan was to make paper house candle holders, like those I've seen at Sweet Paul's.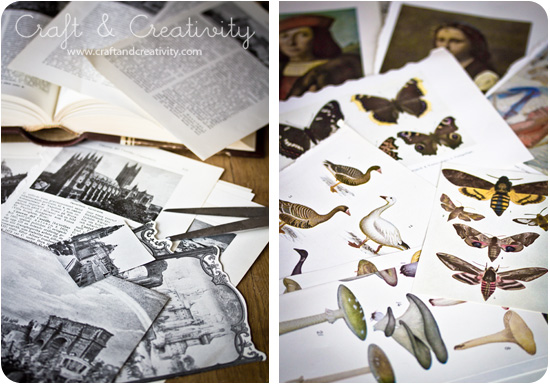 Det var egentligen fotografier på hus jag var ute efter men de lexikon och historieböcker jag fick med mig hem innehöll även vackra bilder på växter, djur, målningar och kartor. Massor med pysselmaterial för framtiden! Som den bokälskare jag är gjorde det lite ont i hjärtat att riva sönder böckerna men jag tröstade mig själv med att de var slitna och att de bara kostade 1 krona styck. Plus att de antagligen kommer sprida mer glädje som inredningsdetaljer än som dammiga gamla böcker på en loppis.
—–
It was originally looking for pictures of old houses, but the dictionaries and history books I came home with also contained beautiful illustrations of flowers, animals, paintings and maps. Lots of material for future crafting! Being the bookwork I am, it was with a little sadness in my heart that I tore the books apart. I consoled myself with the fact that the books were worn and only cost me 1 SEK (10 cent) each. Plus, they are likely to spread more joy as interior accents than dusty old books at a flea shop. 
Jag klippte ut husen med en sax och skar ut några av fönstren med en hobbykniv, för att skapa en genomlysningseffekt. Sedan satte jag papperet runt dricksglas och tejpade ihop på baksidan. Slutligen klippte bort överflödigt papper för att passa glasets form. En annan idé för återvinning kan vara att använda gammal glasburkar.
—-
I cut out the houses with a pair of scissors and cut out a couple of the windows with an exacto knife to create a transparency effect. I wrapped the paper around small drinking glasses and and secured with tape at the back. Finally, I cut away any access paper. Another idea for recycling could be to use old jars instead of glasses.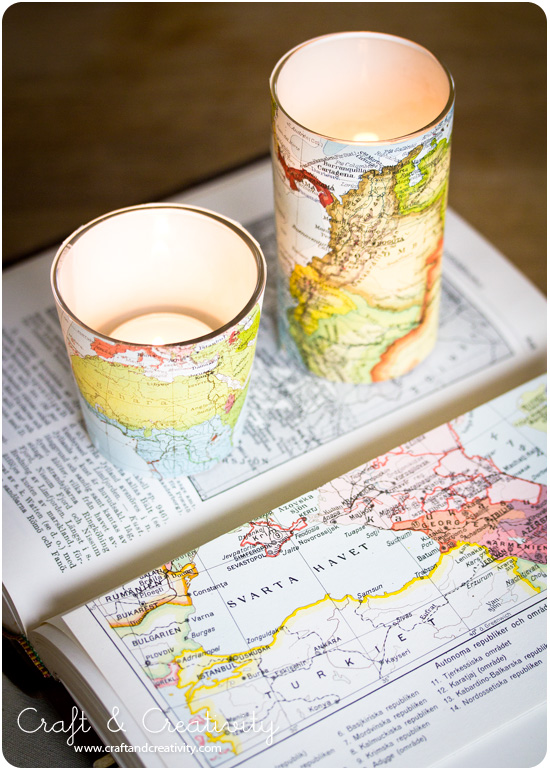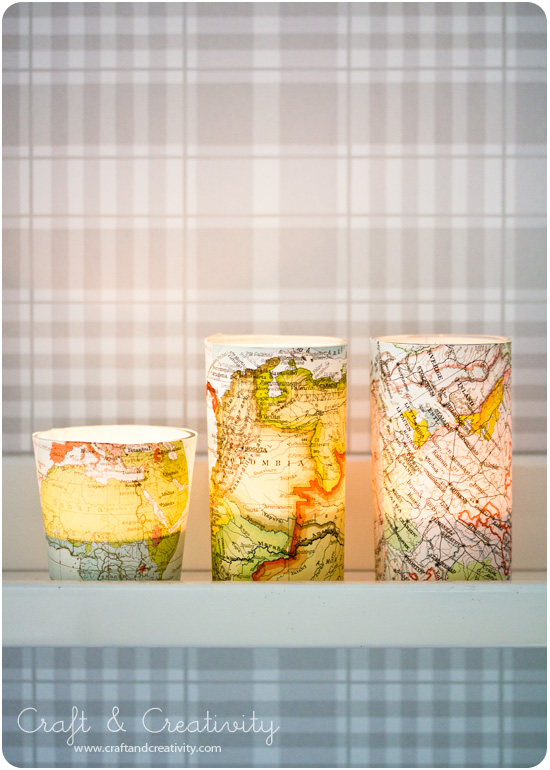 När jag väl var varm i kläderna fortsatte jag med kartorna och gjorde likadant med dem. /
While I was on a roll, I did the same with the maps.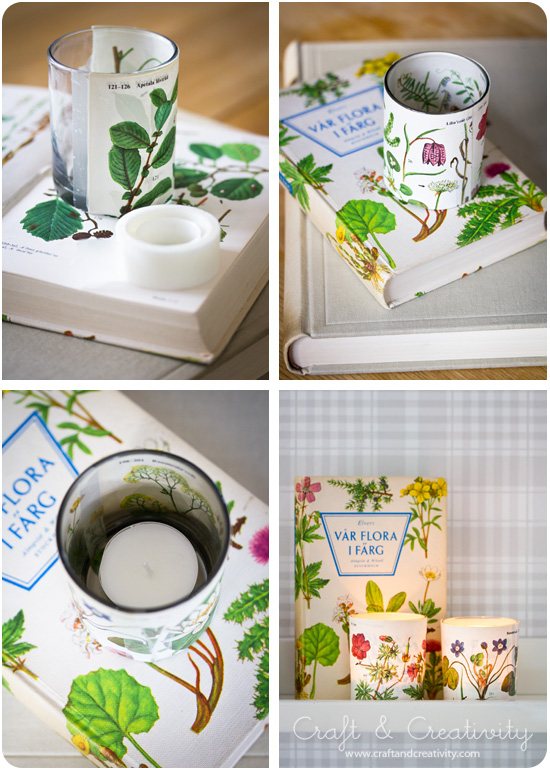 En gammal florabok som jag loppisfyndat tidigare fick också vara med och bidra till samlingen av ljuslyktor. De blev nästan finast av alla, tycker jag. Florabilder har jag använt förut när jag tejpade upp dem i hallen på övervåningen. /
An old botanical book from a previous flea market bargain-hunt also contributed to my collection of votives. I think they turned out to be the prettiest of them all. I've used botanical pictures before when I taped them to a wall in our upstairs hallway.