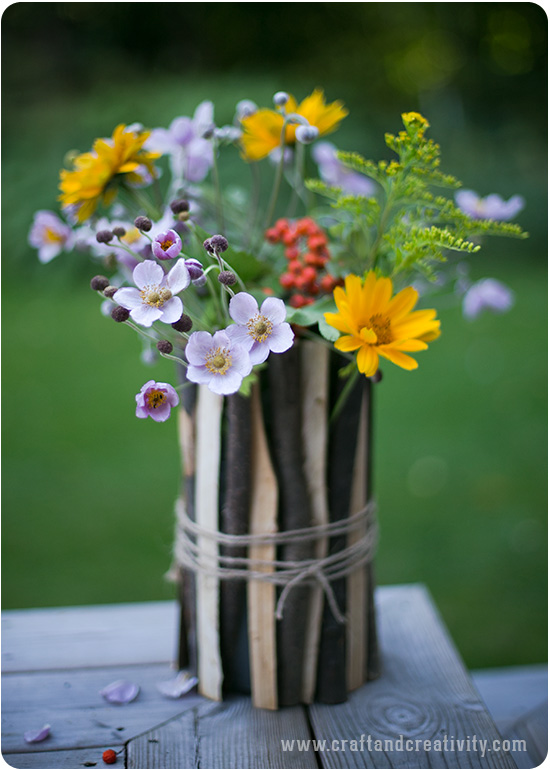 Nu är jag tillbaka efter ett litet uppehåll från bloggvärlden. Förutom att jag sprungit på Formex-mässan och varit på jobbresa i Danmark har jag unnat mig lite ledighet med bland annat en minisemester på Ormsö utanför Estland. En annan sak som jag och familjen roat oss med var att titta på "Sommar med Ernst". Döttrarna gillar honom skarpt och även jag blev inspirerad. Bland annat fick jag inspiration till denna blomvas som jag fyllt med sensommarblomster från vår trädgård.
———-
I'm back after a short break from the blogosphere. Besides from a fun day at the Formex fair (the largest interior design fair for Nordic design), I've been on the job trip to Denmark and I also allowed myself some time off, including a mini-vacation to Ormsö outside the coast of Estonia. Another thing me and my family did together this summer was to watch a Swedish tv-show called "Summer with Ernst" (Ernst is a interior decorator and popular tv host). My daughters like his programs and I was also inspired. Among other things, I got the inspiration to make this flower vase and filled it with late summer flowers from our garden. 
Ernst använde en cylindervas till sin kreation. Jag hade ingen sådan hemma så jag tog en stor glasburk istället. Jag lät bli att limma fast trästammarna, istället nöjde mig med att bara surra fast dem runt min burk med hjälp av naturhampa. På så sätt har jag möjlighet att använda dem till något annat senare om jag vill. Mina halva trästammar är köpta färdigkapade men du kan förstås även gå ut och plocka träpinnar i naturen och såga till dem i lagom längd.
———-
Ernst used a cylinder vase for his creation. I did't have one at home so I used a big glass jar instead. I chose not to glue the sticks in place so instead I simply tied them to the vase using hemp thread. This way I can use them for something else later on if I feel like it. My wooden sticks comes from my shop, but you could easily go out and pick some yourself and make them the length you prefer.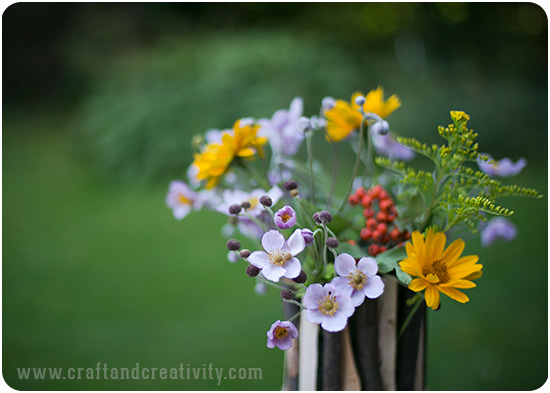 Jag är så glad för min nya kamera (Canon EOS 6D + 50 mm 1.4 lins). Det har blivit många bilder fotade den här sommaren. 🙂
Önskar er en riktigt trevlig helg!
——-
I'm so happy for my new camera (Canon EOS 6D + 50 mm 1.4 lens). I've taken loads of pictures with it this summer. 🙂
I wish you a nice weekend!