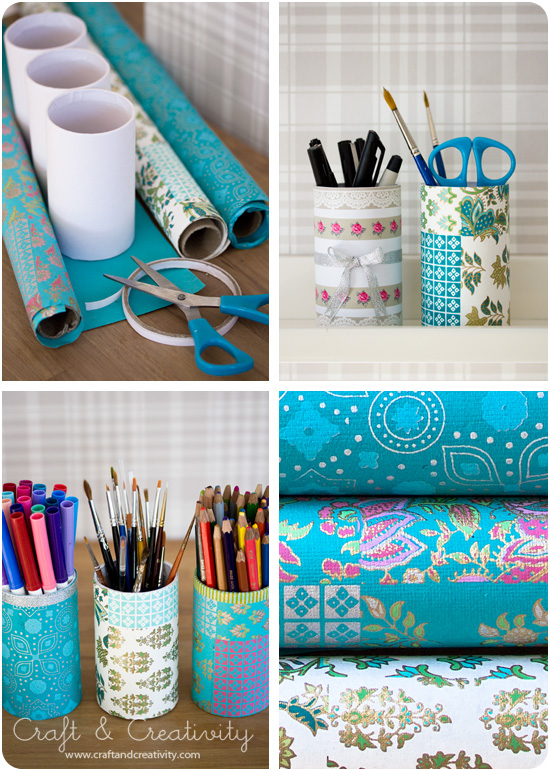 Jag vet inte hur det är hemma hos er men vi har alltid brist på pennburkar. De burkar som finns är överfulla med tuschpennor, blyertspennor, saxar, linjaler, penslar och annat småplock. När jag städade barnens pysselhyllor blev jag inspirerad att fixa till ny pennförvaring.
Jag använde pennställ i papp och dekorerade dem med ett mönstrat handgjort papper i turkosa nyanser som jag tycker är fint. Man kan också använda gamla konservburkar och täcka dem med fina papper. En av mina burkar pimpade jag med papperstejp och ett silvrigt band.
—————-
I don't know about you, but in our house we always have a shortage of pen holders. The ones we have are overfull with felt pens, pencils, scissors, brushes and other little things. When organizing the kids' craft shelves, I got inspired to create some additional pen storage.
I used cardboard pen holders (you could also use old tin cans) and decorated them with a turquoise patterned handmade paper that I really like. I pimped one of the pen holders with washi tape and a silver ribbon.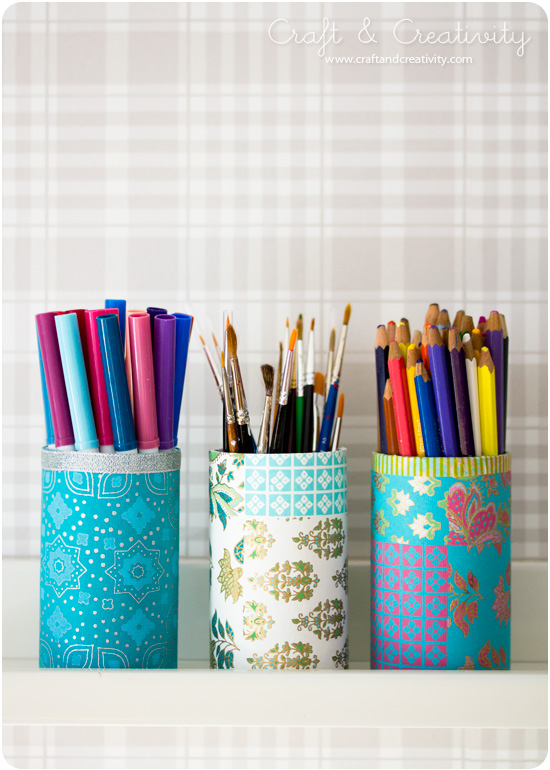 För att fästa papperet på burken använde jag dubbelhäftande tejp. Ett annat alternativ kan vara att använda limstift eller papperslim. Nu är det ordning och reda på våra pennor & penslar!
———-
In order to attach the paper to the paper can, I used adhesive tape. Another way could be to use glue stick or paper adhesive. Voilà! Now all our pens, pencils and brushes are in order!