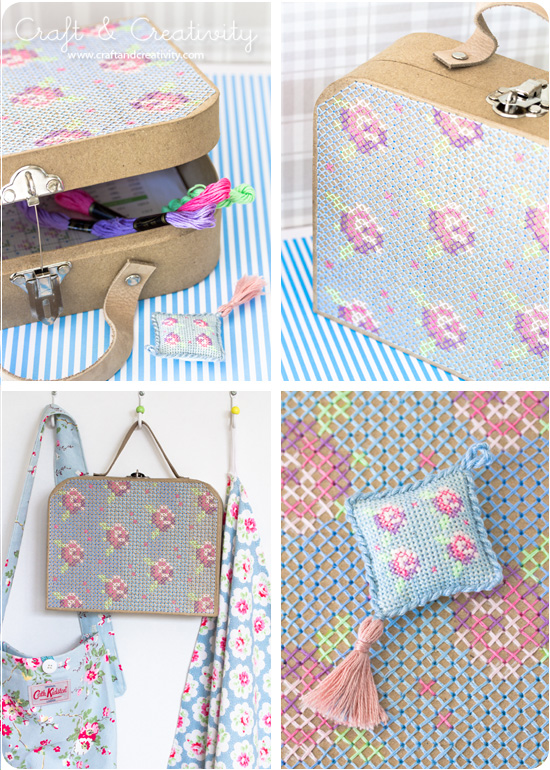 Ibland får jag idéer som jag tycker är rätt så bra men där det så småningom visar sig att jag tagit mig vatten över huvudet. Det här är en sådant tillfälle. Enbart tack vare hjälp från min lillebror och min mamma kunde projektet slutföras. Det hela började med att jag såg fina broderier på naturfärgade askar på Creative World mässan i Frankfurt i vintras. När jag kom hem ville jag testa något liknande och eftersom jag hade en väska i papier-maché hemma bestämde jag mig för att brodera på den…  Det visade sig mer tidskrävande än jag trodde!
———
Sometimes I get an idea that I think is pretty good, but where it eventually turns out that I am way over my head. This is one of those occasions. It was only with lots of help from my younger brother and my mom, that I was able to complete the project. It all started by me spotting some pretty embroidered paper boxes at the Create World fair in Frankfurt last winter. When I got home I wanted to try something similar myself, and since having a papier-mâché suitcase at hand, I decided to try to embroider on that … It proved to be much more time consuming than I thought!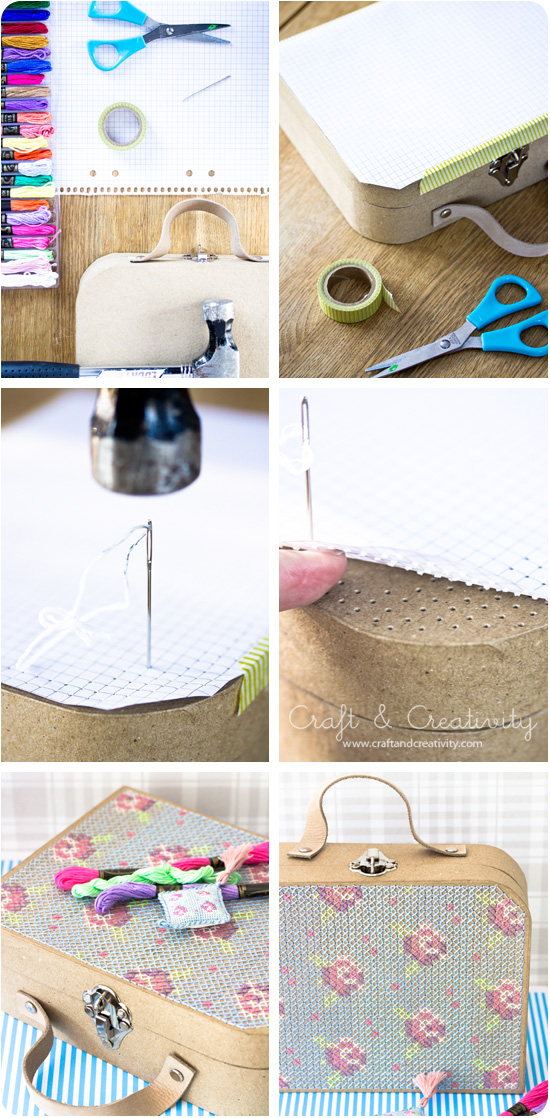 Jag började med att tejpa fast ett rutat papper på väskan. Med en stoppnål och en hammare gjorde vi hål i varje kryss. Eftersom väskan var ganska tjock var det svårt att få upp nålen och därför knöt vi fast en bit garn i nålen och gjorde en ögla som man kunde dra upp nålen med. Det tog tid att göra alla hål, kan jag lova (det var där min lillebror kom in i bilden). 😉 När väl alla hål var klara var det dags att brodera korsstygn. Jag använde samma mönster som för mina pärlplattor jag gjorde i januari. Broderandet tog också mer tid än beräknat och efter att väskan stått (inte ens) halvklar i flera månader slutade det med att min hjälpsamma mamma förbarmade sig över projektet och broderade klart väskan. Som bonus broderade hon även en matchande nåldyna till mig!
——-
I started by taping a piece of graph paper on top of the suitcase. With a daring needle and a hammer, we made holes in each cross of the grid. Since the bag is quite thick, it was difficult to get the needle out and to make things easier we tied a piece of yarn to the needle and made a loop to use when pulling up the needle. It took time to make all the holes, let me tell you (that was where my younger brother came into the picture). 😉 Once all the holes were punched, it was time to start to cross stitching. I used the same pattern as for those pegboards I made back in January. This part also took more time than expected and I kind of gave up. Some months later my helpful mother took pity on the project and did the rest (which was a lot!). As a bonus, she also made me a matching pincushion! 

Det är lätt att vara efterklok och så här i efterhand hade det varit bättre om jag valt att bara brodera själva rosorna och skippat den ljusblåa bakgrunden. Men väskan blev fin och jag är supernöjd med resultatet (och tacksam för den hjälp jag fick!). I väskan förvarar jag mina broderigarner. Har ni tid över och vill ge er på ett roligt men tidskrävade projekt rekommenderar jag detta, om inte så kanske ni kan få inspiration till liknande fast mindre avancerade pappersbroderier. Jag kommer även visa enklare broderiprojekt här på bloggen framöver. Skam den som ger sig – jag har inte gett upp idén att brodera på kartong & papper ännu! 🙂
———-
In retrospect it would have been better if I had chosen to embroider just the roses and skip the light blue background. But the bag looks beautiful and I'm super happy with the result (and grateful for all the help I got!). I now have a pretty bag to store my embroidery floss in. I recommend this for those of you who have spare time on your hands and want to give this time consuming project a try. If not, perhaps my suitcase can inspire you to make similar, less advanced cross-stich projects. And keep a look-out, easier stitching ideas are coming up on the blog soon. I still haven't given up on the thought to embroider on cardboard and papier-mâché! 🙂