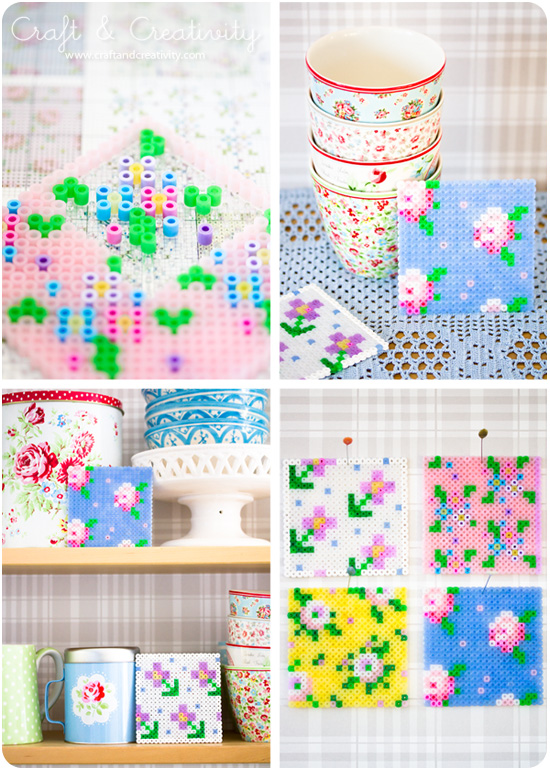 Det slog mig härom kvällen. Varför inte använda korsstygnsmöster för att lägga pärlplattor? Jag hade i bakhuvudet att jag sett exempel på det förut och drog mig till minnes Sols(tr)ikkes fina Cath Kidston-platta och My Poppet's glasunderlägg. Till verket!
Jag använde olika mönster från tidningen Cross Stitcher (nr 236, från mars 2011) och gjorde om det lite efter eget huvud. miss_smorgas, en kontakt från Instagram använde just dessa mönster till att brodera sitt mobiltelefonskal och hon var gullig nog att tipsa mig om varifrån mönstret kom. Jag laddade ner Cross Stitcher Magazine som en app till min iPad och köpte tidningen digitalt (för 38 kr).
————-
It struck me the other night. Why not combine cross stitch patterns with plastic (hama/ironing/perler) beads? I remembered seeing examples of this before, and Sols(tr)ikkes lovely Cath Kidston motif and My Poppet's coasters came to mind. 
I used patterns from Cross Stitcher Magazine (issue no. 236, March 2011) and re-did them a bit. One of my contacts on Instagram, miss_smorgas, used these patterns to embroider her mobile cover, and she was sweet enough to tell me where she found the patterns. I downloaded the Cross Stitcher Magazine app to my iPad and downloaded the magazine in question, it cost 38 SEK (£2.99 / about 4 EUR).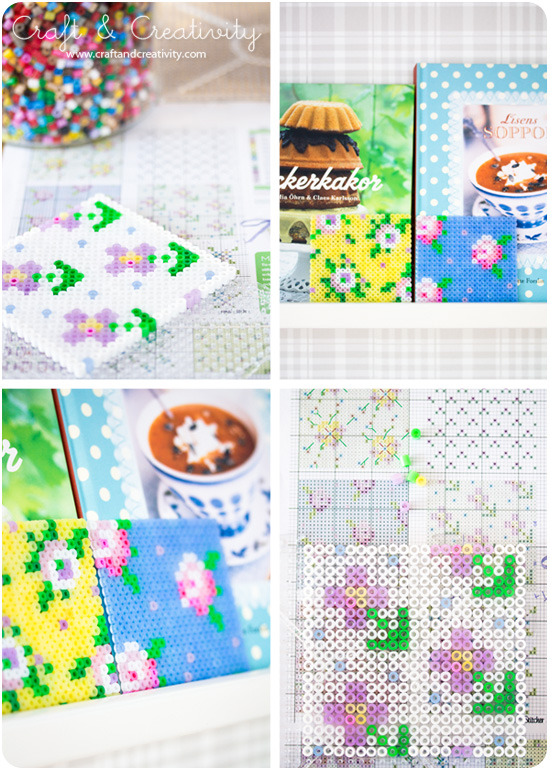 Det går förstås att använda i princip vilket korsstygnsmönster som helst. Huvudsaken är att det inte är för stort och att du har de färger du behöver. Tips: Googla "gratis korsstygnsmönster" eller "free cross stitch patterns" och klicka på Bilder så hittar du massor! När jag lagt klart mina mönster, strök jag dem på båda sidor.
————–
It's possible to use virtually any cross stitch pattern. The main thing is that it's not too big and that you have the colors you need. Tip: Try google "free cross stitch patterns", click on Images, and you'll find lots of different patterns! When I was done with my patterns, I ironed them on both sides.
Jag använde pärlor i flaska (pärlemor, art nr 3446) som grund och kompletterade med lite andra nyanser. För er som är intresserade av att testa detta har jag lagt in en kampanj på Make & Create: 5 påsar med 1000-pack pärlor för 50 kr. Då väljer du själv vilka nyanser du vill ha och gör en egen mix. Ett tips är att det går fortare att lägga mönstret när pärlorna är färgsorterade och inte mixade. Pärlplattor (15×15 cm) säljer vi i 2-pack och de kostar just nu 27,90. Erbjudandet gäller t o m sista februari. Om ni inte redan har pärlor+pärlplatta hemma förstås, då är det ju bara att sätta fart! 😉
———-
I used plastic beads and a pegboard from my shop, Make & Create. We make deliveries to Sweden, Norway, Denmark and Finland. We hope to expand to more countries in the near future, since we've had many inquiries concerning this from readers in Germany and Spain, among other. 
Fler saker man kan göra med plastpärlor: / More stuff to make with plastic beads: