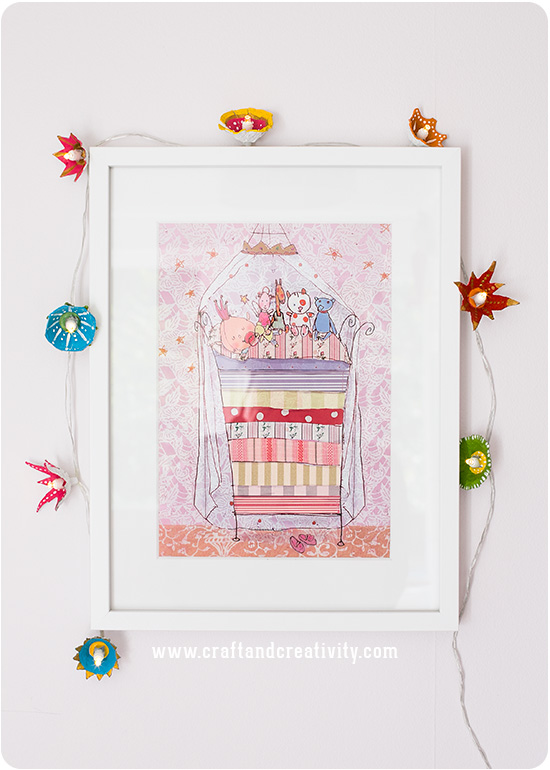 I lördags var det dags för ännu en kreativ och inspirerande pysseldag tillsammans med våra vänner på Pysselbolaget! Det pysslades, spraymålades, veks loppor, limmades och gjordes snöglober i en salig men härlig blandning. Bland annat gjorde vi blommor av äggkartong som vi satte på ljusslingor. Här kommer min version, kila gärna över till Pysselbolaget och se deras!
———–
Last Saturday it was time for another creative and inspiring craft-get-together with our friends over at Pysselbolaget! We crafted, spray painted, folded paper fortune tellers, glued stuff and made snow globes, all in a great mix. Among other things we made flowers out of egg carton and put them on a string of lights. Here's my version, and why not head over to Pysselbolaget and and take a look at their!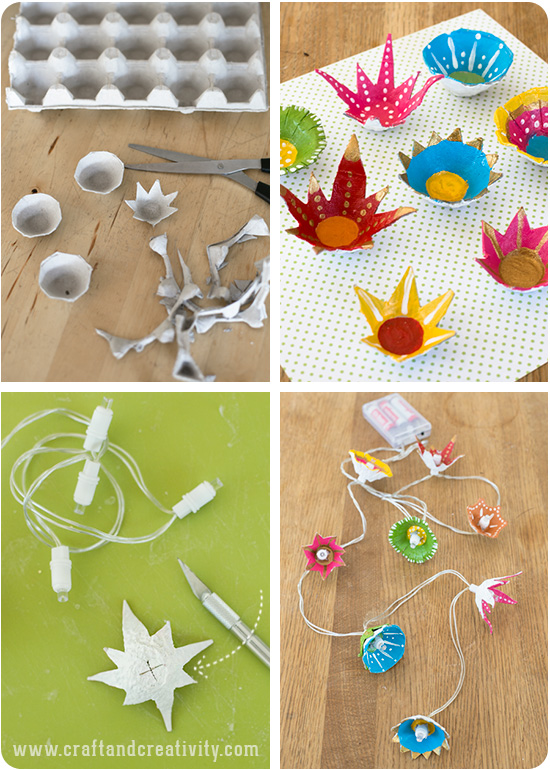 Du behöver: En ljusslinga (batteridriven eller med elkontakt), äggkartong, sax, hobbykniv, pensel och hobbyfärg.  
Gör så här: Klipp ut blommor ur äggkartongen och måla dem med hobbyfärg. Jag kan rekommendera Plus Color Hobbyfärg som är både täckande, pigmenstark och snabbtorkande. Jag målade utsidan på mina blommor vita och insidan i olika färger. När färgen torkat dekorerade jag blommorna med vit färg och guldfärg och skar ett kryss i mitten med en hobbykniv. Sedan var det enkelt att trycka fast blommorna på de små lamporna på ljusslingan. Vissa blommor satte jag dubbelt och det skapade en fin effekt.
———
You will need: A light strand (battery operated or with a power plug), egg carton, scissors, craft knife, brush and acrylic paint.
Here's how: Cut your egg carton into flower shapes and and paint them with acrylic paint. I recommend opaque quick drying paint. I painted the outside of my flowers white and the inside of various colors. When the paint had dried, I decorated the flowers with white and gold paint, and cut a cross in the center with a craft knife. Then it was easy to push the flowers over the small lights on the light strand. On some of the lights I put two flowers together, which created a nice effect.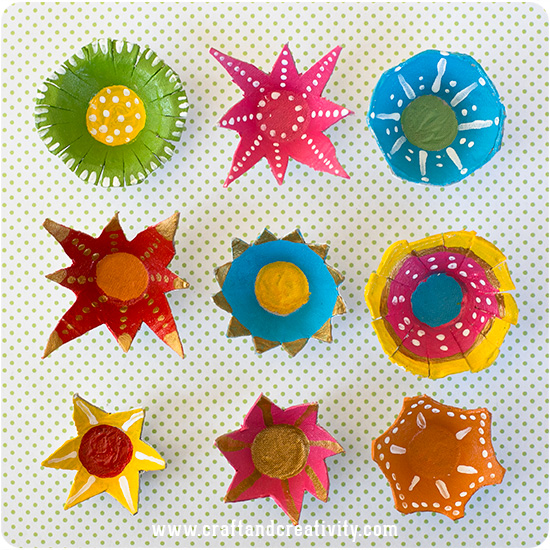 Blommorna går att variera i det oändliga, både när det gäller färg, mönster och form. Ett roligt pyssel som passar vuxna likväl som barn.
———-
The flowers can be made in endless varieties  both in terms of color, pattern and shapes. This is truly a fun craft, suitable for adults as well as children.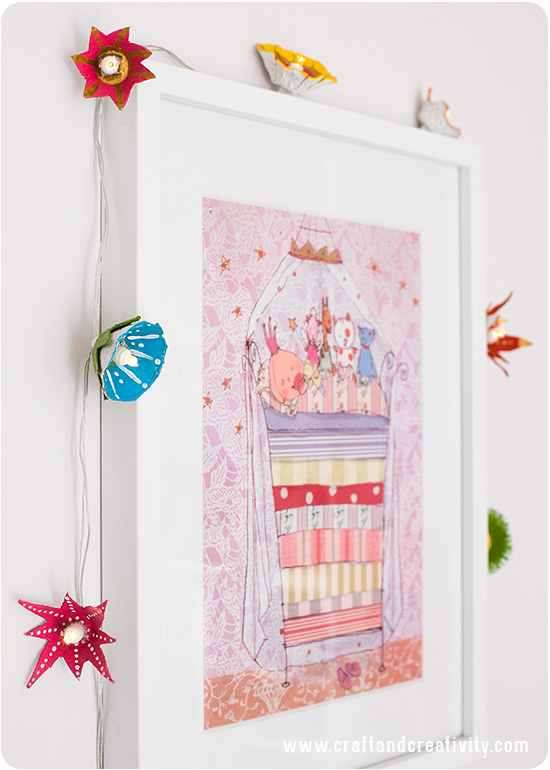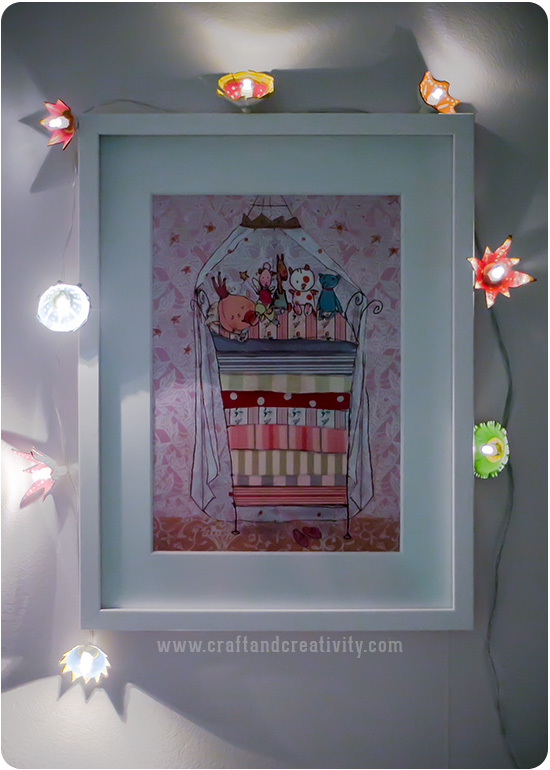 Ljusslingan fungerar som en extra nattlampa åt yngsta dottern. Den inramade illustrationen med prinsessan på ärten kommer från Maileg, men inköptes för många år sedan.
————-
The flower lights now act as an extra night light for our youngest daughter. The framed illustration with the Princess and the Pea comes from Maileg, but was bought many years ago.