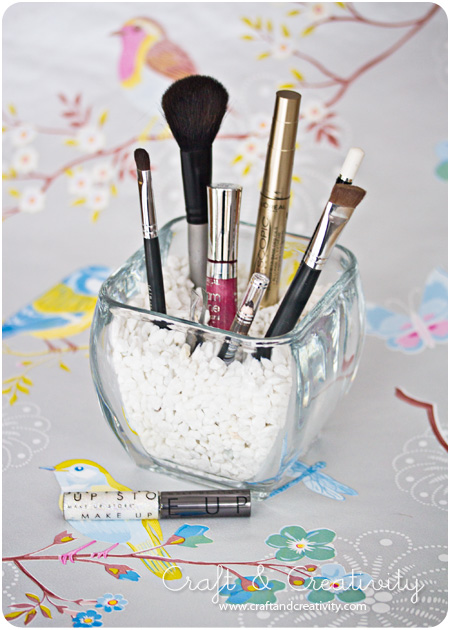 Det började med att jag ledsnade totalt på röran i mitt badrumsskåp. Sminkborstar låg huller om buller med mascaror, läppglans och kajaler. Först och främst var det dags att rensa. Bort med allt det gamla, det uttorkade och det som jag inte använder. Sedan tog jag en gammal kruka i glas som jag hade hemma, köpte två burkar vit sten på Åhléns och fyllde glaskrukan med det. Nu var det bara att sticka ner sminket i min nya sminkhållare. Det står stadigt och är tillräckligt snyggt för att stå framme i badrummet. Lätt att komma åt. Ordning & reda. Jag känner mig nöjd!
——–
It all started when I got tired of the utter mess in my bathroom cabinet. Make-up brushes lay mixed with mascaras, lip glosses and eyeliners. First of all, it was time to tidy up a bit. Away with everything old, dried up and the stuff I don't use anymore. Then I took an old glass pot that I had at home. I bought two cans of white stones and filled the pot with it. Now I could easily place my make-up upright in my new make-up holder. It stands steady and is attractive enough to be displayed in the bathroom. Easy to access. Organized. I'm happy!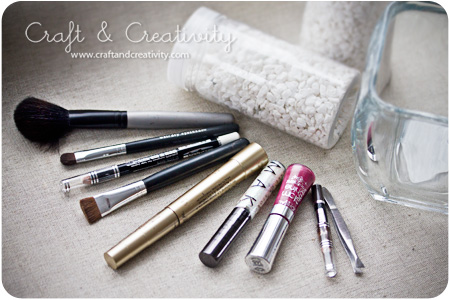 Det finns förstås otaliga variationer på samma tema. Det går lika bra att använda en bred glasvas till exempel. Och som fyllning kan man ha kaffebönor som man spraymålar eller småsten i blandade färger (finns säkert att köpa på akvarieaffären) eller pärlor kanske?
——–
There must be an infinite number of variations on this theme. For example it should work just as well to use a wide glass vase. And as filling, you can use coffee beans that you spray paint or pebbles in assorted colors (you could probably get that at the zoo store) or beads perhaps?