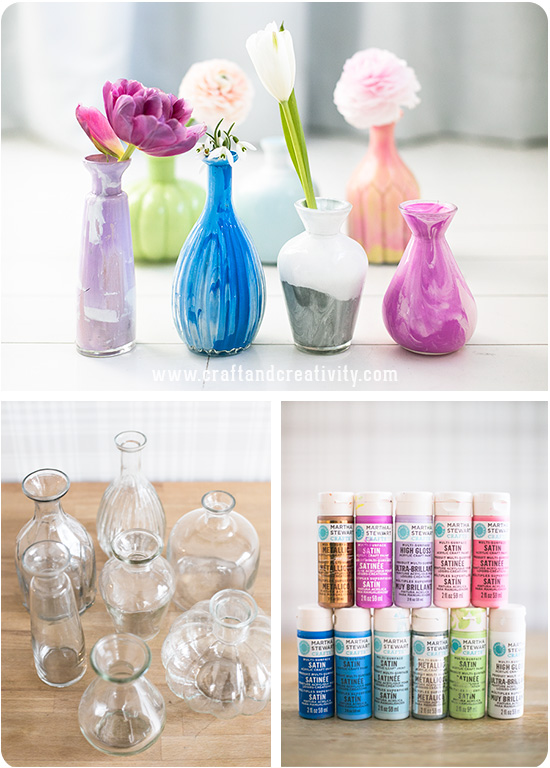 Jag tänkte visa dig hur du kan marmorera insidan på små glasvaser med akrylfärg från Martha Stewarts Crafts. Marmoreringen är rolig att göra och går snabbt, men det gäller att låta vaserna torka ett bra tag innan de går att använda. Vill du kunna hälla vatten i vaserna så bör du härda dem i ugnen först. Jag köpte mina vaser i olika inredningsbutiker och de kostade mellan 19-29 kr styck. Det går förstås också bra att återanvända exempelvis gamla vinägerflaskor.
———-
I'm going to show you how to marble the inside of small glass vases with acrylic paint from Martha Stewarts Crafts. To add a marble effect on glass is fun and not difficult at all, but you need to let the vases dry for quite some time before you use them. If you want them to be waterproof you have to cure them in the oven first. I bought my vases in different stores, but you could just as well reuse old vinegar or oil bottles.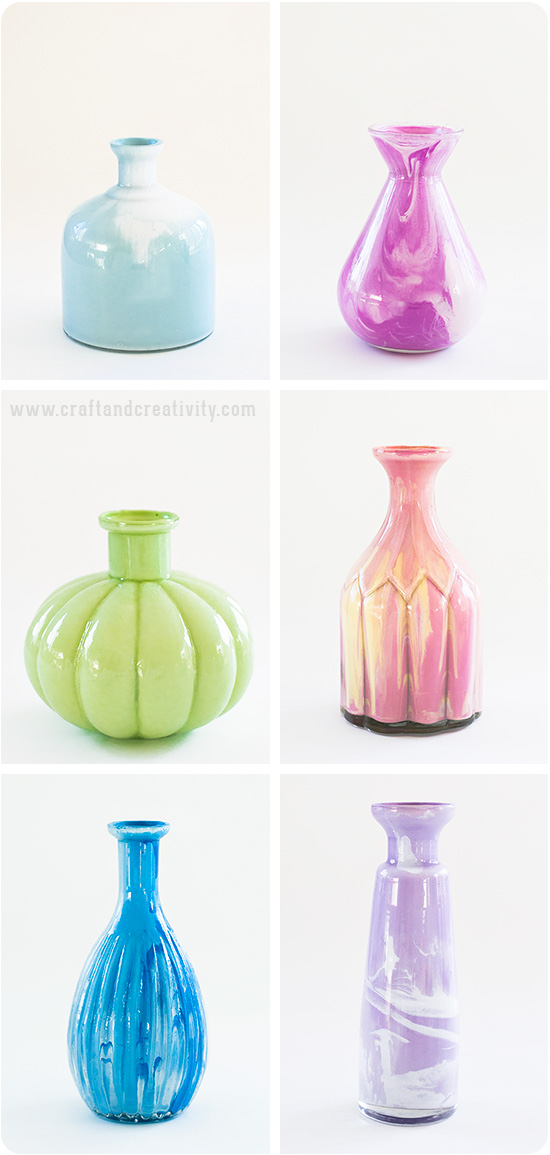 Det roliga med marmorering är att du ingen vas blir den andra lik. Färgen lever sitt eget liv och bildar olika mönster beroende på hur den väljer att fördela sig.
———-
The fun thing about this craft is that each vase will turn out completely unique. The paint will form different patterns depending on how it chooses to spread on the inside of the glass.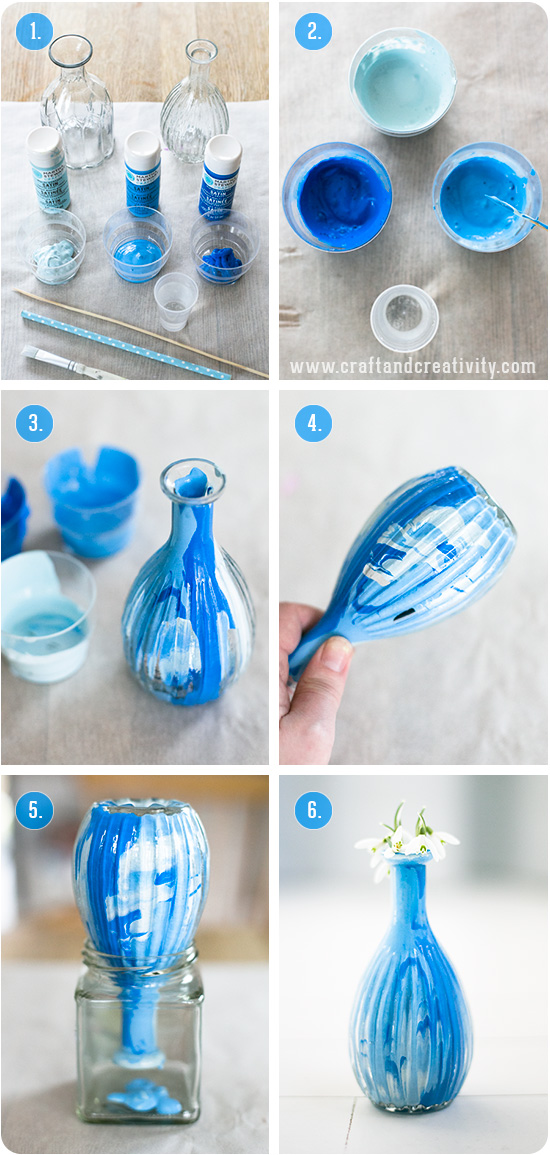 Du behöver: Glasvaser, färg som fäster på glas (jag använde mig av Martha Stewarts akrylfärger, plastmuggar, en pensel, gamla glasburkar, vatten och något att blanda färgen med, t ex glasspinnar.
Gör så här: Börja med att diska glasvaserna så att de är rena både på insidan och utsidan. Häll upp 2-4 olika färger i separata plastmuggar. Blanda ut dem med lite vatten så att de blir mer lättflytande och fördelar sig lättare i vasen. Prova dig fram hur mycket vatten du behöver. Jag blandade ca 2/3 färg med 1/3 vatten.
Börja hälla dina färger i vasen, varva gärna färgerna flera gånger och häll lite i taget.
Snurra flaskan runt så att färgen fördelas runt hela insidan av vasen. Tänk på att hålla flaskan över en bit bakplåtspapper eller gamla tidningar för att inte få färg på bordet.
Om du inte får färg hela vägen upp så pensla lite av den överblivna färgen högst upp på insidan av flaskhalsen. Vänd vasen upp och ned och låt den stå och droppa i ett dygn. Enklast är att använda en gammal glasburk som hållare. Färgen som rinner ut kan du antingen återanvända eller peta bort från botten av burken när den torkat, innan du slänger den i glasåtervinningen.
När det känns som att färgen slutat rinna kan du vända vasen upprätt igen. Skrapa bort eventuella färgfläckar eller överbliven färg runt öppningen med din nagel eller en bordskniv. Låt vasen stå tills färgen torkat. För vaser med smala öppningar tar det längre tid och jag lät mina torka i två veckor innan jag härdade dem i en vanlig hushållsugn. Ställ vaserna i en kall ugn, sätt ugnen på 175°C och när ugnen nått rätt gradantal så väntar du 30 minuter innan du stänger av ugnen. Låt vaserna svalna i ugnen och ta ut dem först när de är kalla. Vänta 72 timmar innan du häller vatten i vaserna. Mina vaser klarade handdisk efter att jag härdat dem. Det är möjligt att de tål maskindisk också men det har jag inte testat.
———–
You will need: Glass vases, paint that adheres to glass (I used

Martha Stewart's Satin and High gloss acrylic paint),

plastic cups,

a

brush,

empty glass jars, water and something to mix the paint with, eg

wooden sticks.
Do like this: Start by washing the glass vases to clean them both inside and out. Pour 2-4 different colors in separate plastic cups. Mix each paint with water to make them more fluid. Add a little bit of water at a time. I used about 2/3 paint and 1/3 water. This makes it easier for the paint to spread evenly inside the vase. 

Start pouring the paint inside the vase, pour a little bit at a time dividing the paint in several layers.

Spin the bottle around to distribute the paint evenly around the inside of the vase. Remember to hold the vase above a piece of parchment paper or old newspapers, to not get paint on your table. 

If you have trouble getting paint all the way up, try brushing some leftover paint at the top of the bottle neck. Turn the vase upside down and let it stand and drip for about one day. I used empty glass jars to hold my vases. You can save the left-over paint or scrape it off the bottom of the jar when dry.

When the paint has stopped dripping it's time to turn the vase upright again. Scrape away any stains or excess paint around the opening using your fingernails or a table knife. Let the vase stand in room temperature until the paint has dried. Vases with narrow openings will take longer time to dry. I let mine dry for two weeks before I cured them in an ordinary household oven. Place the vases in a cold oven, turn the oven to 175°C (345°F) and keep the vases there for 30 minutes, after the oven has reached the right temperature. Turn off the heat and leave the vases in the oven to cool before you take them out. Wait 72 hours before pouring water in the vases. You can hand-wash the vases after curing. They might even be dishwasher-safe but I haven't tried that myself.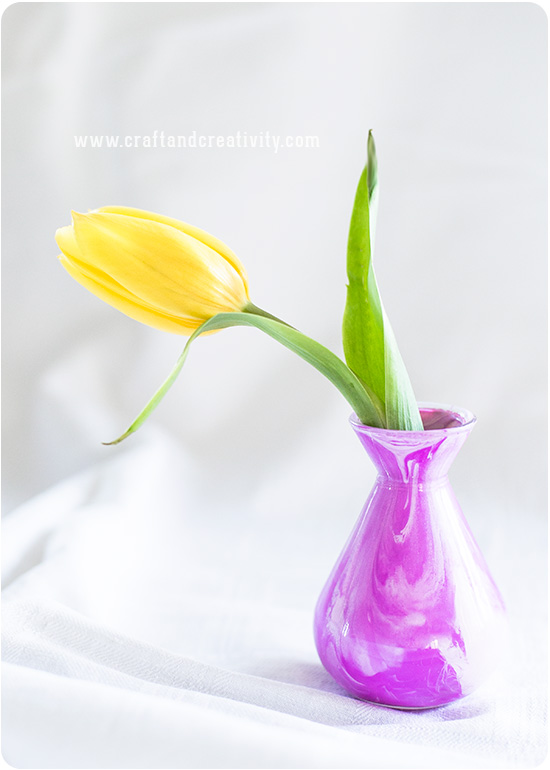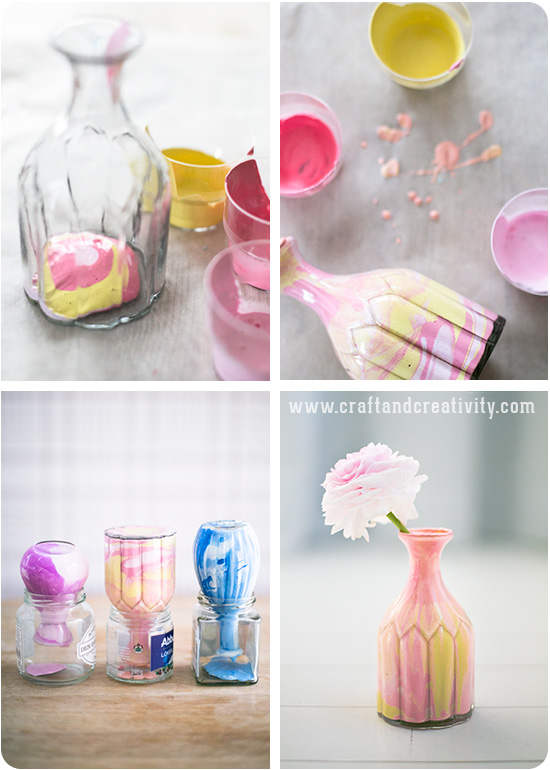 Var beredd på att mönstret ändrar sig när den överflödiga färgen rinner ut ur flaskan. Det är riktigt spännande att följa förloppet.
———-
Be prepared for the patterns to change while the paint drips out of the bottle. It's really fun to see the progress.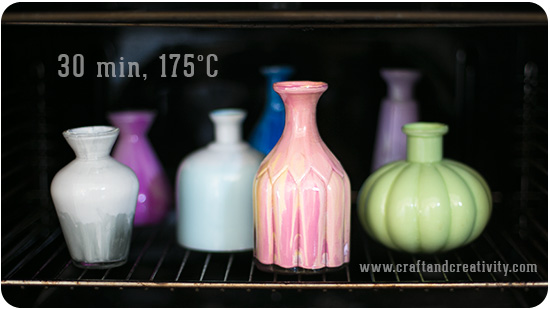 Här ser ni vaserna på väg att härdas i ugnen. Martha Stewarts satinfärger, högblanka färger (high gloss) och metallicfärger går att härda i ugnen. Glitter och coarse glitter ska däremot inte härdas i ugn utan bör endast lufttorka.
————-
Here you can see the vases about to be cured in the oven. You can cure Martha Stewarts Satin paint, High gloss paint and Metallic paint but not Glitter and Coarse glitter paint. They should only to be air dried.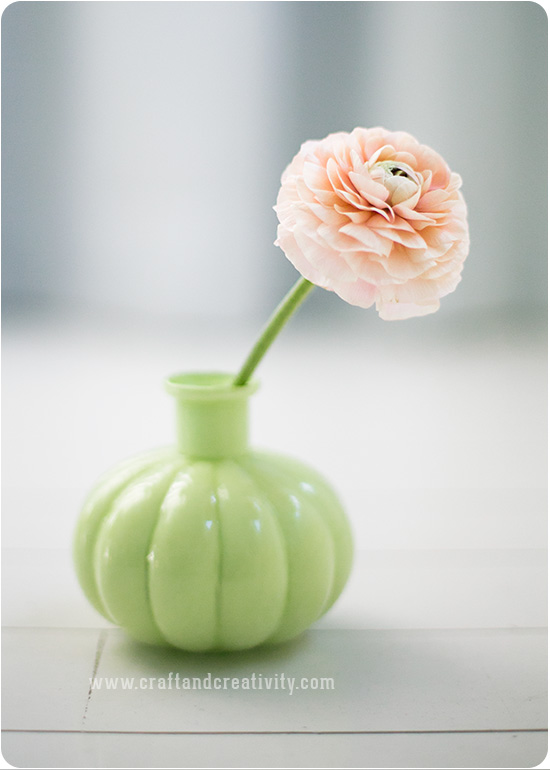 En av vaserna valde jag att göra helt enfärgad eftersom jag tyckte att formen på flaskan var så fin och ville framhäva den.
———-
I chose to make one of the vases in a solid color because I thought that the shape was so pretty in itself.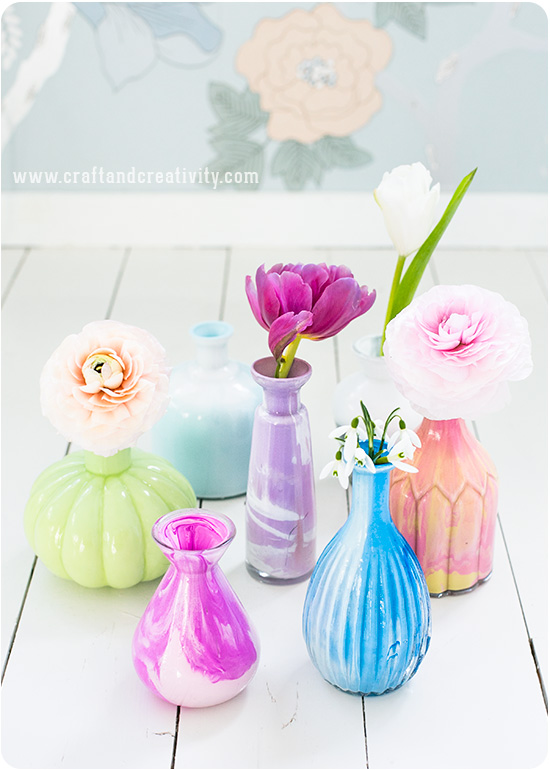 Fler pyssel med hobbyfärg: /
More crafts with craft paint: