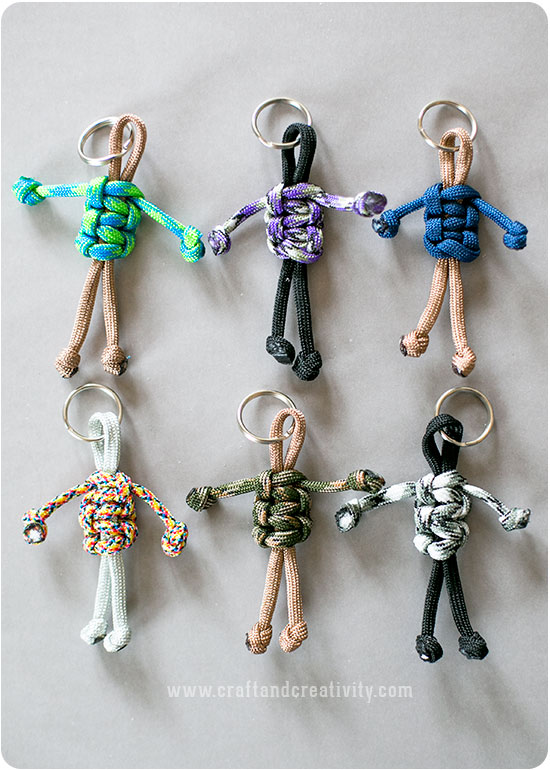 Att knyta gubbar av tjocka knytsnören/nylonsnören, s k Paracord, går på ett kick och de är riktigt söta att använda som nyckelringar eller som dekoration på barnens skolväskor. Du knyter kroppen med makraméknutar, d v s samma sorts knutar som till armbanden jag visat tidigare. Kika på den videon om du behöver mer hjälp med hur kan knyter knutarna.
————
Making Paracord buddies is a really quick and fun craft. They look really cute as keychains, or on children's school bags. You tie their bodies in the same way as Paracord braclets, like the ones in one of my previous blog posts. Take a look at that video if you need more help when tying the knots.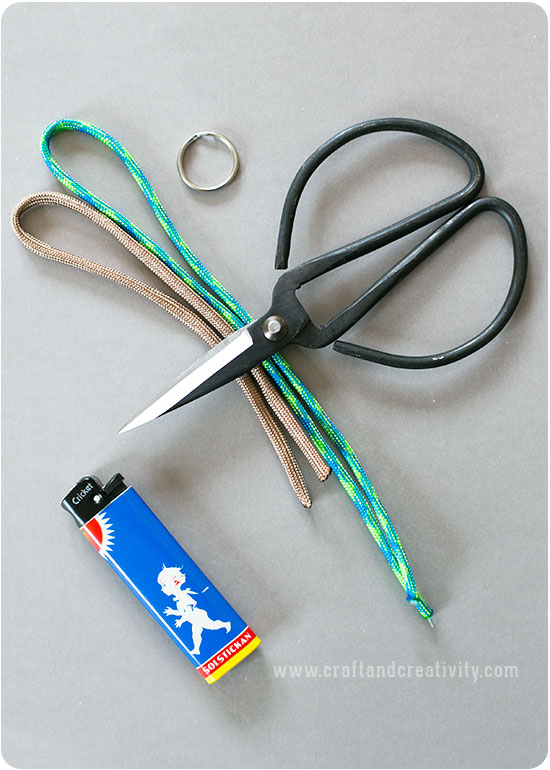 Allt du behöver är: Tjockt knytsnöre (här har jag använt 5 mm platt knytsnöre, nyckelringar (mina är 20 mm i diameter), en sax och en tändare. Det går åt ca 30 cm knytsnöre till huvud/ben och 40 cm knytsnöre i avvikande färg till kroppen och armarna. På bilden ser ni nyanserna Sand och Blågrön. Smält gärna ändarna med en tändare innan du börjar knyta för att undvika att nylonsnöret och den vita kärnan separerar sig.
—————
All you need is: 5 mm flat Paracord or similar, keyrings (mine are 20 mm in diameter), a pair of scissors and a lighter. You need approx 30 cm (12″) cord for the head & legs and 40 cm (16″) cord in contrasting color for the body & arms. Burn the ends with before you start.

Gör så här: Trä det knytsnöre du vill använda som huvud/ben genom nyckelringen och vik på mitten. Det andra knytsnöret använder du till att knyta kroppen med. På bild nr 1 ser du hur du knyter den första knuten. Se till så att du har lika mycket snöre kvar att knyta med på båda sidor om knuten.
Dra åt knuten.
Knyt knut nr 2 som illustrerat ovan.
Dra åt knuten.
Fortsätt knyta (varva knut 1 och knyt 2) tills du har totalt fem knutar och vänd sedan "gubben" upprätt med nyckelringen högst upp.
Dra kroppen uppåt för att forma "huvudet" i önskad storlek.
Knyt en vanlig knut på alla fyra ändar för att bilda händer och fötter. Klipp av ändarna några mm från knuten.
Smält ändarna med en tändare (bränn dig inte!) och platta till den varma smälta nylonen med en bordskniv eller sidan på saxen. Nu är du klar!
————
Do like this: Thread the cord that you want to use for the head & legs through the keyring and fold in half. Use the other cord to make the body. Tie the first knot as shown in picture #1. Make sure you have the same amount of cord on both sides of the knot. 

Tighten the knot.

Tie knot No.2 as illustrated above. 

Tighten the knot.

Continue tying (alternate knot No.1 and knot No.2) until you reach a total of five knots and turn your buddy upright with the keyring at the top. 

Pull the body upwards to form a "head" in the size you want. 

Tie a single knot on each of the fore ends to form hands and feet. Trim the ends, a few mm from the knot. 

Melt the ends with a lighter (don't burn yourself!) and flatten the hot melted nylon with a table knife, pliers or similar. That's it!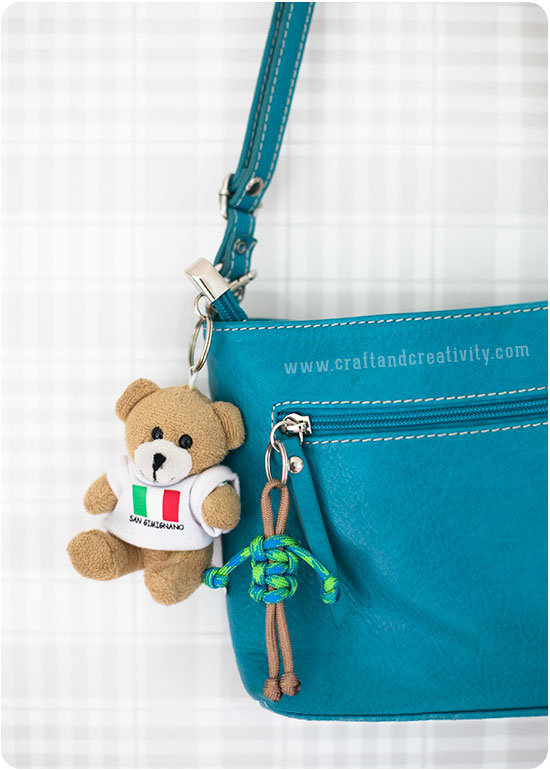 Det här är ett pyssel som även små barn (från ca 6-7 år) kan lära sig så länge en vuxen sköter tändaren och smälter ändarna.
————
This is a craft that even small children (from 6-7 years) can learn as long as an adult handles the lighter and melt the ends.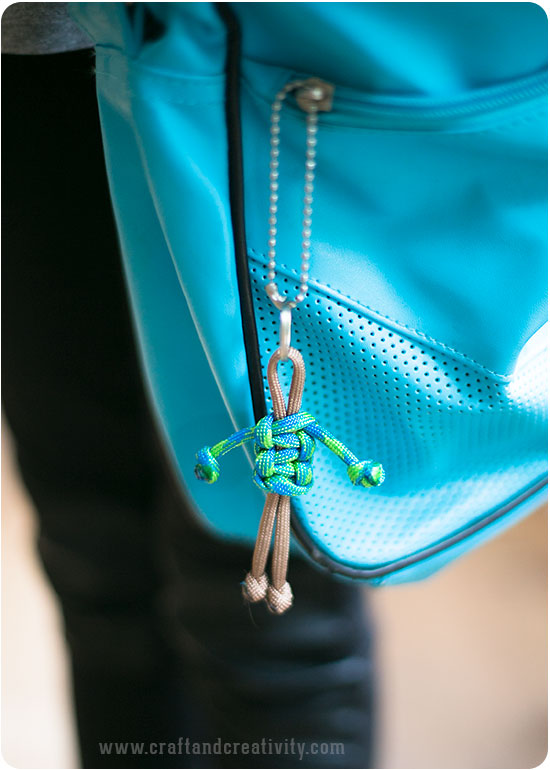 En tuff paracordgubbe på väg till skolan. / A Paracord Buddy on his way to school.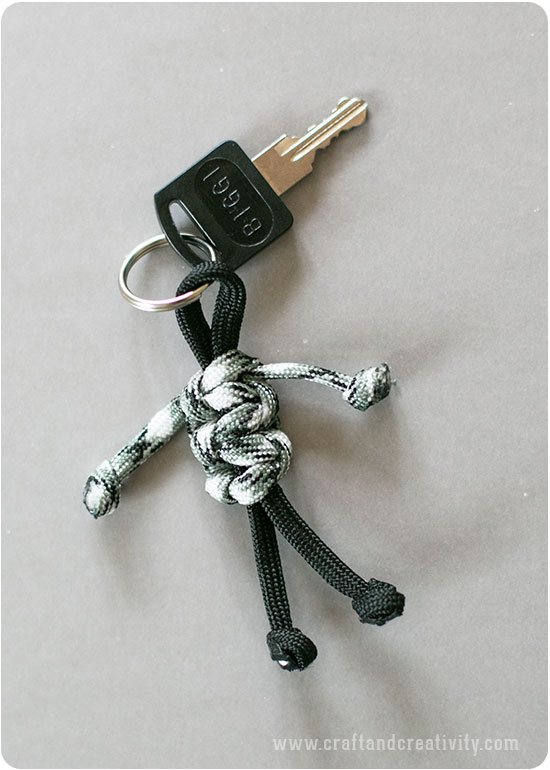 Och en annan liten gubbe håller reda på nycklarna. /
And another buddy keeps track of the keys.