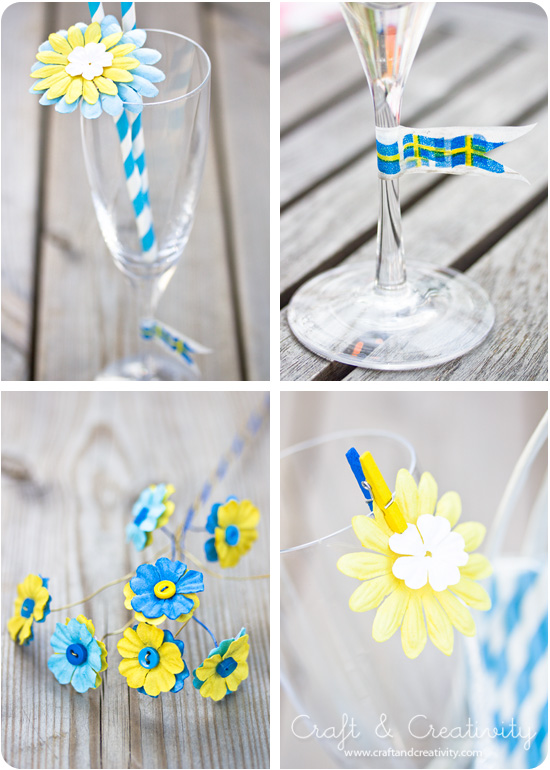 Det närmar sig studenttider och midsommar och jag tänkte visa er några idéer för sommarens fester. Washitejp runt foten på ett glas är dekorativt och tejpen är att både enkel att sätta dit och ta bort. Den lilla blomsterbuketten är gjord av virad ståltråd, pappersblommor och knappar – enligt samma princip som knappblommorna jag visat tidigare. Med en liten klädnypa kan man fästa pappersblommor eller placeringskort på gästernas glas.
————-
Graduation time and Midsummer Eve is a big deal here in Sweden and on these special occasions it's common to decorate with the colors of the Swedish flag, blue and yellow. I thought I'd show you some pretty party decorations, and you can use any color combination you like. Washi tape around the foot of a glass is decorative and is easy to add and remove. The small flower bouquet consist of wire, paper flowers and buttons – made in the same way as the button flowers I've shown you before. With small clothes pins you can pin a paper flower or a place card on your guest's glasses.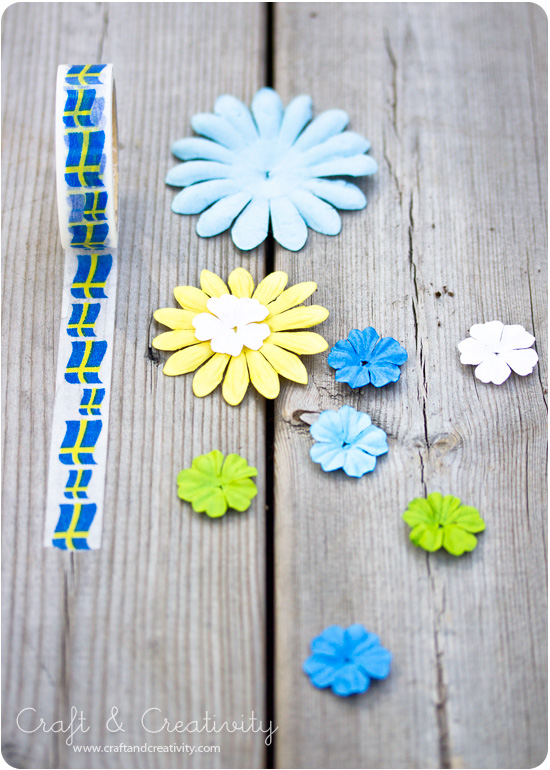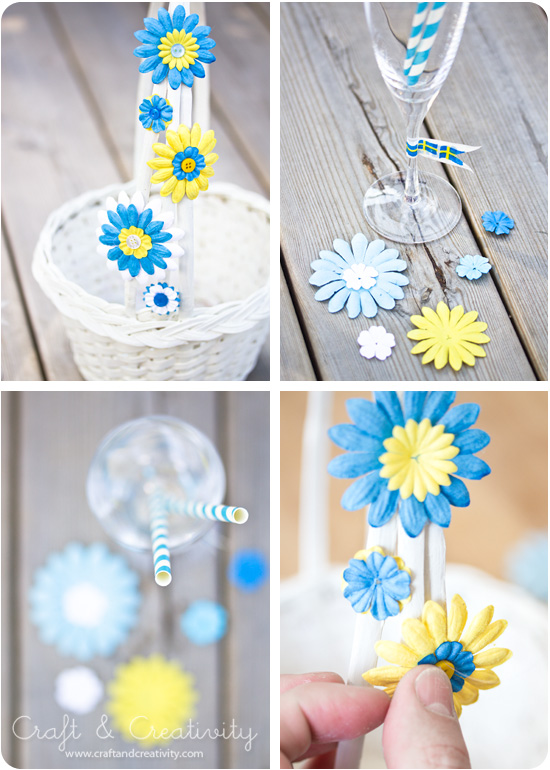 En vitmålad korg kan fungera antingen som bordsdekoration eller till att fylla med presenter. På korgen har jag limmat pappersblommor och knappar med limpistol. Fint mönstrade papperssugrör piggar upp vilken dukning som helst. Nu önskar jag mig en lång, solig och vacker svensk sommar med många tillfällen till fest.
———
Paint a basket white and use it either as a table decoration or fill it with gifts. I attached paper flowers to the basket with a glue gun. Pretty patterned paper straws will brighten up any table setting. Now I wish for a long, sunny and beautiful Swedish summer, with many causes for celebration.