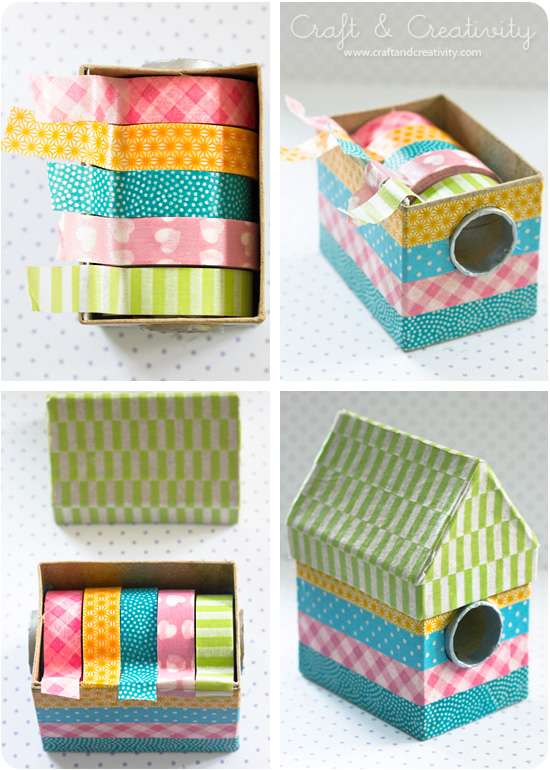 Min vän Karin tipsade mig om Esther på Crafts Unleashed som pysslat ihop en hållare för washitejp av en husformad ask. Eftersom jag gillar både washitejp och husformer kändes det här som en himla kul kombination. Hållare och förvaring i ett! Små husaskar hade jag redan hemma.
———–
My friend Karin told me about Esther at Crafts Unleashed who made a dispenser for washi tape out of a house-shaped box. Since I'm a fan of both washi tape and house shapes, this felt like a really great combination. Holder and storage in one! I already had small house boxes at home.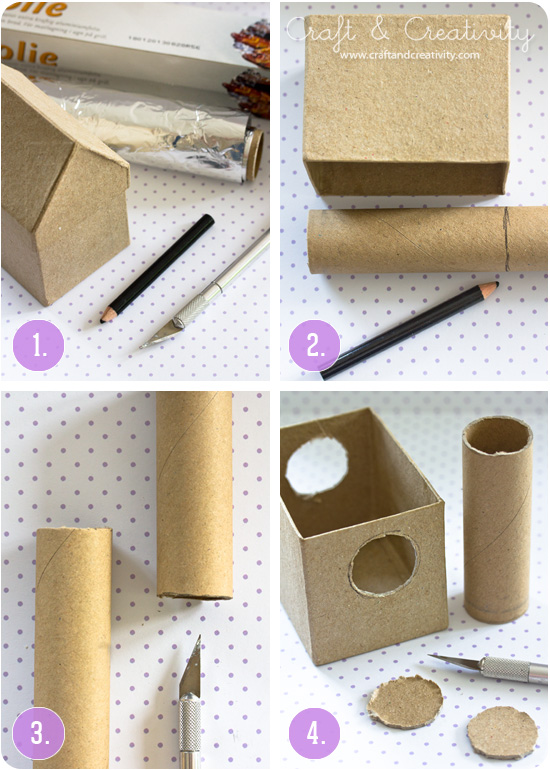 Esther använde rundstav till sin ask men någon sådan hade jag inte hemma. Efter att ha rotat runt i lådorna hittade jag istället en rulle ugnsfolie som det bara var lite folie kvar på. Perfekt diameter och den var dessutom lättare att kapa än en rundstav i trä.
Jag måttade rullen mot asken och ritade ett streck ca 6 mm bredare än långsidan, eftersom rullen ska sticka ut en liten bit på båda sidor.
För att kapa rullen använde jag en hobbykniv. Akta fingarna!
Med rullen måttade jag fram de två runda hålen på askens kortsidor. Tänk på att tejpen ska få plats på rullen också. Se till så att det finns drygt 1 cm plats från utkanten av hålet till hörnet av asken och ca 1 cm plats upp till överkanten (måtta själv så det blir rätt för just dina tejprullar). Jag skar ut hålen med min hobbykniv.
Esther used a round wooden rod for her box but I didn't have one at hand. Having rummaged through my drawers, I found an almost empty roll of tinfoil instead. It had the perfect diameter and was easier to cut than wood.

I measured the roll with the length of the box and drew a line about 6 mm wider then the box, since the roller should stick out a little bit on both sides.

To cut the roll, I used a hobby knife. Be careful!

With the roll I traced two round holes on opposite sides of the box. Remember to leave space for the tape. Make sure there's a little bit more then 1 cm space from the edge of the hole to the corner of the box and about 1 cm space to the top. I cut out the holes with my hobby knife.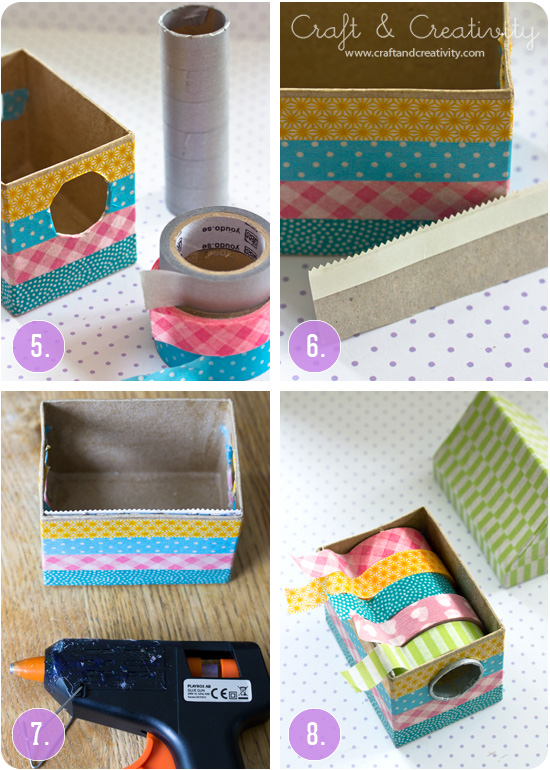 Hur ska man dekorera en hållare för washitejp om inte med… washitejp. 😉
Förpackningar för ugns- och plastfolie har ofta en taggig kant för att riva av folien. Jag återanvände en liten bit av en sådan. Här snackar vi återvinning!
Den taggiga kanten limmade jag fast på asken med en limpistol.
I med tejpen på rullen och in med allt i asken. Så var min washitejphållare klar!
What better way to decorate a washi tape dispenser if not with … washi tape. 😉

Tinfoil and plastic film boxes often comes with a cutting strip for tearing the foil. I used a piece of cutting strip from my box. Talk about recycling! 

I glued the cutting strip onto the box with a glue gun.

Time to put the tape on the reel and put the reel in place in the box. Now my washi tape holder is ready to use!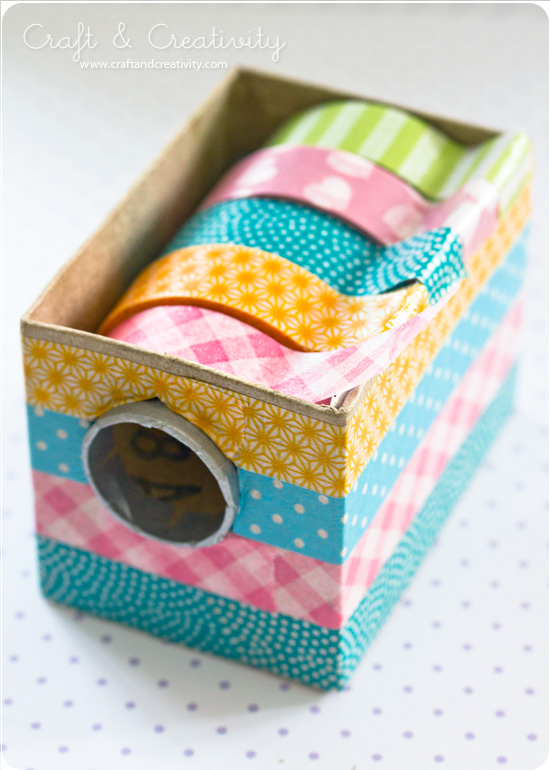 Nu råkar jag ha liiite mer tejp än så här men den här får innehålla mina favoritmönster! 🙂 Besök gärna Crafts Unleashed för att se Esthers fina washitejphållare och många andra roliga DIY-projekt.
———-
I happen to have a bit more tape than this, but here I can store my favorite patterns! 🙂 Be sure to pay a visit to Crafts Unleashed for a look at Esther's pretty washi tape dispenser and many other fun DIY projects.