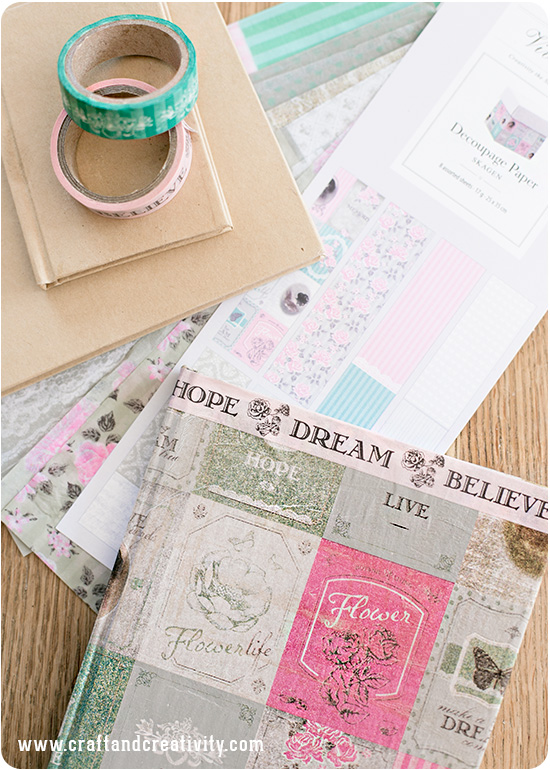 Decoupage var länge något helt oprövat för mig och det lockade mig inte ens att testa. Jag minns inte vad det var som fick mig att tänka om men det kan ha varit julgranskulorna som jag täckte med tidningspapper inför förra julen. Eller projektet med påskäggen… Plötsligt kom jag på att det här var ju både enkelt och kul! Nu har jag fått blodad tand och det har blivit en hel del projekt med decoupagelack senaste tiden.
———
For a long time, decoupage was unknown territory for me and it didn't even tempt me to give it a try. I can't quite remember what it was that made ​​me rethink but it could have been the Christmas baulbe makeover I made last Christmas. Or my project with the Easter eggs … I suddenly found myself thinking that this was both easy and fun! By now I think it's a great technique and I've used decoupage lacquer for a lot of my recent projects.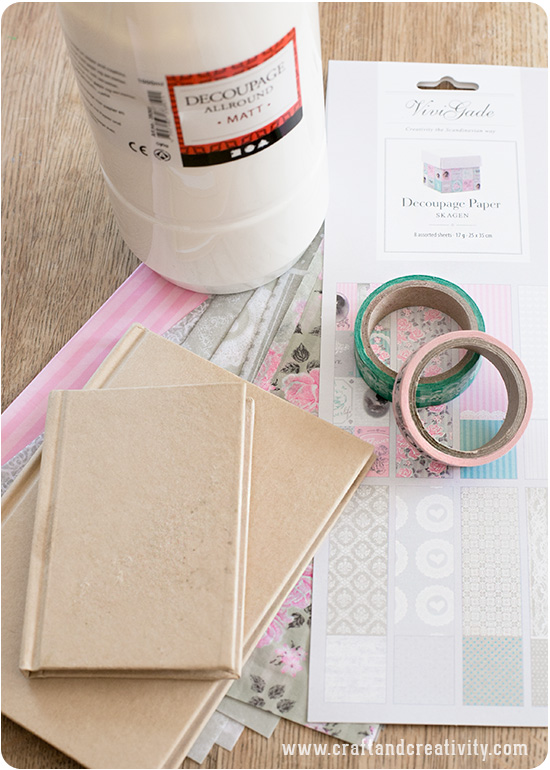 Nu senast klädde jag om kinaböcker med decoupagepapper. Jag gjorde på samma sätt som med mina textilklädda anteckningsböcker förutom att jag använde andra material. Jag penslade på ett tunt lager decoupagelack på bokens pärm, vek runt papperet runt boken, strök ut det försiktigt med fingrarna och avslutade med ett lager av samma lack ovanpå papperet. När lacket torkat dekorerade jag böckerna med washitejp.
————
Most recently, I dressed notebooks with decouopage paper. I used the same technique as with my fabric covered notebooks. except for using other materials. I brushed a thin layer of decoupage lacquer on top of the book cover, folded the paper around the book, smoothing the paper gently with my fingers and finished off with a coat of the same lacquer on top. Once the lacquer had dried I decorated my books with washi tape.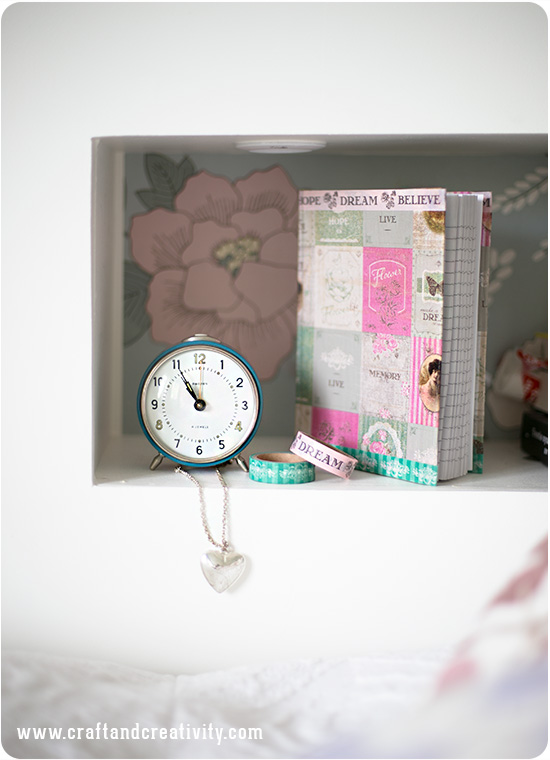 Bokens mönster & färger passar fint in i vårt sovrum. Här i en nisch i sänggaveln som min man & jag byggde för några år sedan. Jag tänker mig att jag ska använda boken till att skriva ner små kom-i-håg saker, idéer som jag kommer på precis vid läggdags och som är så lätta att glömma till dagen efter…
———
The book's patterns & colors fit nicely in the setting of our bedroom. Here, in a niche in the headboard of our bed, which my husband & I built a few years ago. I plan to use the book to write down quick notes, ideas that pop into my head right before bedtime and that are so easy to forget until next day …