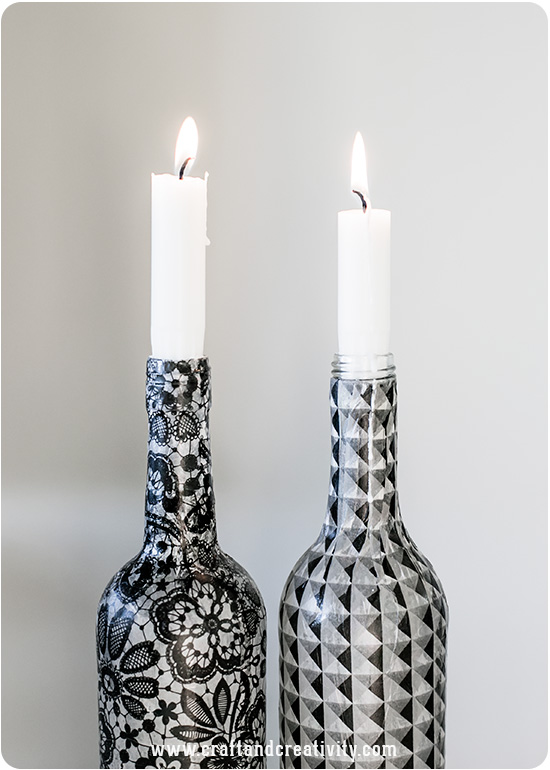 Med decoupagelack speciellt lämpat för glas och porslin kan man t ex ge gamla glasflaskor ett nytt liv. Mina flaskor blev till ljusstakar men man kan även ha dem till vaser eller till att servera vatten i vid en fin middag.
————–
With decoupage lacquer especially suitable for glass and porcelain you can give the old glass bottles a new life. I upcycled my bottles and made them into candle holders, but you can also use them as vases or for serving water at a dinner party.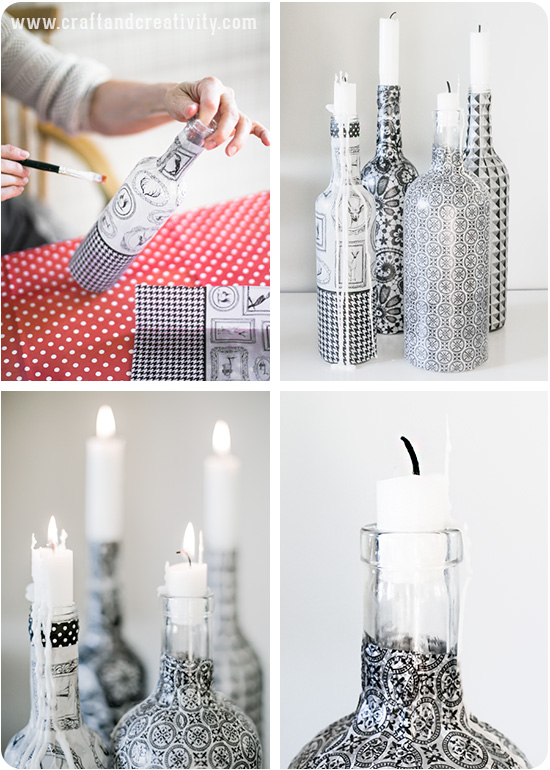 Pensla på ett lager decoupagelack på flaskan och placera ditt decoupagepapper runt flaskan. Det går också bra att använda översta lagret av en mönstrad servett eller silkespapper. Klipp gärna jack i papperet där flaskan smalnar av så blir det enklare att få snyggt. Pensla ytterligare ett lager lack ovanpå alltsammans, låt torka ett dygn och härda sedan i ugnen i 160°C i 30 min.
————
Brush decoupage lacquer around the outside of the bottle and place your decoupage paper around it. Instead of decoupage paper you can use the top layer of a patterned napkin or tissue paper. Add another coating of decoupage lacquer on top of the paper, let dry for 24 h and cure in the oven at 160°C for 30 minutes.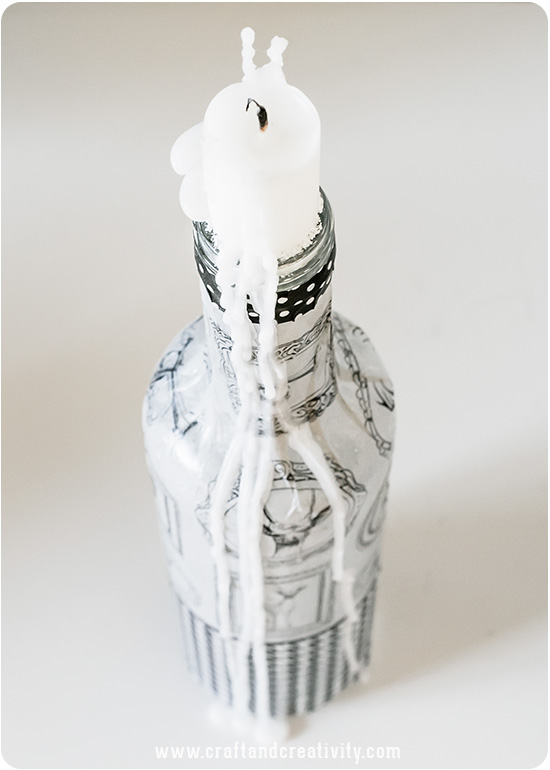 Jag funderar på vad nästa projekt ska bli… Jag skulle t ex vilja brodera på rislampor, göra en lampskärm av pappersugrör, pärla ihop ett gäng julkort, montera ihop min egen ljusstake av kopparrör, pyssla ihop julgranskulor av papper och skapa en julkrans av omålade träkulor. Inspiration finns det gott om, både på favoritbloggarna, Instagram och Pinterest. Det är bara tiden som inte räcker till.


———–
I'm trying to decide what my next project will be… Among many things I would like to experiment with cross stitches on a paper lamp, make a lampshade out of paper straws, do a bunch of beaded Christmas cards, build my own copper candlestick, make paper ornaments and create a Christmas wreath made of unpainted wooden beads. I find inspiration everywhere, both on my favorite blogs, on Instagram and Pinterest. I wish I had enough time for them all.