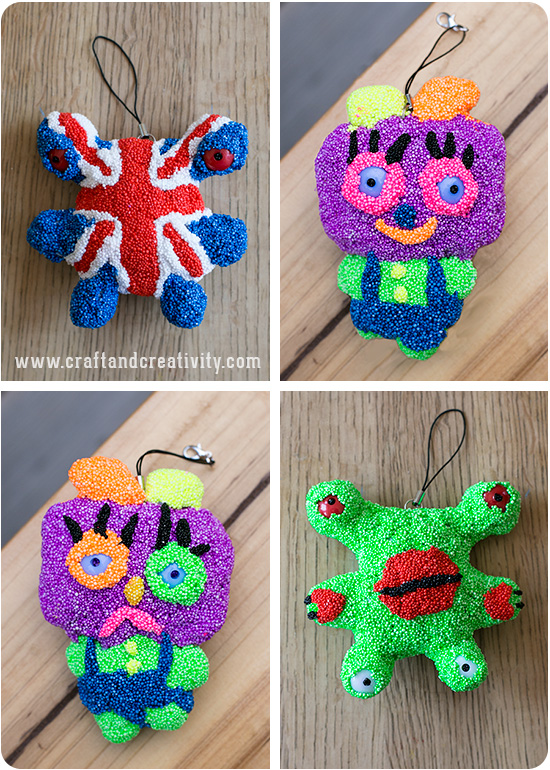 I sommar har vi haft två roliga pysselkalas för våra tjejer som fyllt år. En av aktiviteterna var att täcka tygfigurer med Foam Clay. Det här var det absolut populäraste pysslet, både bland 7- och 10-åringarna! Många gjorde olika bak- & framsida på sina gubbar som ni ser på den lila/gröna figuren ovanför. Det gröna monstret har min äldsta dotter gjort och den kan man vända upp- och ned och då får den vita ögon istället för röda 🙂
————–
This summer we held two fun craft parties to celebrate our daughters' birthdays. One of the activities was to cover fabric figures in fun shapes with Foam Clay. This was by far the most popular craft among both the 7 and 10 year olds! Many of them made different fronts and backs, like with the purple/green one in the picture above. My oldest daughter made the green one and you can turn it upside it down and get white eyes instead of red ones. 🙂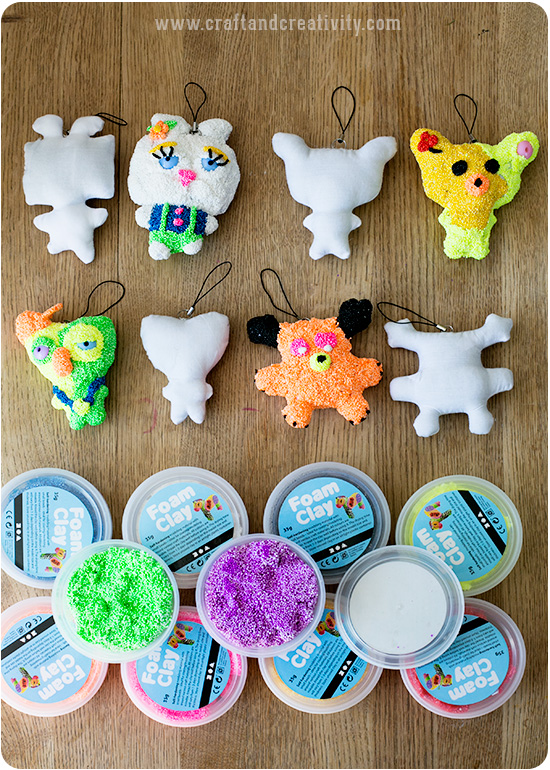 Här ser ni hur figurerna ser ut innan och efter att man har täckt dem med lera. Foam Clay är en skumliknande, lättviktig och självhärdande lera som lufttorkar på ca 24 timmar. Leran är giftfri, CE-märkt, den klibbar inte och man kan jobba med den utan underlägg på bordet. Den är perfekt till att täcka föremål av tyg, trä och papper men man kan även göra egna figurer med Foam Clay och med den slätare varianten som heter Silk Clay (som vi visat förut).
————–
Here you can see how the figures look before and after they where covered with clay. Foam Clay is a foam-like, lightweight and self-hardening clay that air dries in about 24 hours. The clay is non-toxic and non-sticky. It's perfect to cover fabric, wood and paper objects with, but you can also make your own clay creations with Foam clay and with the smoother version called Silk Clay (as we've shown before).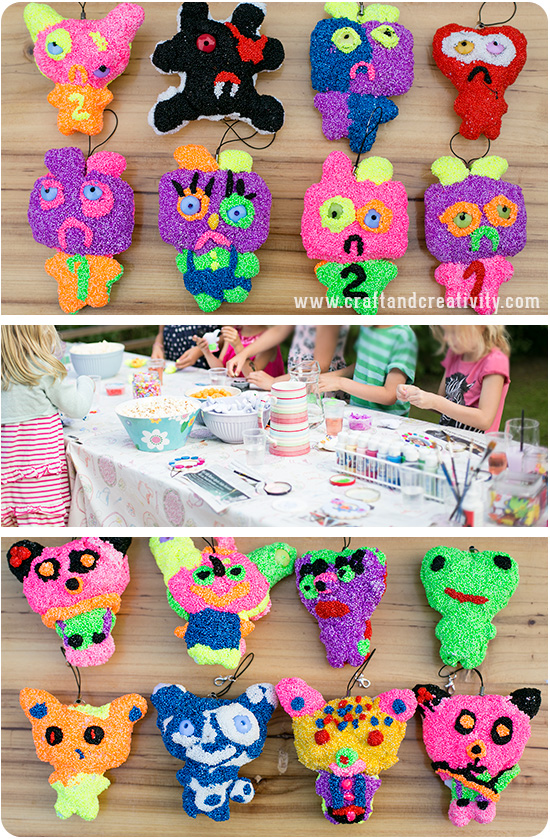 Den övre åtta monstren har 10-åringarna gjort ("-Nej, de är inte sura", förklarade min dotter för mig, "De har mustasch!") och de undre åtta har 7-åringarna skapat. Helt underbara varenda en, tycker jag!
————
The top eight monsters above where made by the 10-year-olds ("-No, they're not unhappy", my daughter explained to me "-They have a mustache!") and the lower eight where created by the 7-year-olds. I think that they are absolutely lovely, every single one!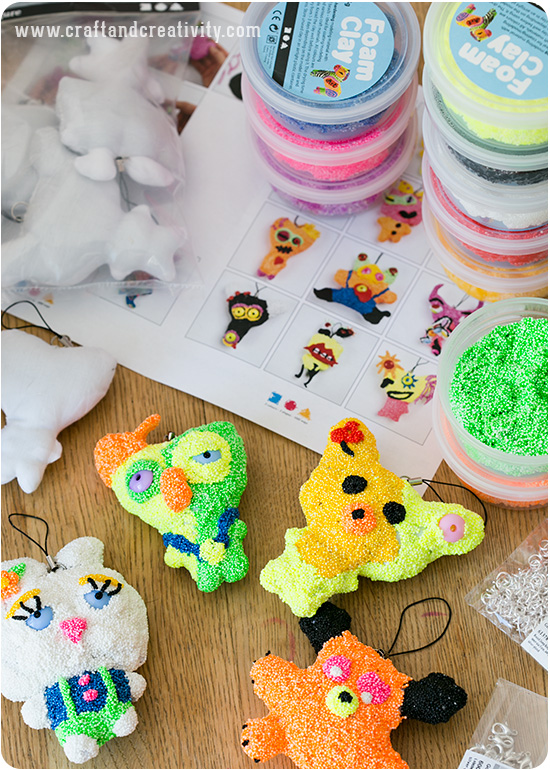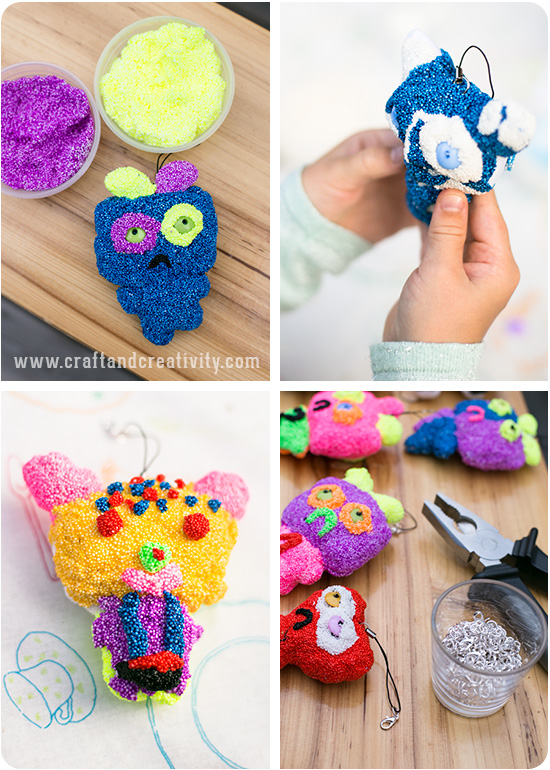 Foam clay fäster enkelt på tyget utan att man behöver lim och det går att blanda färgerna sinsemellan. Det blir fint att använda plastpärlor till ögon (ingår i förpackningen) men de sitter bättre om man gör ögonlock som håller pärlorna på plats. Fäster man en o-ring och karbinhake i öglan på tygfiguren så kan barnen fästa sin skapelse på t ex skolväskan.
——–
Foam clay sticks easily to fabric without the need of glue and you can mix the colors if you like. You can use plastic beads for eyes (included in the kit) but they stick better if you make eyelids to hold the beads in place. Add a jump ring and a clasp to the loop and the kids can hang their monsters on their school bags for example.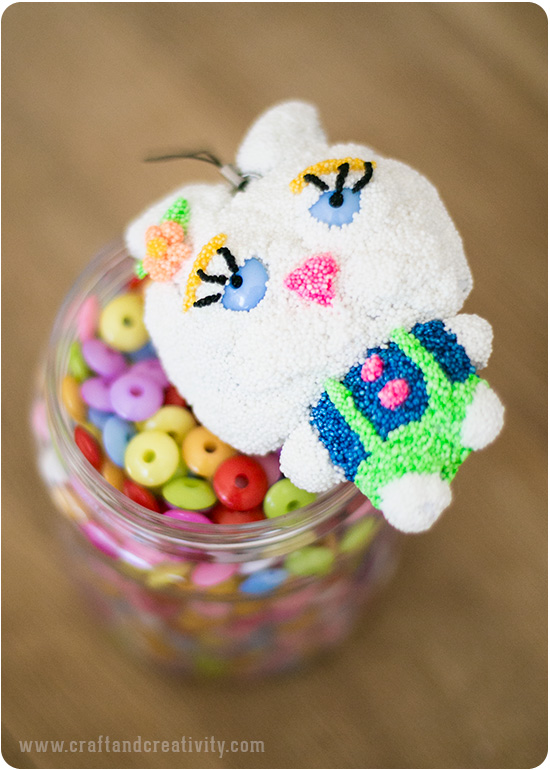 Självklart kunde jag inte hålla mig ifrån att göra en egen figur men min blev kanske inte så monsterliknande…
——-
Needless to say, I couldn't keep myself from making one of my own, but mine didn't turn out so monster like…