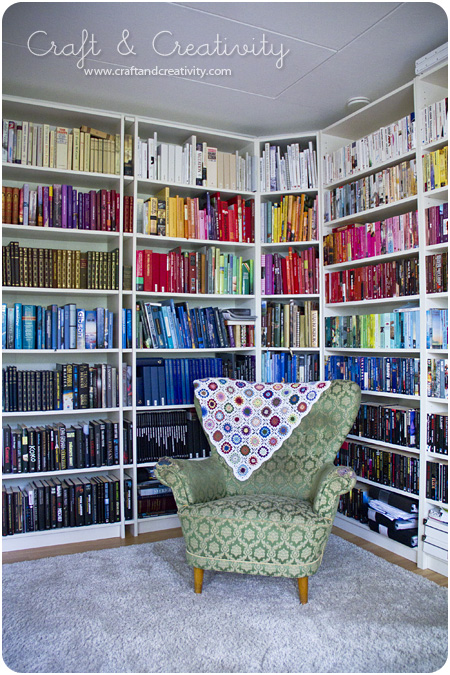 För två år sedan gjorde vi om ett av sovrummen till bibliotek. När alla böcker skulle upp i hyllorna kändes det enklare att placera dem i färgordning istället för i bokstavsordning. Jag tycker att det ger ett mer harmoniskt intryck och det är många som hajar till när de kommer in i biblioteket. En del tycker vi är helt galna, andra tycker att det är en kul grej.
——
Two years ago we transformed one of the bedrooms to library. When it was time for the books to be placed on the shelves, it seemed easier to organize them in color order instead of alphabetically. I believe it gives the room a more harmonious look and let me tell you, quite a few people flinch when entering the room. Some people think we are crazy, other's think it's a fun thing to do.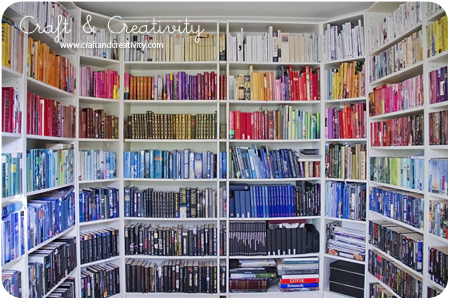 Den platsbyggda barnbokshyllan har vi snickrat ihop själva och vi utgick från en ritning vi hittade i en gammal inredningstidning. I oktober förra året var vårt hus med i Hus & Hem (nr 13) och då fanns det även med en beskrivning på hur man bygger en liknande hylla.
—–
We built this site-built children's book shelf ourself with some help of instructions we found in an old interior design magazine. In October last year our house was featured in Swedish Interior Magazine Hus & Hem (no 13) and in it was also a description on how to build a similar bookshelf.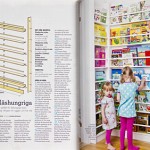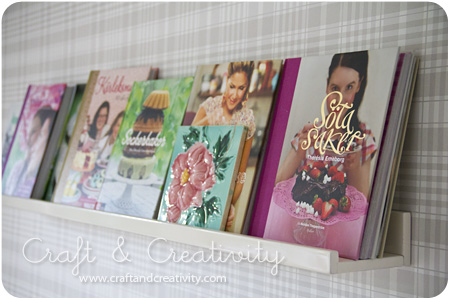 I köket har vi en kokbokshylla ovanför en av bänkarna, eller egentligen är det en kakbokshylla eftersom det oftast bara är kakböcker som står där (vi gillar att baka…). Hyllan kommer från Mio Möbler en gång i tiden och är väl egentligen en tavellist. Tapeten är Rut från Sandberg.
——
In the kitchen we have a cookbook shelf above one of the sideboards, or rather it is a cookiebook shelf as it usually only holds books about baking (we like to bake …). The shelf is from Mio Möbler and the wallpaper is Rut from Sandberg.

Fler tips på hur man kan inreda med böcker:
More inspiration on how to decorate with books: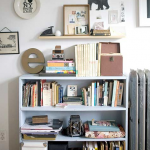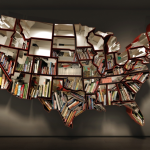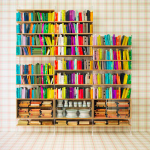 1. Hemma hos Mike Perry and Anna Wolf, via Design Sponge, 2. USA-hylla av Ron Arad,Timothy Taylor Gallery, 3. Massor av String, Stringfurnitured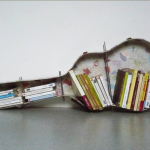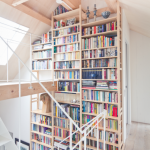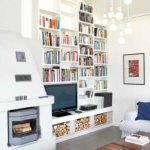 4. Bokhylla av ett gitarrfodral, Recyclart, 5. Fina hyllor från holländska Lundia,
6. Platsbyggd bokhylla, foto: Anna von Brömssen, via GöteborgsPosten.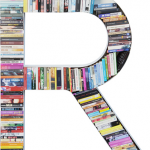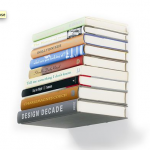 7. R-hylla från Bofink, 8. Flytande bokhylla från Designtorget, 9. Hylla Pockethus från Designtorget.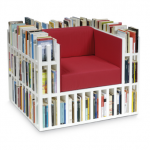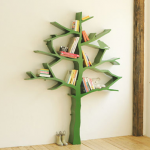 10. Fåtöljbokhylla från Nobody & Co, 11. Melody bokhylla från mdf italia, 12. Trädhylla från Designartist Shawn Soh