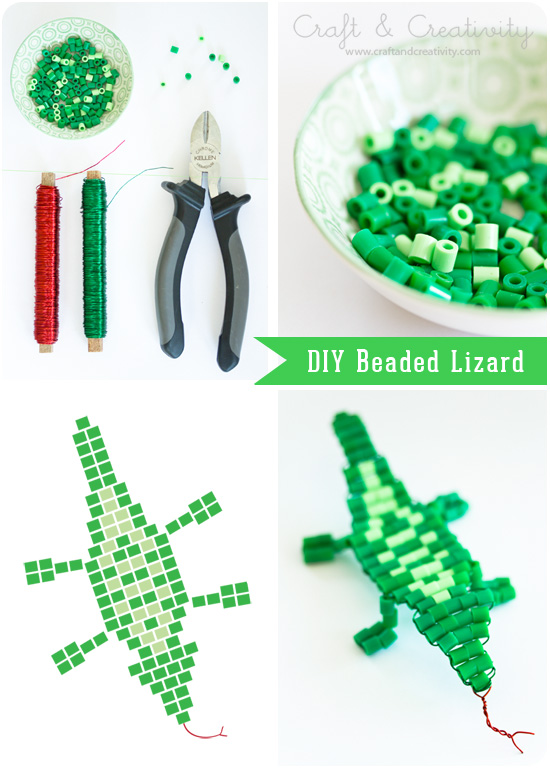 När jag, barnen och min mamma var på Naturhistoriska riksmuseet för några veckor sedan så tog vi även en titt på deras roliga skaparverkstad. Där hade man bland annat gjort ödlor av plastpärlor. Jag och barnen tyckte ödlorna var lite gulliga och när vi kom hem försökte jag klura ut tekniken. Det resulterade i en egen variant och en foto-beskrivning för att visa hur jag gjorde ödlan. Jag använde mig av ståltråd för att kropp och ben skulle bli formbara. Man kan också använda vanlig tråd, eller elastisk tråd om man vill.
—–
A couple of weeks ago the kids, my mum and I took a trip to the Museum of Natural History here in Stockholm and we also took the opportunity to take a look at their creative workshop. Among other things, they had made these cute lizard out of plastic beads, which caught our attention. When we got home, I made an effort to figure out how they were made. This resulted in my own version, and a photo tutorial to show you how I went about making the lizard. I used wire so that the body and legs would be flexible. You could also use regular thread, or elastic thread if you like.

Du behöver: Ståltråd (jag använde mig av ca 150 cm grön ståltråd och ca 10 cm röd ståltråd), plastpärlor (typ Hama-pärlor/strykpärlor/indianpärlor) och en avbitartång.
Gör så här: Börja med svansen och arbeta dig fram till huvudet. Följ instruktionerna och mönstret ovan.
——
You will need: Wire (I used approx. 150 cm / 60 inches green wire and about 10 cm / 4 inches red wire), plastic beads (also known as Hama beads / Perler beads / ironing beads) and a wire cutter.
Do like this: Start with the tail and work your way to the head. Follow the instructions and pattern above.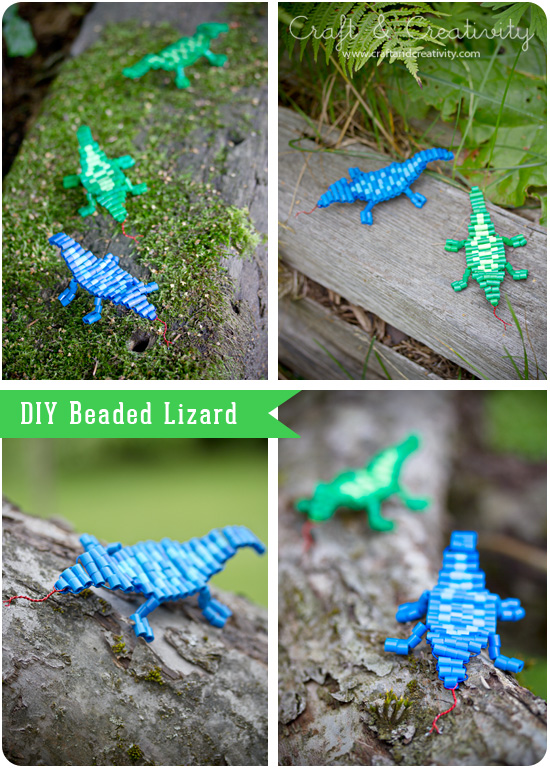 Ett roligt och enkelt pyssel för barn (och vuxna!). /
A fun and easy craft for kids (and adults!).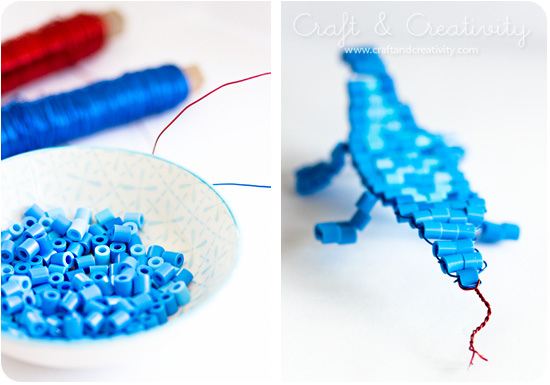 Ödlorna går förstås att göras i vilka färger som helst. /
The lizards can be made in any colors you like.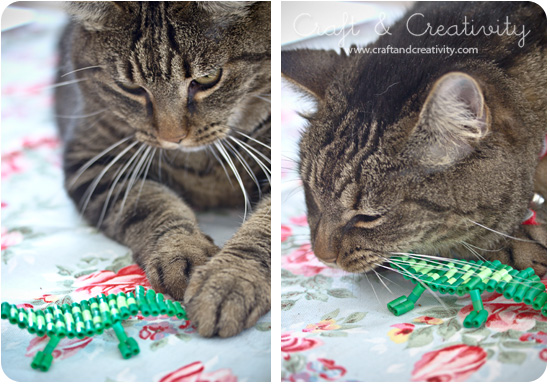 Katten Minus jaktinstinkt vaknade till liv… /
Minus the cat is showing off his hunting instincts …