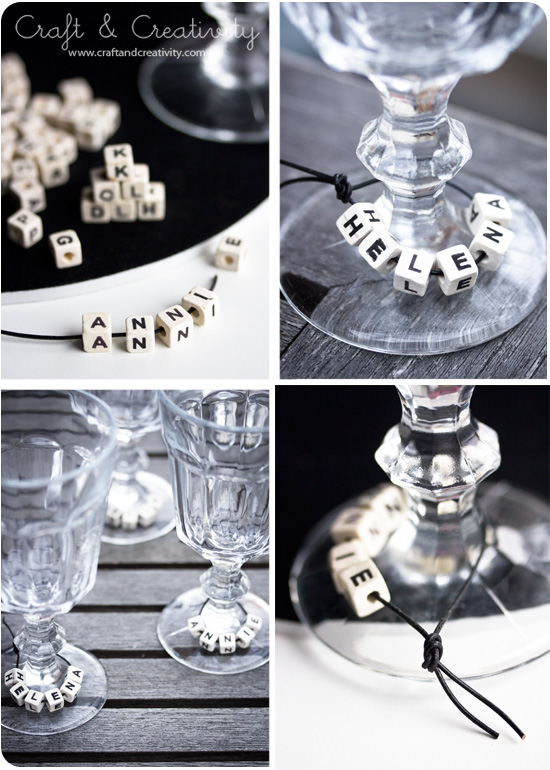 Glasmarkörer med gästernas namn kan fylla flera syften. Vid en sittande middag kan man till exempel använda dem för bordsplacering och snygga markörer ger en dekorativ extra piff till dukningen. Eller om man ska ha en större fest med mingel så hjälper det gästerna att hålla reda på sina glas. Är man (som jag) dålig på att komma ihåg nya namn så kan man tjuvkika på övriga gästers glas för att se vad de heter… Här har jag trätt bokstavspärlor i trä på svarta läderband och knutit runt foten på glaset.
—-
Glass markers with guests' names on them can serve several purposes. For example, at a seated dinner you can use them as place cards and pretty glass markers will make a decorative addition to your table setting. Or if you're hosting a bigger party, it will help the guests to keep track of their glasses. And if you are poor at remembering new names (like me) you can have a peek at the other guests' glasses to find out their names… Here I've threaded wooden letter beads on a black leather string and tied around the foot of the glass.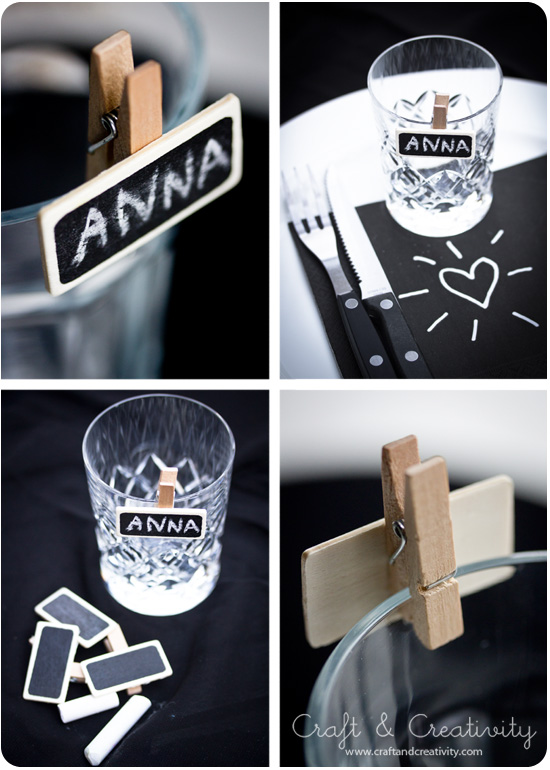 Skriv gästernas namn på träetiketten med krita och kläm fast tavlan på glaset eller tallriken. Man kan också göra egna tavelklämmor genom att limma t ex trähjärtan på klädnypor och sätta på en bit självhäftande tavelfolie. Eller måla klädnypan med tavelfärg, låt torka och skriva med krita direkt på klädnypan.
—
Write your guests' names with chalkboard chalk and clip the chalkboard to the glass or plate. You can also make your own chalkboards by attaching for example wooden plates to clothespins and put some adhesive chalkboard foil on top. Or paint your clothespins with chalkboard paint, let dry and write with chalkboard chalk on the pins.