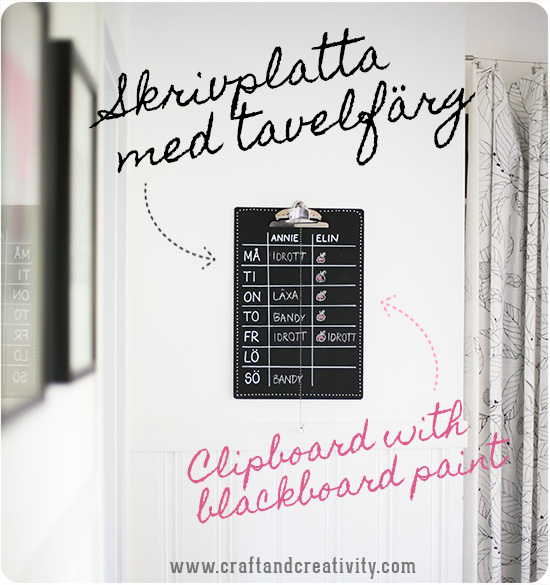 Terminen är igång och i och med att yngsta dottern börjat på 6-års så har vi inte bara ett skolbarn utan två, vilket förstås är roligt! Det är dock en hel del som ska hålla redas på – gympasäckar, frukt, läxor, fritidsaktiviteter och matsäck när det är utflykt. Därför fick jag idén att göra en tavla där både jag och barnen kan fylla i veckans planering. Den hänger i hallen för att vi lätt ska kunna snegla på den när det är dags att gå till skolan för att se om vi glömt något.
————
Autumn term has just begun and with our youngest daughter starting preschool we find ourselves having two school girls, which is quite exciting! However, there's a lot to keep track of –  like sport bags, snacks/fruits, homework, extracurricular activities and lunch bags for the occasional outing. Therefore, I got the idea to make a board on which both I and the children can write down the week's different activities. It's placed near our front door for us to easily glance at when it's time to go to school, to check if we forgot something.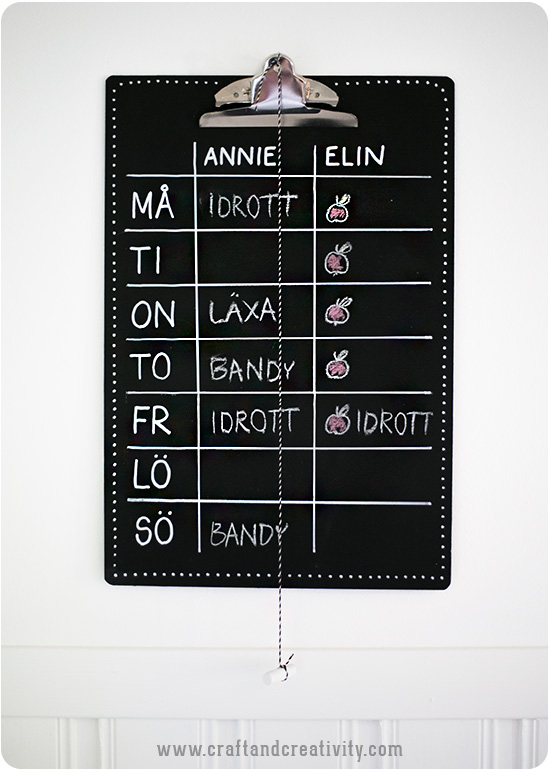 Jag använde mig av en skrivplatta, en s k "clipboard" i A3-format som jag målade med svart tavelfärg. När färgen torkat ritade jag linjer och skrev veckans dagar med permanent vit penna. Sedan var det bara att fylla i veckas aktiviteter med en bit krita som jag hängt fast på tavlan i en bit bomullssnöre. När något behöver ändras suddar texten med en bit fuktigt papper eller trasa. Linjerna stannar kvar men texten försvinner.
——–
I used a a 32×47 cm clipboard (suitable for A3) which I painted in blackboard paint. Once the paint dried, I drew lines and wrote the weekdays with a white permanent hobby marker. I then stated filling the table with the girl's different activities with a piece of chalk, tied to the board with a piece of baker's twine (cotton string). When we need to change something, we erase the text with a piece of damp paper or cloth. The lines remain, but the text disappears.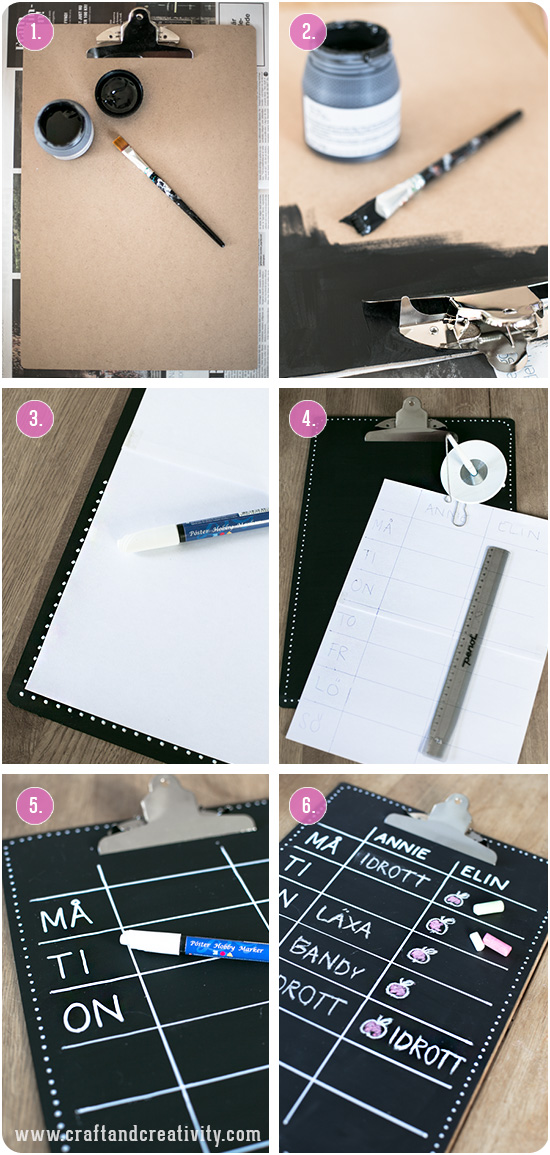 Måla skrivplattan med tavelfärg, minst två gånger för bästa resultat. Låt torka emellan, färgen torkar på ca 1 timme.
Jag brydde mig inte om att maskera själva klämman utan målade försiktigt under och runt.
Prickar är min favorit och därför målade jag dit en prickig kant när tavelfärgen torkat. Jag tejpade ihop två A4-ark som jag måttade med för att kanten skulle bli jämn.
På samma papper skissade jag fram mitt veckoschema.
Med en linjal som stöd ritade jag upp linjer och veckodagarna med en permanent vit penna som är täckande.
Dags att fylla i texten! Jag använde krita men man kan minst lika gärna använda s k Chalk Markers, pennor som går att sudda bort med fuktig trasa.
—–
Cover your clipboard with blackboard paint, at least two times for best result. Leave to dry for about 1 hour in between coatings.

I carefully painted freehand around the clip and didn't bother to use masking tape. 

Dots are my favorite, so I decorated my clipboard with a dotted border after the blackboard paint had dried. I taped together two A4 paper sheets and used as template to help me get the border straight.

On the same paper I sketched how I wanted my clipboard to look.

With a ruler as support, I drew all my lines and I wrote the weekdays with a permanent pen, a white opaque hobby marker. 

Time to fill in the memos! I used chalk, but you can just as well use so-called Chalk marker pens, the kind you can wipe away with a damp cloth just like chalk.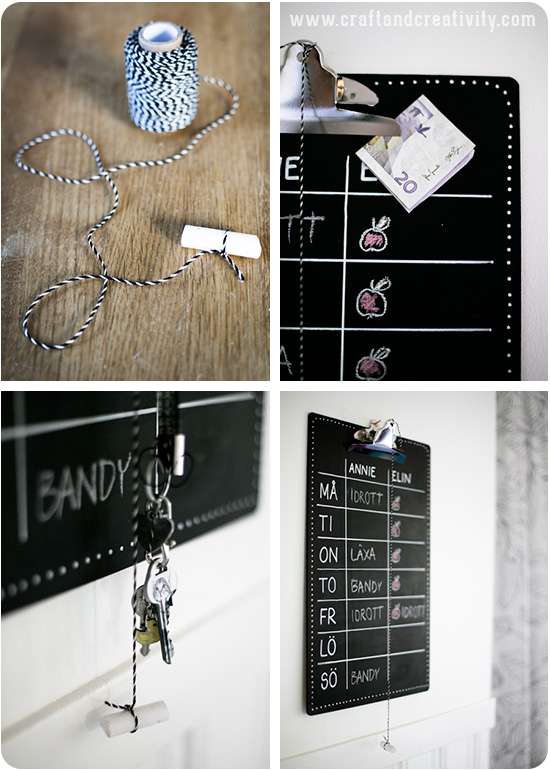 På tavlan kan vi också hänga upp eller klämma fast saker som ska med till skolan, som äldsta dotterns hemnyckel, ifyllda lappar eller när det är dags att lämna in en slant till skolkassan.
———-
On the board, we can also hang or pin stuff to bring to school, for example our eldest daughter's house key, filled out forms or perhaps a contribution for a school fundraising.