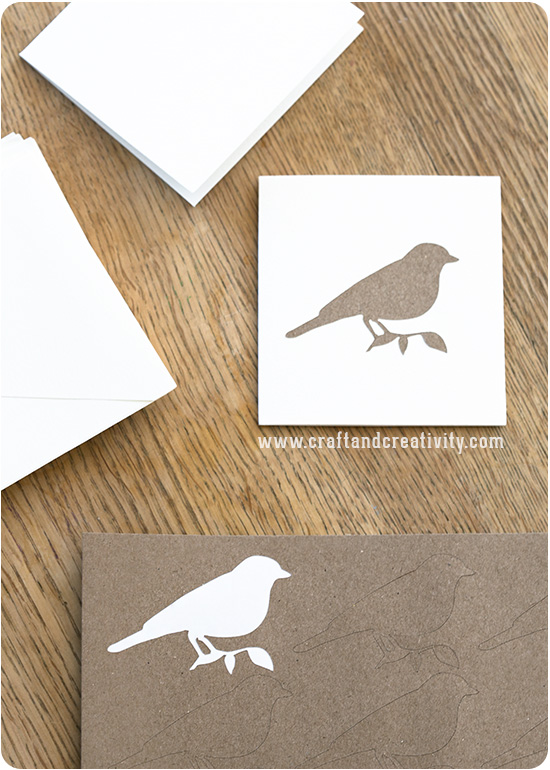 Jag tänkte visa ännu ett enkelt projekt med min inlånade Silhouette Cameon (ej sponsrat inlägg). Här har jag använt självhäftande kraftpapper från Silhouette och skurit ut fåglarklistermärken med skärmaskinen. Fåglarna har jag sedan använt för att dekorera kort med. Enkelt men effektfullt. Motivet med fågeln har jag laddat ner från Silhouette Online Store (ID #27480). Du kan även göra egna motiv i Silhouette Studio (går att ladda ner gratis för den som vill testa) eller importera bildfiler (jpg, png, bmp, gif eller tif) och lägga till egna skärmärken.
————
I thought I'd show you another quick and simple project with my borrowed Silhouette Cameo (I'm not sponsored). Here I've used adhesive kraft paper from Silhouette and cut out bird stickers with the cutting machine. The birds I then used to decorate cards. Simple but effective. I downloaded the bird design from Silhouette Online Store (ID #27480). You can also make your own designs in Silhouette Studio (free download here) or import image files (jpg, png, bmp, gif or tif) and add custom cut marks.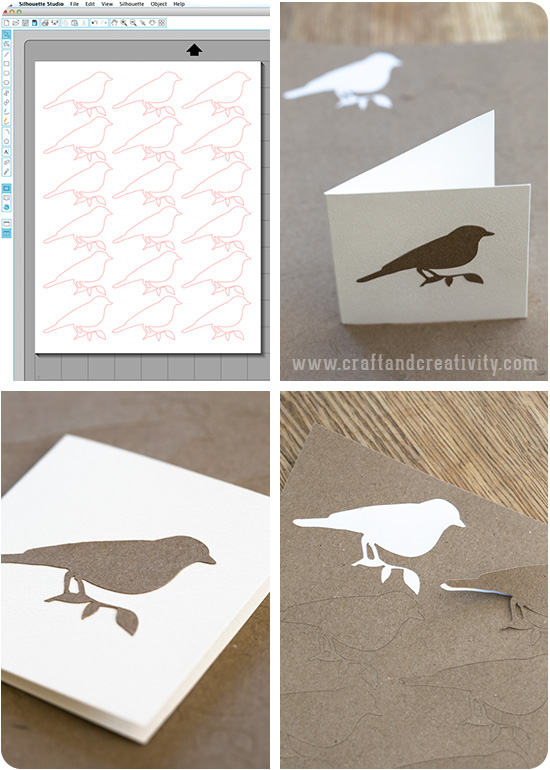 Du behöver: En skärmaskin (t ex Silhouette Cameo eller Silhouette Portrait), självhäftande kraftpapper och en skärmatta (ingår när du köper skärmaskinen). Korten jag använde är kvadratiska brevkort och kuvert med lite struktur.
Gör så här: Öppna Silhouette Studio. Ställ in rätt pappersstorlek under Page Settings. För självhäftande kraftpapper från Silhouette heter storleken Letter 8,5×11 in. Placera ut ditt motiv på skärmen, duplicera och storleksförändra om du vill.
Placera kraftpappret på skärmattan och mata in skärmattan i din Silhouette Cameo/Portait.
Under Cut Settings väljer du Material Type: Kraft Paper. För att se inställningarna för valt papper dubbeklickar du på Kraft Paper. Dessa ändras automatiskt när du väljer papper men kniven får du justera själv i maskinen (i detta fall vrider du den till 3).
Klicka på "Cut".
Mata ut kraftpappret. Nu kan du ta loss klistermärkena från skyddspappret. Om alla inställningar är rätt så skär maskinen i kraftpappret men inte igenom skyddspappret på baksidan, se mina bilder ovan. Använd klistermärkena för att dekorera kort, paket, askar eller anteckningsböcker t ex.
—————-
You will need: A cutting machine (for example Silhouette Cameo or Silhouette Portrait), adhesive kraft paper and a cutting mat (included when you buy the cutting machine). The cards I used are blank letter cards and envelopes with a hammer finish.  
Do like this: Open Silhouette Studio. Go to Page Settings and select the correct paper size. Adhesive kraft paper from Silhouette is 8.5×11 in. Place your design on the screen, duplicate and resize if you want. 

Place the kraft paper on the cutting mat and feed it into your Silhouette Cameo/Portrait. 

Go to Cut Settings and select Material Type: Kraft Paper. To view the settings, double-klick on the text Kraft Paper. Note how the blade (Silhouette Ratchet Blade) should be set and turn the blade in the cutting machine to match the same number.

Click "Cut".

Eject the cutting mat and remove the kraft paper from the cutting mat. Peel the stickers from the backing paper. If all settings are correct, the cutting machine has cut the kraft paper but nog through the backing paper, as shown in my pictures above. Use the stickers to decorate cards, gifts, boxes or notebooks for example.