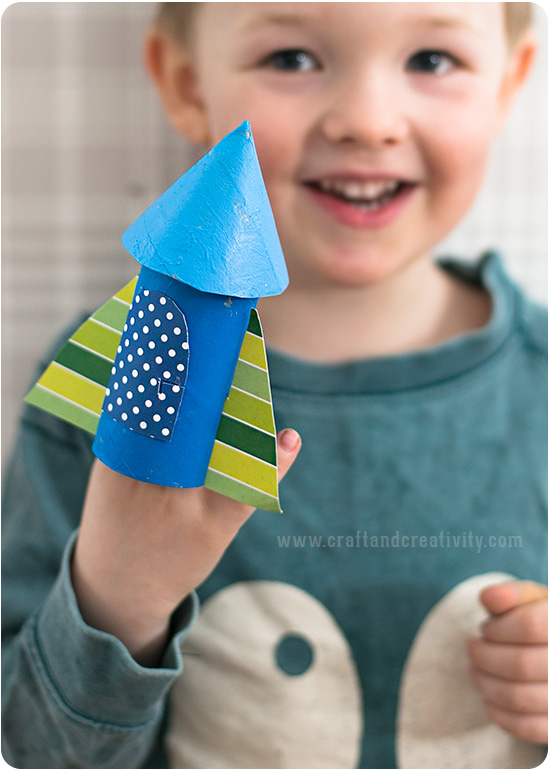 Tillsammans med vår pysselkompis Henry, snart 4 år, har vi gjort en tuff rymdraket av toarullar. Både rymdraketen och krokodilen som vi gjorde för några veckor har blivit populära leksaker. Läs vidare för att se hur vi gjorde!
———
Together with our crafting companion Henry we made a cool rocket out of toilet rolls. Both the rocket and the crocodile we made a couple of weeks back has become popular toys. Keep reading for a quick how-to!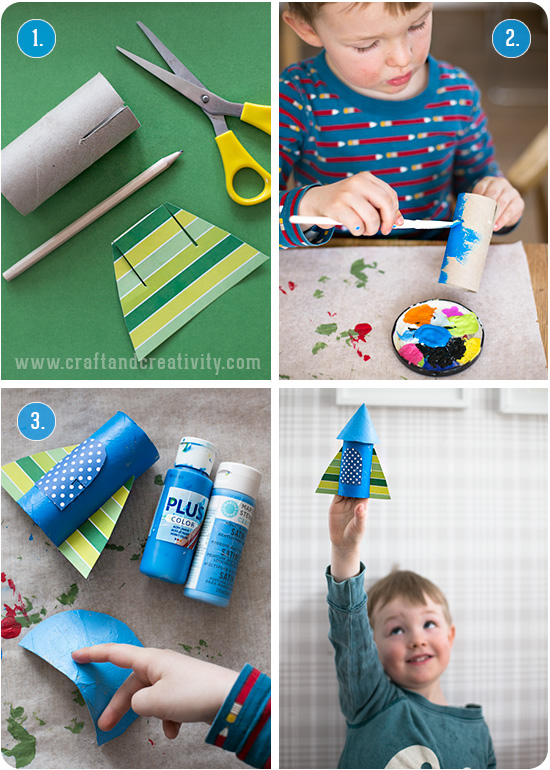 Du behöver: 2 st toarullar, mönstrad kartong, en limpistol (det går också bra med dubbelhäftande tejp), en sax, hobbyfärg och en pensel. Gör så här: Klipp två 1 mm breda och ca 4 cm långa jack på motsatta sidor av toarullen. Klipp ut basen/vingarna av kartong som bilden visar ovan. Även denna ska ha 2 st 4 cm långa jack högst upp. Avståndet mellan jacken ska vara lika långt som toalettrullen är bred.
Måla toarullen i valfri färg. Låt torka. Vi använde Plus Color och Martha Stewart Crafts hobbyfärg. Färgen täcker bra och torkar snabbt.
Klipp upp den andra toalettrullen, platta ut den och klipp ut en halvcirkel. Måla den också i valfri färg. Rulla ihop den till en kon, limma skarven eller använd dubbelhäftande tejp. Montera ihop delarna. Taket/spetsen limmas fast. Klipp ut en dörr eller fönster av kartongen och limma fast. Nu är raketen klar för uppskjutning!
————–
You will need: Two toilet rolls, patterned cardstock, a glue gun (or double-sided adhesive tape), a pair of scissors, hobby paint and a brush. Do like this: Cut two 1 mm wide and 4 cm (1.5″) long slits at the opposite sides of the toilet roll. Cut the base/wings out of cardstock as shown above. These also need two 4 cm (1.5″) long slits at the top. The distance between these two slits should be as big as the toilet roll is wide.
Paint the toilet roll and let dry. We used Pluc Color and Martha Stewart Crafts paint. The paint covers well and dries quickly.
Cut the other toilet roll open, flatten it and cut out a semicircle. Paint it, let it dry and roll it into a cone. Glue the joint or use double adhesive tape. Assemble the parts. Glue the roof/tip in place. Cut out a door or a couple of windows and glue them in place. Now the rocket is ready for launch!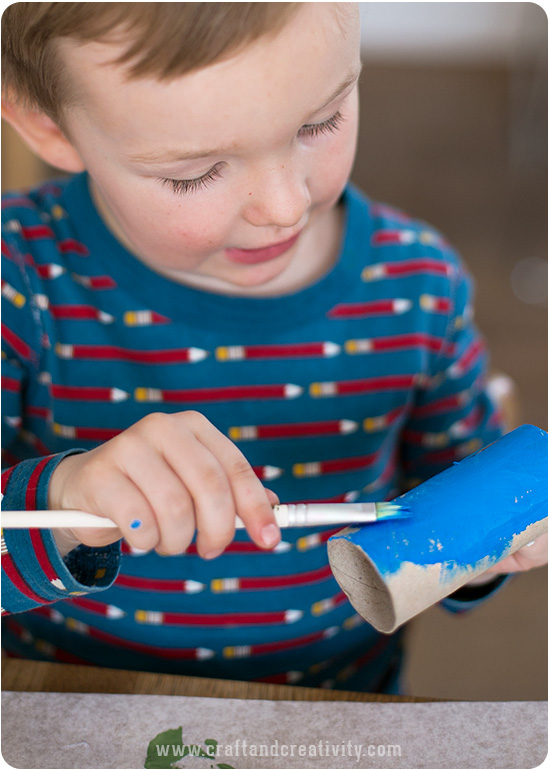 Koncentrerat arbete pågår. Använd gärna något underlag för att inte få färg på bordet, t ex tidningspapper eller bakplåtspapper (kan användas flera gånger).
—————
Concentrated work in progress. Use something to protect your table top while painting, for example newspapers or parchment paper (can be used multiple times).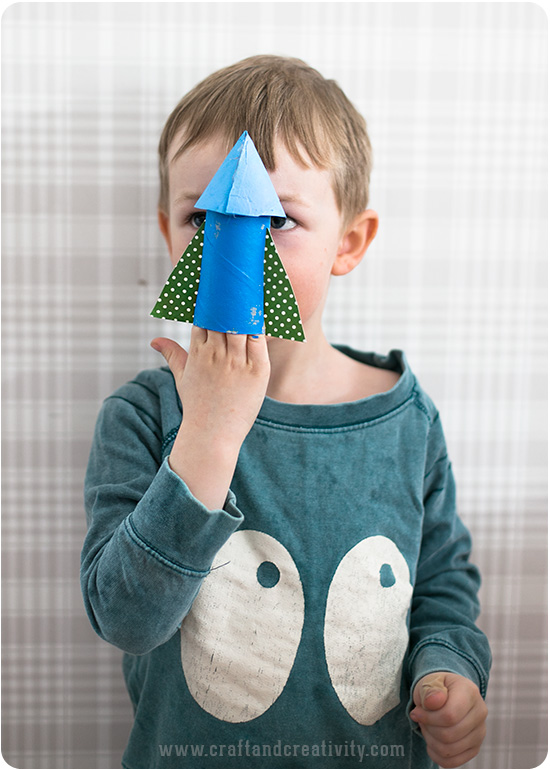 Att pyssla med toarullar är roligt, billigt och det känns extra kul att använda material som man annars bara slänger i återvinningen. Här kommer några fler pyssel som jag gjort tidigare med toarullar och hushållsrullar:
————-
Toilet roll crafts are fun, cheap and it feels good to use material that you normally just throw away in the recycling bin. Here are some more toilet roll and kitchen roll crafts that I made previously: 
Våra vänner Karin & Freja på Pysselbolaget är proffs på att pyssla med toarullar, se några av deras fiffiga pyssel här:
———–
Our friends Karin & Freja at Pysselbolaget (The Crafty Swedes) are, among many other things, masters of toilet roll crafts. Take a look at some of their great tutorials: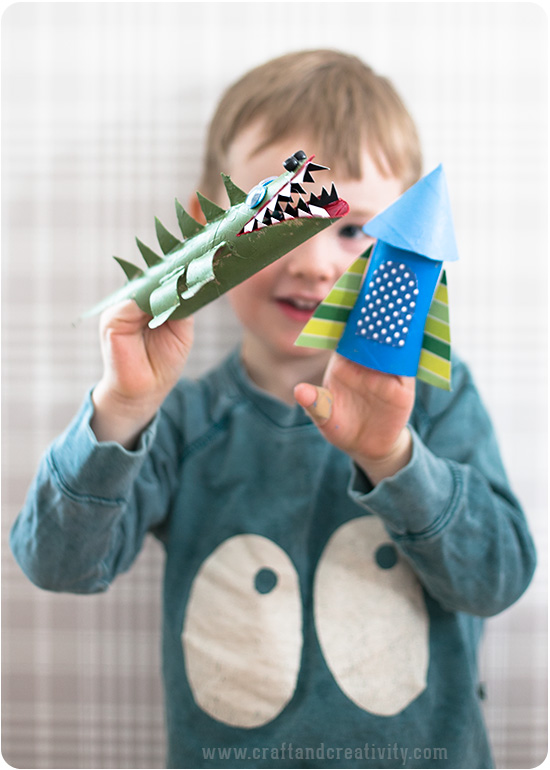 Krokodilen av hushållsrullar och rymdraketen möts! ♡ /
The paper roll crocodile and the rocket hang out! ♡