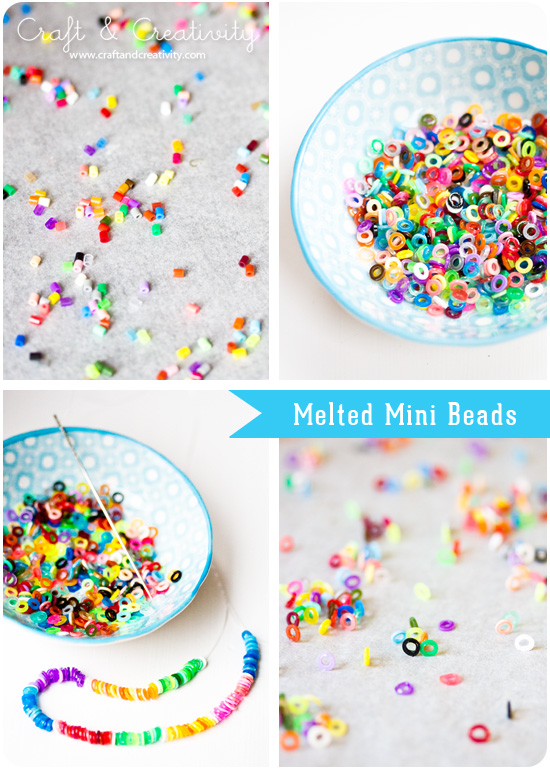 I våras roade vi oss med att smälta vanliga plastpärlor (s k hamapärlor/pärlplattepärlor) och gjorde armband av dem. Nu har vi även gjort samma sak med mini-plastpärlor. Det gick minst lika bra och de blev verkligen jättesöta! Jag fick ett tips från en bloggläsare att man inte behöver ställa upp pärlorna en och en utan man kan hälla ut dem lite huller om buller. Och tänk – det fungerade! Pärlorna blir lika fina och platta ändå och man kan sära på dem i efterhand om de klibbar ihop.
—–
Last spring, we had fun melting ordinary plastic beads (so called ironing/hama/perler/fuse beads) and making bracelets out of them. Now we've tried the same thing, but with mini plastic beads. It worked just as well and they turned out really cute! I got a tip from a blog reader that you don't need to set the beads up one by one, you can place them randomly. And you know what? It worked! The beads turned out just as flat and pretty, and if they happen to stick together you can separate them afterwards. 
För er som inte testat tidigare. Gör så här: Häll ut pärlorna på en plåt med bakplåtspapper. In med plåten i ugnen i 200°C i ca fem minuter (kortare tid för minipärlor).
—
For those of you who haven't tried before. Do like this: Pour the beads on a baking sheet with baking paper. Melt the beads in the oven at 400°F (200°C) for about five minutes (a little less for the mini beads).