Våra kontinuerliga träffar med våra pysselvänner från Pysselbolaget är alltid lika uppskattade! Vuxna och barn pysslar tillsammans och vi utbyter idéer och har roligt. Nu senast vi träffades gjorde vi kort. Nu har vi ett helt lager med gratulationskort här hemma som vi kan använda till framtida bemärkelsedagar.
———-
Our ongoing craft fests with our friends from Pysselbolaget are always appreciated! Adults and kids craft together and we exchange ideas and have fun. At our latest meeting, we made cards. Now we're fully stocked with greeting cards for many future parties to come.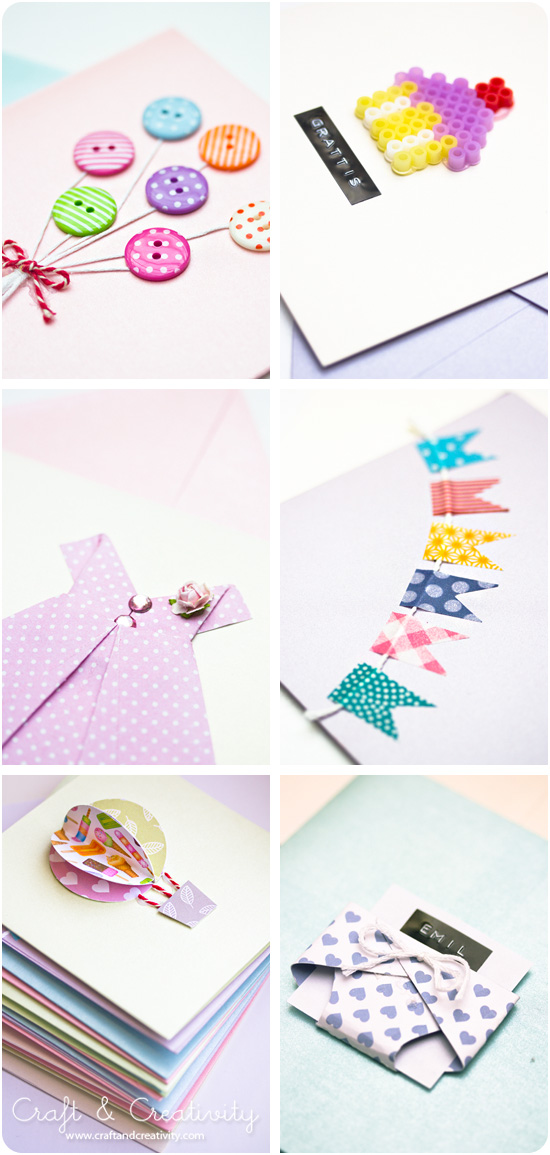 Jag använde pastellfärgade kort från Make & Create som bas och dekorerade dem med washitejp, knappar, pärlor och papper. Origamiklänningen har jag bloggat om tidigare och där finns en länk till beskrivningen. Blöjan längst ner till höger gjorde jag efter Martha Stewarts beskrivning och mall.
————
I used pastel pearlescent cards as a base and decorated them with washi tape, buttons, beads and paper. I've blogged abut the origami dress before and there you can find a link to a video tutorial. The diaper to the bottom right I made from Martha Stewart's description and template.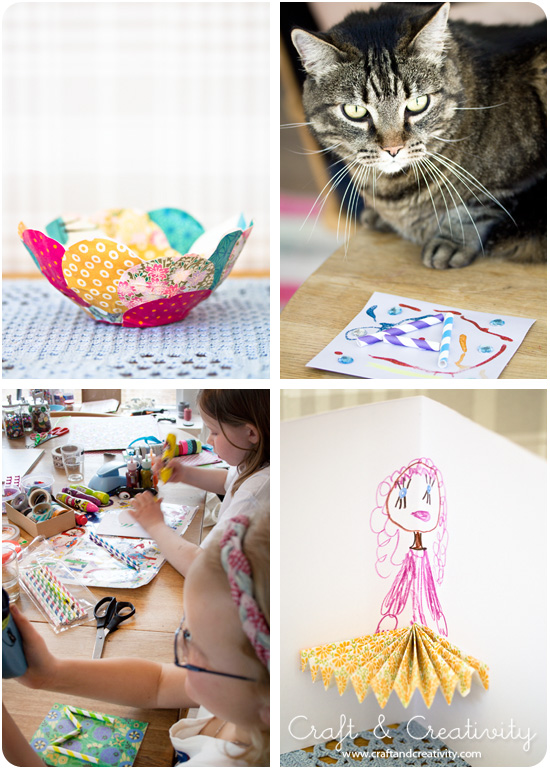 Av kreativa Karin fick jag en vacker papier mache-skål som hon gjort av mönstrade papper. Vi pysslade tillsammans en hel dag och jag kan lova att bordet var belamrat av pysselmaterial och fina alster! Karin & min yngsta dotter gjorde fina prinsesskort med veckade kjolar. Hur man gör dessa kan ni se om ni klickar er vidare till Pysselbolagets sida, där de också skriver om vår roliga dag och visar sina fina kort! Bilden på pysslande tjejer har Karin tagit.
———–
My creative friend Karin gave me this beautiful papier mache bowl she made out of patterned paper. We crafted together for a whole day and I can promise you the kitchen table was cluttered with craft material and pretty creations! Karin & my youngest daughter made beautiful princess cards with pleated skirts. You can see how they went about making them over at Pysselbolaget, where Karin also writes about our day and shows pictures of the pretty cards they made! Karin took the photo of the girl's crafting.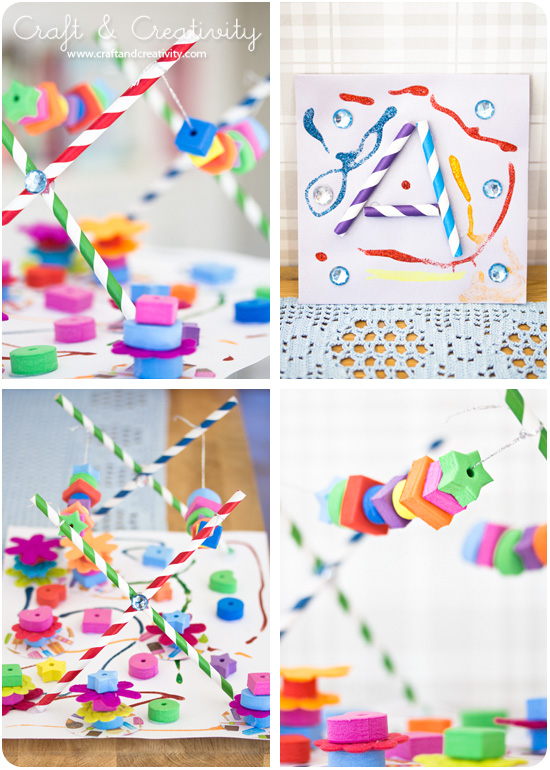 Förutom kort så skapade barnen konstverk! Som installationen ovan, en fantasifull miljö gjord av pappersugrör, mjuka pärlor i mossgummi, glitterlim, filtblommor och en limpistol. Fullkomligt underbar, tycker jag!
———
In addition to making cards the kids created art! Like the installation above, an imaginative setting made of paper straws, soft beads, glitter glue, felt flowers and a glue gun. I think i'ts absolutely adorable!