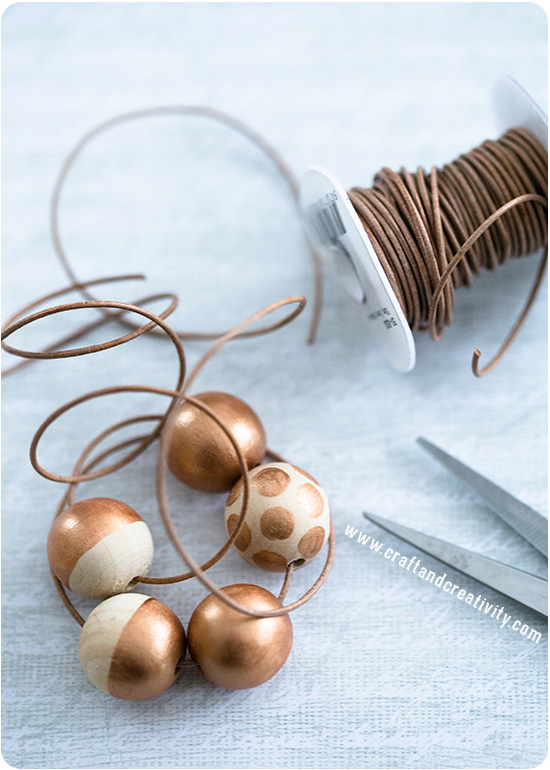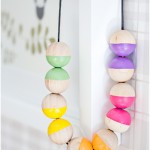 För ett par år sedan gjorde jag ett halsband liknande detta, men då i pastellfärger, se bild med länk till vänster. Den här gången däremot valde jag en metallicfärg med nyans av koppar och målade olika mönster på träkulorna. Jag gillar kontrasten mellan metallkänslan och träkulornas obehandlade träyta.
—————-
A couple of years ago I made a necklace similar to this, but in pastel colors (se picture to the left). This time, however, I chose a metallic copper color and painted different patterns on the wooden beads. I like the contrast between the metallic look and the natural feel of the beads.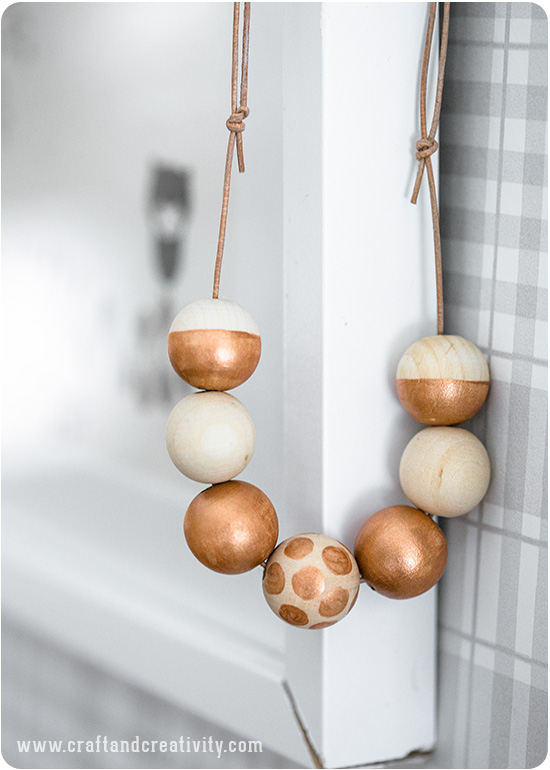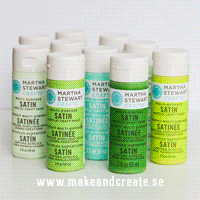 Idag har vi premiär för ett helt nytt märke i vår webbutik Make & Create – Martha Stewart Crafts®. Jag har haft möjlighet att testa deras färger under några veckor och den är verkligen precis så bra som alla säger. Den är mycket täckande och funkar på alla ytor, som t ex trä, papper, glas, porslin, plast, canvas, terrakotta, tyg, betong och metall. Därför känns det extra roligt att börja jobba med detta märke. Kommande veckor kommer jag visa ett gäng olika projekt där jag använt Martha Stewarts färger varav det första pysslet är kopparmålade trähalsband. På Martha Stewarts hemsida finns också massor med inspiration och beskrivningar, för er som inte redan upptäckt den sidan. Klickar er gärna vidare till Make & Create för att läsa mer om Martha Stewart Crafts och våra nyheter.
——————-
Today we release a new brand at our web shop Make & Create and it's Martha Stewart Crafts®. I've had the opportunity to try their paint for a while now and it really is as great as everyone says. It works on all surfaces, such as wood, paper, glass, porcelain, plastic, canvas, terra cotta, fabric, concrete and steel. This makes it very enjoyable and easy to work with. Coming weeks, I will show you a bunch of different projects where I used Martha Stewart's paints, of which the first craft is this copper painted wooden necklace. You can also find a lot of inspiration over at Martha Stewart's site, if you haven't already discovered it.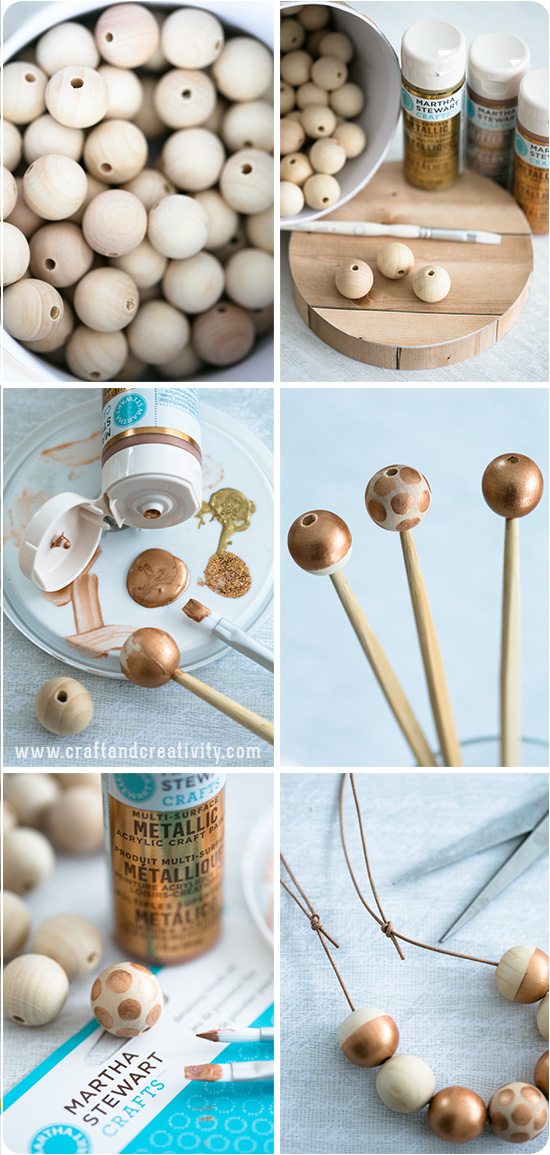 Jag experimenterade med både guldfärg och glitterfärg men beslutade mig för kopparfärgen som jag tyckte blev finast för just detta ändamål. Det enklaste sättet att måla träkulor/träpärlor är att spetsa dem på ätpinnar av trä. Då har man dels något att hålla i när man målar och dels kan man ställa dem i ett glas för att torka. Färgen torkar snabbt och jag målade bara ett lager. Burken som jag förvarar träkulor i kommer från ett tidigare pyssel.
—————-
I experimented with both gold paint and glitter paint but finally decided to go with copper paint, since I thought it looked best for this project. The easiest way to paint wooden beads is to stick them on chopsticks. That way you have something to hold on to while painting and you can set them in a glass to dry. The paint dries quickly and for this project I did only one coating. The round box where I store my wooden beads comes from a previous project / blog post.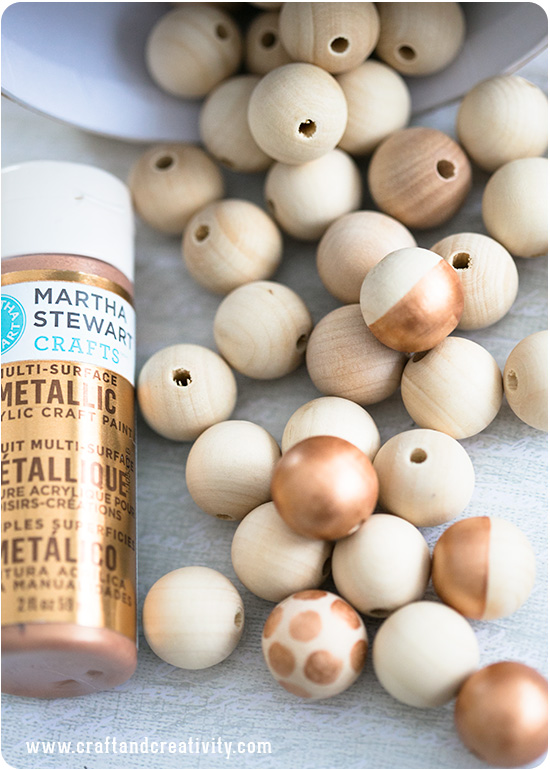 Jag trädde jag träpärlorna på ett lädersnöre och knöt s k glidande knutar för att kunna ändra storlek på halsbandet. Beskrivning på sådana knutar finns det gott om, bland annat här.
———–
I threaded my wooden beads on a leather cord and tied two so-called sliding knots in order to being able to adjust the size of the necklace. There are plenty of tutorials on how to make sliding knots, for example if you click here.