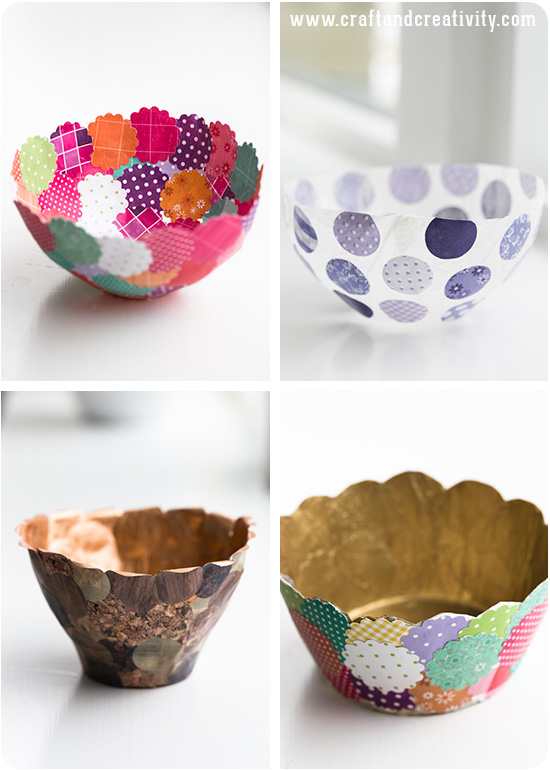 Principen är enkel och det enda du behöver för att göra pappersskålar liknande mina är små bitar av mönstrat papper (kanske har du restbitar av fina papper hemma?), tapetklister (eller hemmagjort papier-maché lim), pensel, plastfolie och skålar som du använder som mall. Vill du lacka utsidan på skålarna behöver du även lack (t ex decoupagelack) och vill du måla insidan behöver du färg och min favorit är Martha Stewart Crafts® fina täckande färger.
Gör så här: Ta en skål som du gillar, vänd den upp och ner och täck den med plastfolie. Limma fast papperet, bit för bit med tapetklister och täck hela utsidan av skålen. Låt torka ordentligt innan du lossar på skålen och försiktigt drar bort plastfolien. Det tar ca 1 dygn för torkningen. För er mer utförlig steg-för-steg beskrivning rekommenderar jag er att ni besöker Pysselbolaget och Carolyns homework och tar del av deras utmärkta beskrivningar. Det var därifrån min inspiration kom och en än gång får jag tacka Karin & Freja för ett roligt pysseltips! ♥
————–
It's a simple procedure, all you need to make paper bowls like mine are scraps of paper, wallpaper paste (or homemade papier-maché), a brush, plastic wrap and bowls to use as a templates. If you like you can add extra lacquer to the outside and decorate the inside of the bowls with paint and my favorite is Martha Stewart Crafts® paint. 
Do like this: Take a bowl you like, turn it upside down and cover it with plastic wrap. Glue the paper, piece by piece with wallpaper paste and cover the entire outside of the bowl. Let it dry completely before loosening the bowl and carefully removing the plastic wrap. It takes about 24 h to dry. For more detailed step-by-step directions, I recommend you that you visit Pysselbolaget and Carolyns homework and their excellent tutorials. That's where I got my inspiration and once again I have Karin & Freja to thank for a fun craft tip! ♥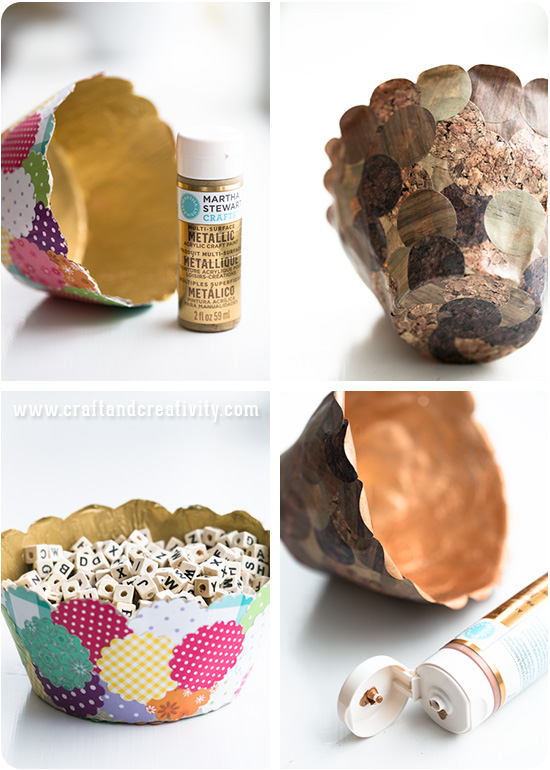 Jag målade insidan på några av mina skålar med metallicfärg i nyanserna guld och koppar. Ett lager färg räcker och den torkar snabbt. Penseln gör du rent med vanligt vatten och tvål eller med penseltvätt. Utsidan lackade jag med matt decoupagelack för att få extra stadga och en fin finish. Den naturfärgade skålen är gjord av figurstansat origamipapper. Skålen med platt botten är gjord av designpapper som jag stansat ut med en handpunch.
—————–
I painted the inside of some of my bowls with metallic color in shades of gold and copper.. One coat of paint is enough and it dries quickly. Clean the brush with soap and water or Brush & Stencil Cleaner. I added a coat of matte decoupage lacquer to the outside of the bowl for extra stability and a nice finish. The natural-colored bowl was made by circle punched origami paper. The bowl with flat bottom was made of design paper and the scalloped circle shapes where made with a squeese punch.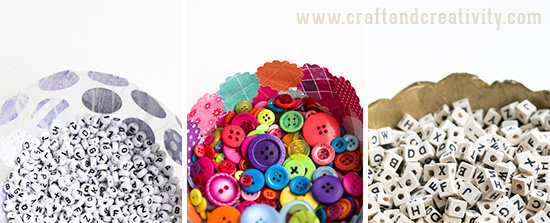 Pappersskålarna blir extremt lättviktiga och tål inget tungt eller blött innehåll men är perfekta till att förvara pysselmaterial eller smågodis. Ju tjockare papper (eller ju fler lager) desto stabilare skål.
————-
The paper bowls will turn out extremely lightweight and will not withstand heavy or wet content, but is perfect for storing craft supplies or sweets. The ticker the paper (or the more layers), the more stable the bowl.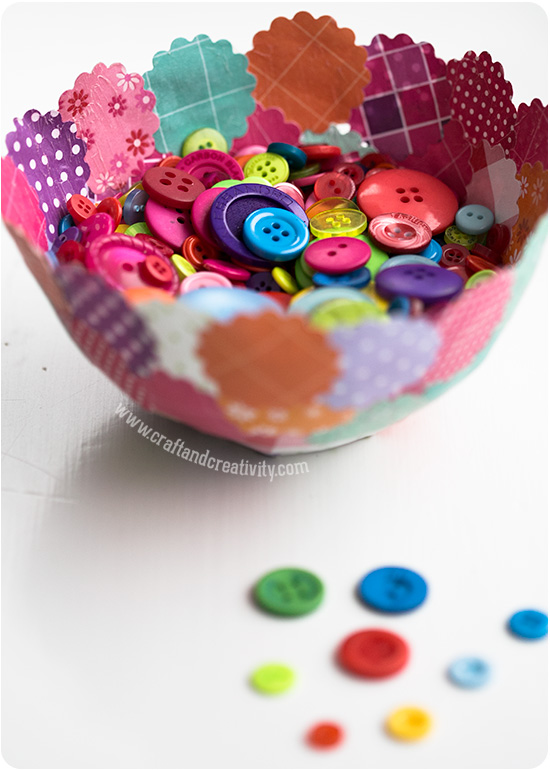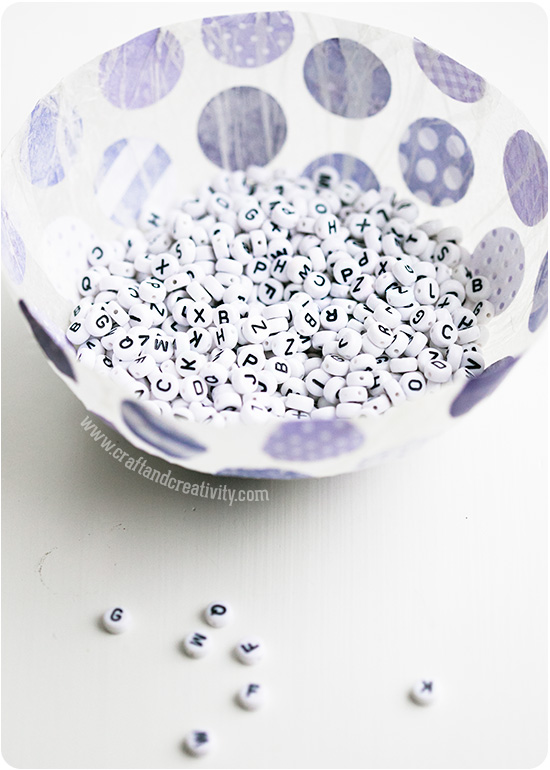 För att göra den vita halvtransparenta skålen med lila prickar började jag med att täcka skålen och plastfolien med vitt silkespapper i tre lager (tapetklister mellan) och avslutade med att limma fast pappersprickar av lila origamipapper som jag stansat ut med en figurstans.
—————
To make the white semi-transparent bowl with purple dots, I started with covering the bowl and the plastic wrap with white tissue paper in three layers (wallpaper paste between) and finished by gluing paper dots of purple origami paper evenly on the bowl.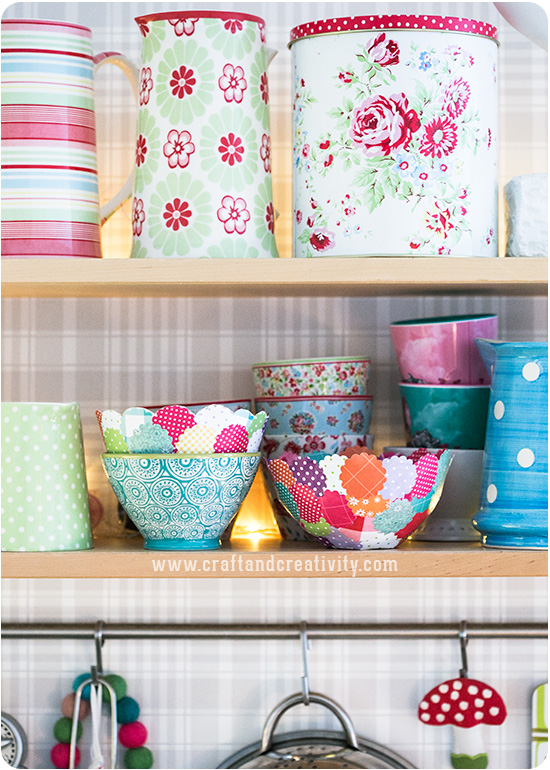 Skålarna pryder vår hylla i köket när de inte används.
———-
When not in use, the bowls look pretty on our kitchen shelves.