För att göra dessa karamellaskar i papper har jag använt en stansmall. Askarna kan användas som presentaskar eller varför inte fylla med godis och använda som ett alternativt påskägg? De skulle också vara söta att lägga på gästernas tallrikar vid ett dop eller bröllop, med en liten gåva eller sötsak inuti.
————
I used a punch board to create these candy boxes out of paper. The boxes can be used as gift boxes or why not fill them with candy for Easter, instead of Easter eggs? They would also look great as decoration at a wedding or baby shower, with a small gift or treat inside.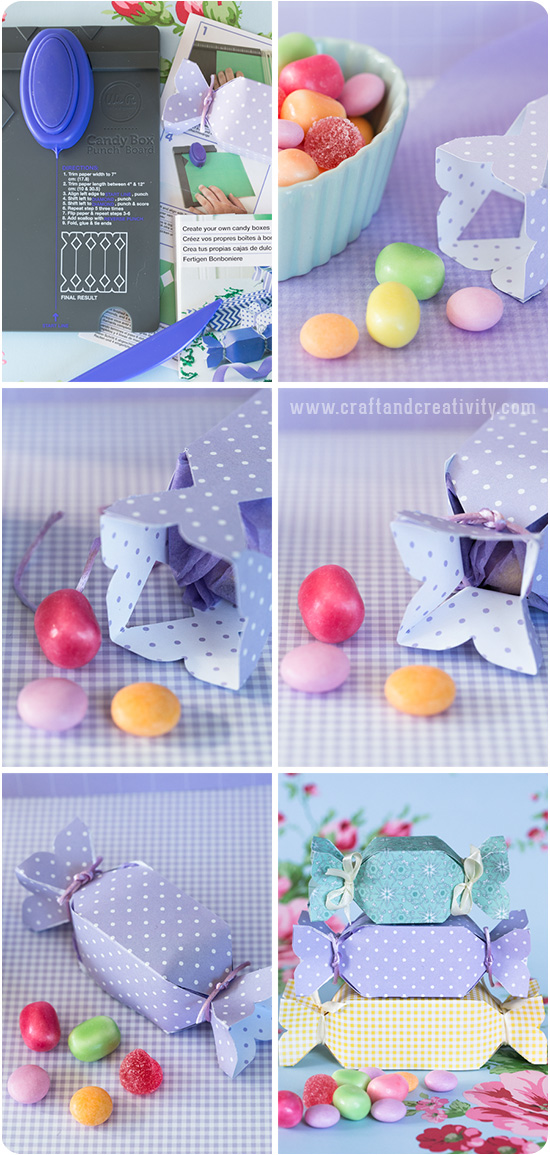 Stansmallen kommer från We R Memory Keepers som finns i sortiment hos Make & Create. Det finns fler varianter av mallar som gör olika presentpåsar och askar. Gemensamt för dem alla är att du kan göra många askar på väldigt kort tid och använda precis de papper som du gillar bäst. Jag använde huvudsakligen 190 g designpapper i olika mönster och färger. I förpackningen ingår en skärplatta med tryckta mallar och mått (cm & tum) och med en integrerad stans och tillhörande falsben och tydliga instruktioner med bilder. När du är klar med stansning och falsning tejpar du ihop askarna med dubbelhäftande tejp och knyter ihop ändarna med ett fint snöre eller band.
————-
The brand of the punch board is We R Memory Keepers and they are available at Make & Create. In the same range are also other punch boards that make various gift bags and boxes. Common to them all is that you can make many boxes in a very short time and choose whatever paper you like the most. The punch board includes a cutting plate with printed templates & measurements and an integrated punch. It also comes with a bone folder and a tutorial with pictures. When you're done punching and folding you tape them together with double-sided adhesive tape and tie the ends with a pretty string or ribbon. 

Vill du se hur stansmallen fungerar så finns här en kort instruktionsfilm (på engelska).
———–
Here's a short film (in English) for those of you who want to know how the punch board works.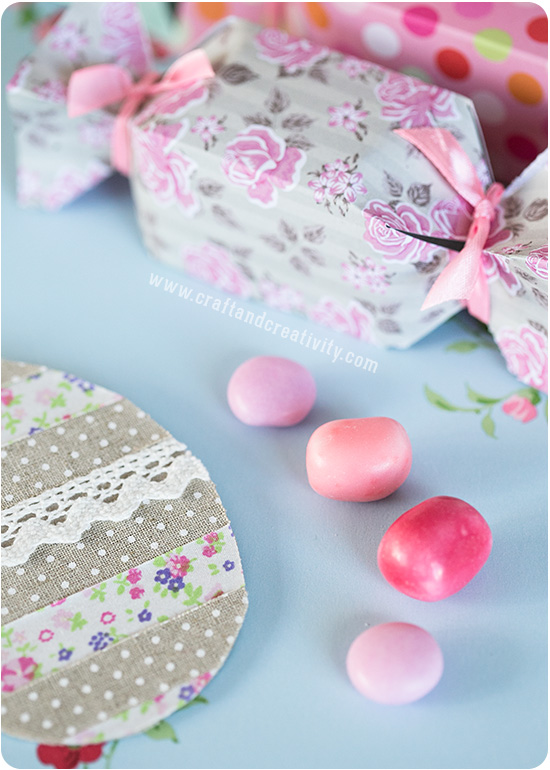 Asken med rosor är tillverkad av ett mönstrat papper som ingår i designpapper "Skagen" från Vivi Gade Design och jag har använt ett rosa satinband till. Här skymtar även ett av påsketiketterna jag dekorerade i förra veckan.
————
For this box I used a rose patterned paper and a pink satin ribbon. You can also see one of the Easter tags I decorated last week.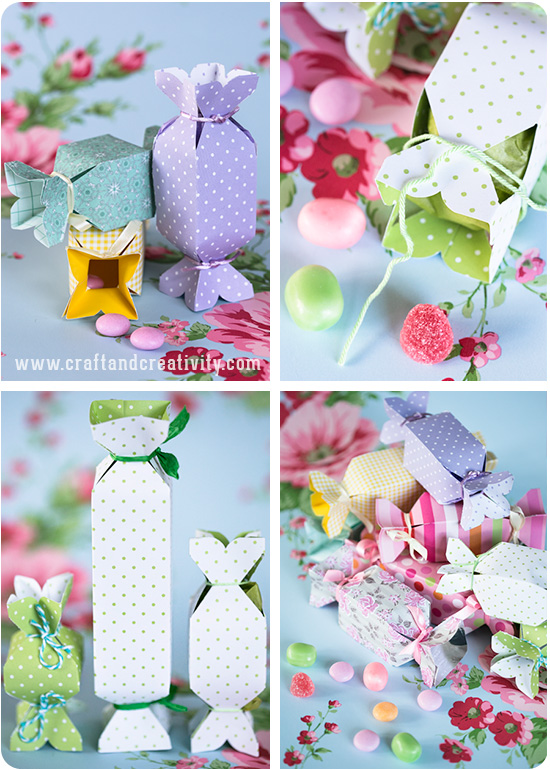 Jag fyllde mina askar med godis som jag först rullade in i silkespapper, som söta smällkarameller.
———
I filled my boxes with candy rolled in tissue paper, kind of like crackers.