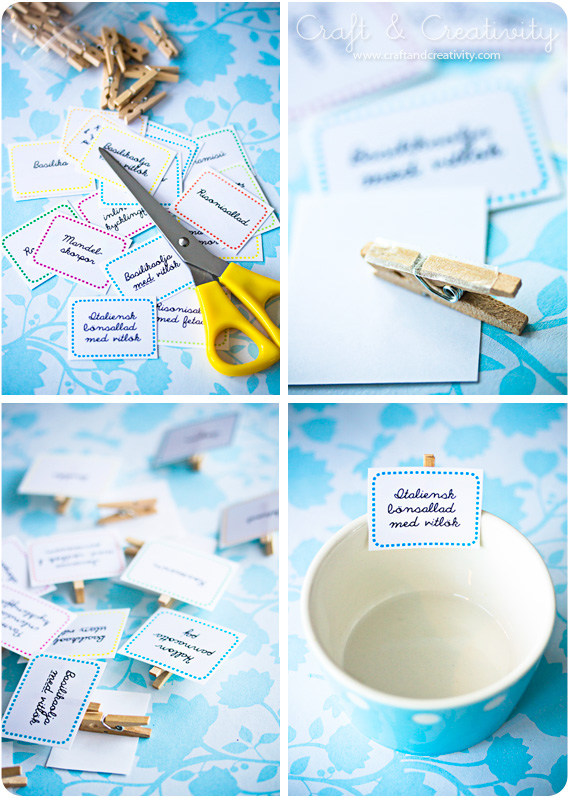 Födelsedagen närmar sig med stormsteg och på lördag är det dags för mig att bli ett decennium äldre. Det ska firas med kära släkten och vi kommer bjuda på italiensk buffé. Jag har gjort små matskyltar att placera på buffén. Mest av praktiskt skäl eftersom vi har en del allergiker och icke-vitlöks-älskande släktingar.
Jag gjorde skyltarna i datorn, skrev ut dem på lite tjockare papper och klippte ut dem. Typsnittet heter "The Only Exception" och finns att ladda ner gratis från Fontspace t ex. För att fästa lapparna på miniklädnyporna använde jag dubbelhäftande tejp.
——–
My birthday is approaching rapidly and on Saturday it's time to turn a decade older. This will be celebrated in the company of my dear family and relatives. We are treating them to an Italian buffet and I've made small food tags to be placed on the buffet table. Mainly because of practical reasons, considering allergies and non-garlic-loving guests. 
I made the tags in my computer and printed them on heavy weight paper. The font I used is called "The Only Exception" and can be downloaded for free from Fontspace for example. To attach the tags to the miniature clothes pegs I used double sided adhesive tape.