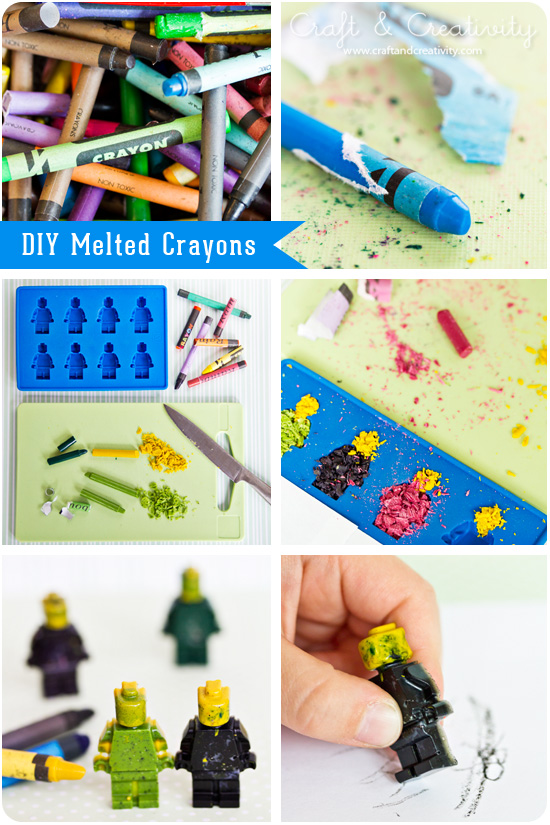 Gör så här: Avlägsna allt papper från dina kritor/kritstumpar. Finfördela kritorna med en kniv. Fyll valfri silikonform (eller annan passande ungssäker form) med kritbitarna. Smält i ugnen på ca 200°C i 5-10 min. Passa noga. Får kritorna vara inne för länge i ugnen riskerar de att skikta sig. Bränn dig inte när du tar ut formen ur ugnen! Ett annat tips (som jag läste på Homemade by Jill) är att först smälta kritorna i en tom konservburk i vattenbad och sedan hälla "smeten" i formarna för att stelna.
—–
Do like this: Remove all paper from your crayons / crayon nubs. Cut the crayons into small pieces with a knife. Fill your optional silicone mold (or other suitable oven-safe mold) with the crayon crumbs. Place the mold in the oven at 400°F (200°C) for about 5-10 minutes, until the crayons have melted. Place close attention. Be sure not to burn yourself when removing the mold from the oven! Another tip (which I read at Homemade by Jill) is to first melt the crayons in an empty tin can in water bath and then pour the "batter" into the molds.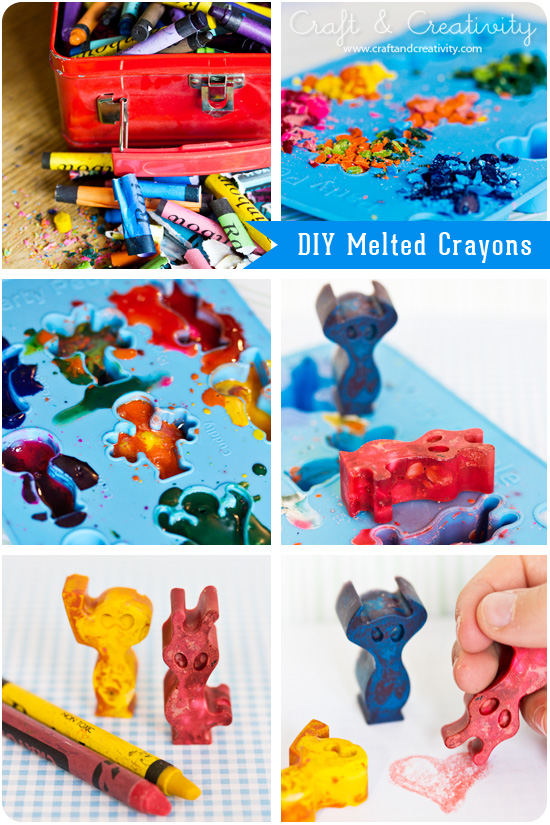 Silikonformen med monster hittade jag på Cervera. Ikea har också roliga varianter för under 10 kr. Isbitsformen med legofigurer har jag köpt på Lego.com (den har jag tidigare använt till att göra choklad-lego-gubbar till barnkalas…).
—
The monster shaped silicone mold comes from a Swedish retailer called Cervera. Ikea also has molds in fun shapes for a favorable price. I bought the Lego minifigure ice cube tray from Lego.com (I previously used them to make chocolate lego minifigures for the kids' birthday parties…).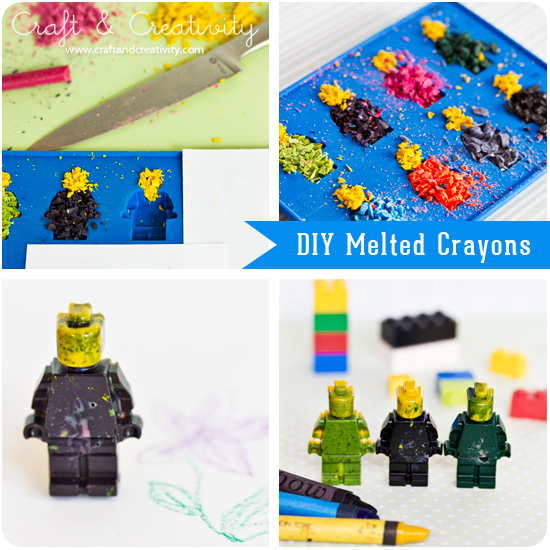 Tips: Olika kritor fungerar olika bra att smälta, upptäckte jag. Efter att googlat lite så förstod jag att det bör vara kritor av vax. Tänk också på att de ska vara giftfria. Silikonformarna kommer troligen inte gå att använda till is/mat efter att du smält kritor i dem. Mina formar blev dessutom missfärgade. Men barnen blev överlyckliga över sina nya och unika kritor! 🙂
—
Tip: I discovered that different crayons work differently well to melt. After googling I realized that I should have used only wax crayons. Also keep in mind that they must be non-toxic. I don't think it's a good idea to use the molds for ice or food after you've melted crayons in them. My mold also got discolored. But the kids are very happy about their new and unique crayons! 🙂