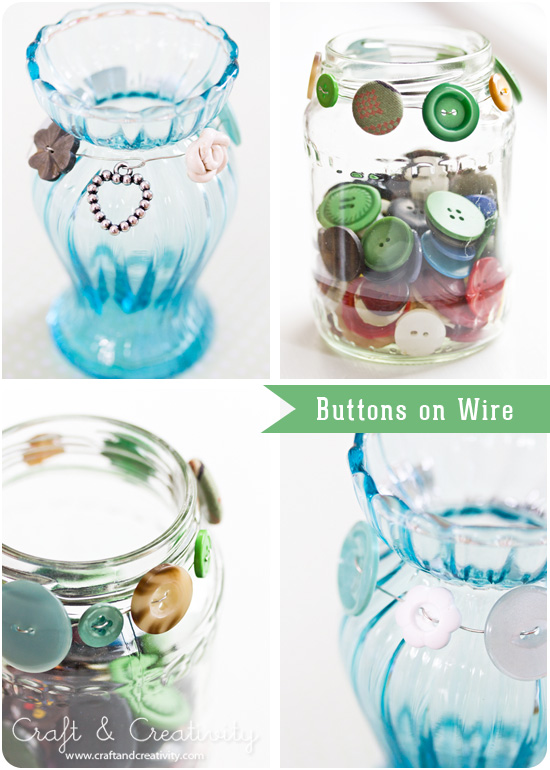 Med ganska små medel kan man piffa upp vardagliga saker hemma och ge dem din egen unika design. Det här kan vara ett sådant exempel. Börja med att samla ihop gamla knappar eller hängen som du har liggande i gömmorna. Det går ofta också att fynda knappar på loppis för en spottstyver. Titta i skåpen och se om du har några gamla glasburkar, vaser eller krukor som skulle passa att piffa till.
—-
With relatively small means you can spice up everyday things in your house and give them your own unique design. This could be one of those examples. Start by collecting old buttons or pendants that you might have lying around. Or for that matter, you can often find buttons at the flea market for a bargain price. Take a look in your cupboards and see if you can find some old glass jars, vases or pots that could use a make-over.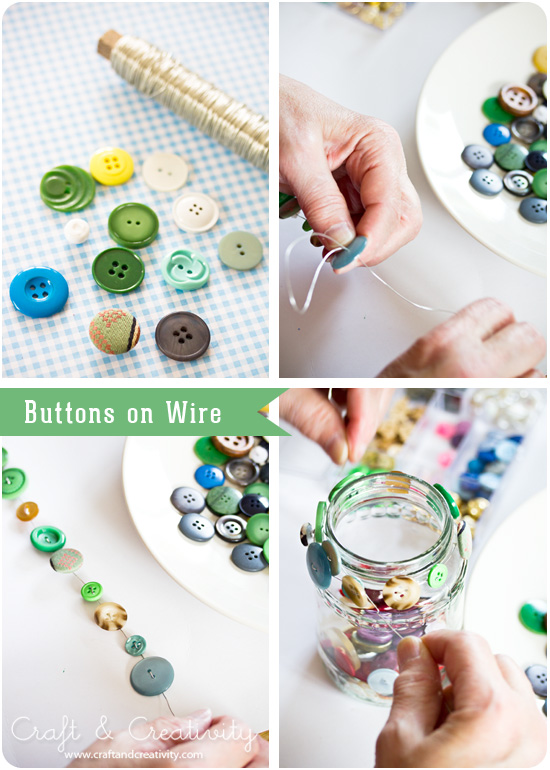 Trä knapparna på en ståltråd och vira dem runt din burk/vas/kruka. Jag valde att ha lite avstånd mellan knapparna. Fäst genom att tvinna ändarna på ståltråden några varv och klipp av överbliven ståltråd med en avbitartång. /
Thread your buttons on craft wire and wrap around your jar / vase / pot. I chose to leave some space between the buttons. Secure by twisting the ends of the wire. Cut off excess wire with wire cutters.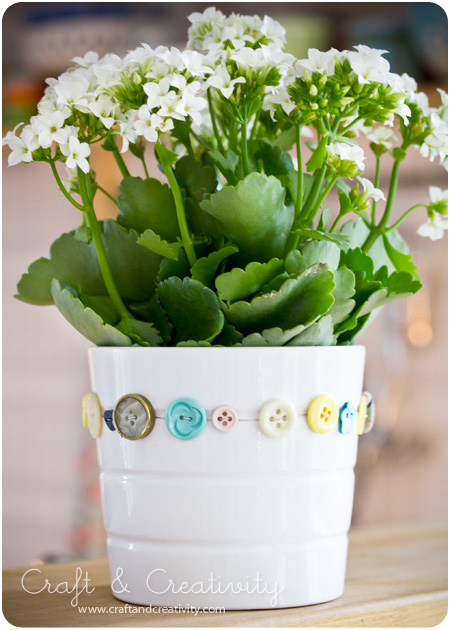 En helt vanlig billig kruka har fått ett nytt utseende. Just den här passade bra eftersom den var skårad och ståltråden hålls därför på plats. Om man har en kruka som är helt slät kan man fästa ståltråden med lite dubbelhäftande tejp på ett par ställen (på baksidan av knapparna). /
An ordinary flower pot with a new twist. This particular pot worked very well since it is carved, and because of that the wire is held in place. If you have a pot that is completely smooth, you can attach the wire with some double-sided adhesive tape (on the back of a few of the buttons). 
Inspirationen till detta pyssel fann jag hos Lady by the Bay. /
I found the inspiration for this craft at Lady by the Bay.