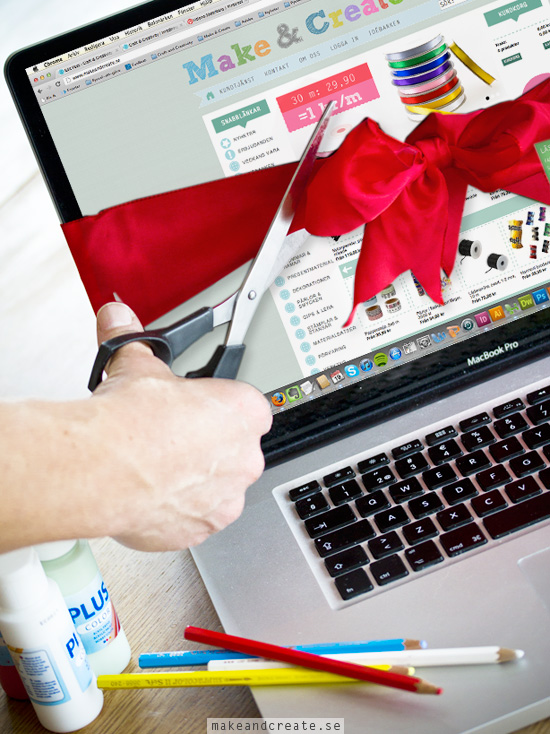 Idag är det dags. Dagen D. Dags att berätta vad som sysselsatt mig den senaste tiden. Vad som gjort att jag jobbat nästan dygnet runt och varit totalt osocial mot familj, släkt & vänner (förlåt!).
Ända sedan jag startade bloggen för ganska precis 1 år sedan har jag närt en dröm om att öppna en webbutik för gör-det-själv entusiaster. Tillsammans med en kollega har jag nu förverkligat detta.
Vi vill erbjuda kvalitetsprodukter utvalda av kreativa människor, för kreativa människor. Hos oss ska du kunna hitta inspiration och material, oavsett om du skapar för att göra ditt hem mer personligt med unik design, för att det är en rolig hobby att dela med barnen, eller för att det helt enkelt får dig att koppla av och må bra.
Butiken är fortfarande under utveckling och mycket kommer ske så här i starten. Inom kort kommer vi ta in fler intressanta produkter, lansera ytterligare funktioner, erbjuda fler betallösningar och inte minst fylla idébanken med ännu mer inspiration och beskrivningar. Det här är bara början men någon gång måste jag våga släppa taget, fast allt inte känns perfekt. Det känns enormt spännande, roligt och inte minst – väldigt väldigt nervöst.
Today is the day. D-Day. Time to tell you all what's been keeping me occupied lately. What has made me work almost around the clock with very little spear time for family & friends (sorry!).
Ever since I started this blog, about one year ago, I have nurtured a dream of opening an online store for Do-It-Yourself enthusiasts. Together with a colleague, I have now actualized this dream. For now, the shop is limited to the Swedish market. But if all goes as planned, we will launch it abroad in the future. 
We aim to offer quality products selected by creative people, for creative people. You will be able to find inspiration and supplies, whether you create to make your home more personal with your own unique design, because it's a fun hobby to share with your kids, or simply a way to relax and feel good.
The shop is still under development, and much will happen in the beginning. Soon we will offer more fun products, launch additional features, offer more payment solutions and last but not least – fill the idea bank with even more inspiration and tutorials. This is just the beginning, but at some point I have to dare to let go, even though everything isn't perfect. It feels exciting, fun and very very nervous.