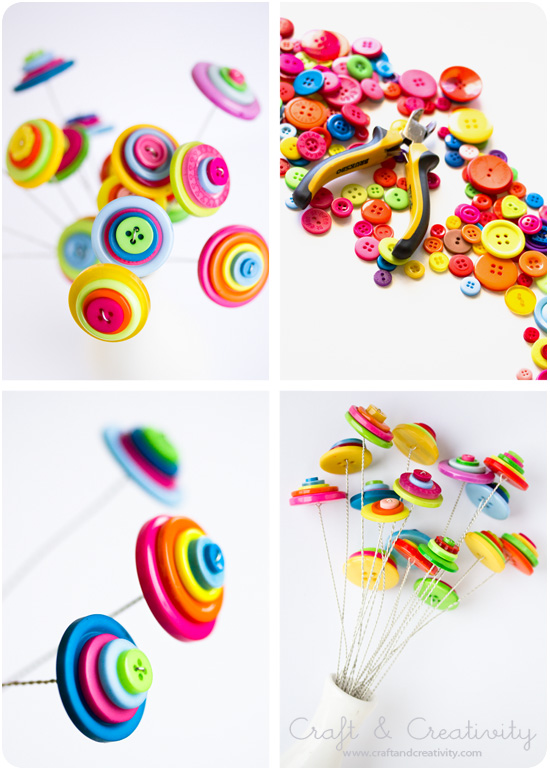 Jag är galen i knappar och i glada färger och därför var det här ett väldigt passande och roligt pyssel för mig. En hel bukett med knappblommor som nästan ser ut som godis! Ut med julen och in med våren (lite tidigt, jag vet, men ändå…)!
—————
I'm crazy about buttons and love bright colors, so this was the perfect craft project for me. A complete bouquet of button flowers that almost look like candy! Say goodbye to Christmas and hello to Spring (a bit early, I know, but still…)!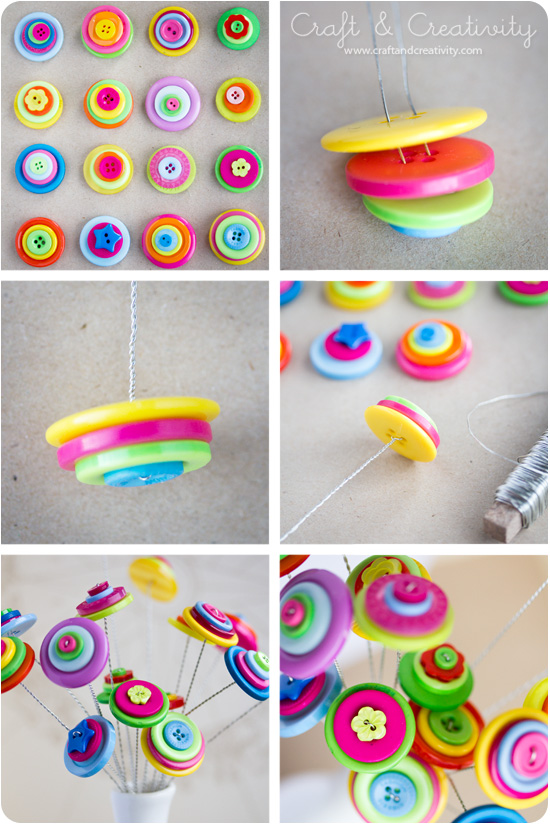 Gör så här: Välj ut knappar som du gillar och matcha dem efter önskemål. Knipsa av en bit metalltråd som är drygt dubbelt så lång som du vill att stjälken ska bli, vik den dubbelt och trä på dina knappar som på bilden ovan. Nu är det dags att tvinna den dubbla ståltråden för att skapa stjälken. Antingen tvinnar du för hand eller följ min händiga kollegas beskrivning nedan, för att förenkla det momentet. Din stjälk kan sedan formas som du vill eller behållas rak.
———-
Do like this: Pick out the buttons of your choice and mix & match sizes and colors. Take a piece of wire, a little more then double the length you desire your stalk to be. Fold the wire in half and thread your buttons, as shown above. Now it's time to twist together the two ends of the wire to create your stalk. Either you twist by hand or follow the tutorial below, to simplify this part. You can now shape your stalk as you like or keep it straight.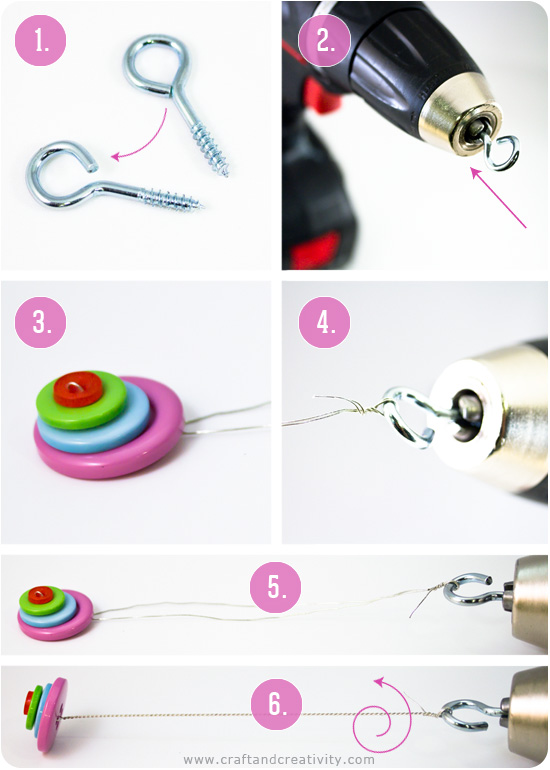 Om du planerar göra många blommor och har en skruvdragare + en krok med ögla hemma, så kan du förenkla tvinnandet av ståltråden (men läs först varningstexten i fetstil nedan):
1. Om kroken är stängd, öppna den lite så är det lättare att trä av ståltråden efteråt.
2. Montera kroken i skruvdragaren, som du gör när du byter bits eller borr.
3. Trä dina knappar på ståltråden som jag visar ovan.
4 & 5. Vira andra ändan av den dubbla ståltråden runt öglan på kroken så den fäster ordentligt.
6. Håll fast knapparna med ena handen (håll inte i själva ståltråden!) och håll skruvdragaren med andra handen. Ställ in skruvdragaren på lägsta möjliga hastighet och prova dig fram. Ta det lugnt! När du tvinnat klart trär du av ståltråden från kroken och blomman är klar.
OBS! Jag rekommenderar viss vana av att använda en skruvdragare. Jag vill även upprepa: Se till att hålla fingrarna borta från ståltråden och kroken! Det är inte svårt, jag vill bara vara övertydlig så att ingen får fingrarna i kläm.
———
If you plan to make many flowers and have an electric screwdriver + a hook with a loop at home, you can simplify the twisting of the wire (but please first read the warning in bold below):
1. If the hook is closed, open it up to make it easier to slip off the wire when your done twining.
2. Mount the hook in your electric screwdriver, like you do when you change bits or drill.
3. Thread your buttons on the wire as shown above.
4 & 5. Wrap the other end of the doble wire around your hook until it's properly secured.
6. Hold the buttons with one hand (do not hold in the wire!) and hold the screwdriver with your other hand. Set the screwdriver at the lowest possible speed and be careful as you go along. Take it easy! When your done twisting you simply slid the wire from the hood and your done.
NOTE! I recommend that you have some experience in using a screwdriver. And again, I must stress: Make sure to keep your fingers away from the wire and the hook when twining! It's not hard, I just want to make sure that no one gets their fingers stuck or hurt. 
Idén att göra knappblommor är inte varken ny eller min egen. Jag har sett varianter på dem lite varstans, bland annat hos Miss Sews-it-all, Jones design company, One more Moore och Lil fish studios. Om man inte vill ha blommorna som en bukett kan man använda dem som dekoration på ett paket till exempel.
————
The idea to make button flowers isn't new, nor my own. I've seen variations of them all around, including at Miss sews-it-all, Jones design company, One more Moore and Lil fish studios. If you don't wish to display the flowers as a bouquet, you can use them as decoration on a gift package, for example.