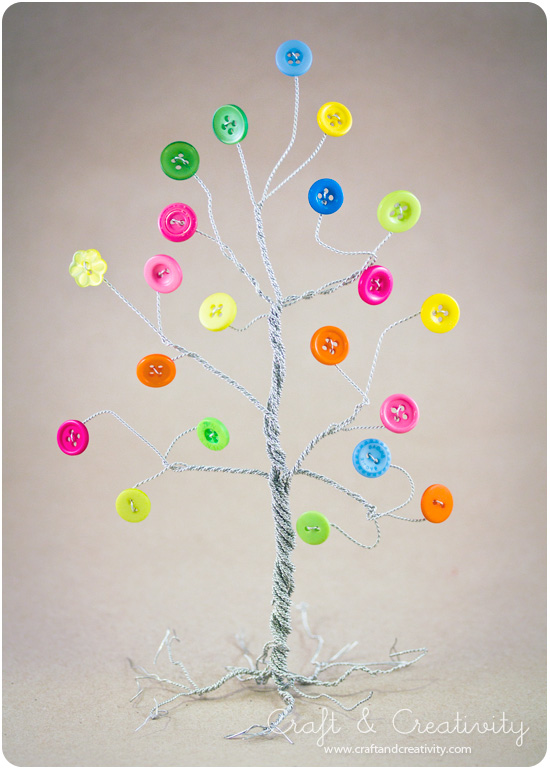 När jag ändå gjorde mina knappblommor fick jag för mig att testa skapa ett knappträd. För ett par år sedan hittade jag en bild av ett fint knappträd på Flickr (hos Kitch & Curious). Idén fastnade i mitt huvud och inspirerade mig att nu göra ett försök.
————–
While I was making my button flowers I decided to create a button tree. A couple of years back, I found a photo of a cute button tree on Flickr (at Kitch & Curios). The idea stuck in my head, and inspired me to try make one myself.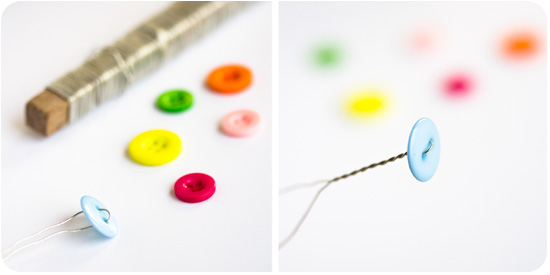 Jag använde precis samma teknik som med blommorna. D v s trädde knappen på metalltråden och tvinnade. Jag hade stor nytta av att tvinna med hjälp av skruvdragaren, som jag tipsade om sist.
——-
I used exactly the same technique as with the flowers. Ie threaded a button on piece of wire and twisted the ends. Using a screwdriver to twist the wire (the way I showed you last time), made everything much easier.
Först tvinnade jag 21 knappar en och en, på separata bitar metalltråd. När alla 21 grenar var klara, buntade jag ihop dem 3 och 3. På så sätt fick jag 7 grenar med tre knappar på varje, som jag slutligen la samman och tvinnade ihop för att skapa själva stammen. Rötterna skapade jag genom att öppna upp några av de tvinnade grenarna längst ner. Det var lite klurigt att få till rätt form på trädet men är man envis så. 😉
—————
I first twined 21 buttons, one by one, on separate pieces of wire. When all 21 branches were done, I bundled them together in groups of three. That way I got seven branches with three buttons on each. I twisted those seven branches together to create the stern. I created the roots by opening upp some of the twisted branches at the botton. It was tricky to get the right shape of the tree, but with a bit of patience it worked. 😉