Jag är väldigt förtjust i husformer av alla de slag och dessa söta hus i papier-machè fungerar dessutom som askar. Taket går att lyfta av och i askarna kan man till exempel förvara smycken, barnens små skatter eller pysselmaterial.
————-
I'm a big fan of house shapes of all kinds, and these cute houses can also act as boxes. The roof work as a lid and the boxes can, for example, be used for storing jewelry, small treasures or craft supplies.
Husen levereras omålade. Jag målade mina sparsamt och använde matta pastellfärger som jag tyckte blev fina i kontrast mot den "råa" kartongen. Vissa målade jag endast botten på och andra bara taket.
——-
The houses come unpainted. I painted mine partly and used mat pastel colors, which I thought would look nice in contrast to the "raw" paper mache. I chose to paint either the base of the house or the roof.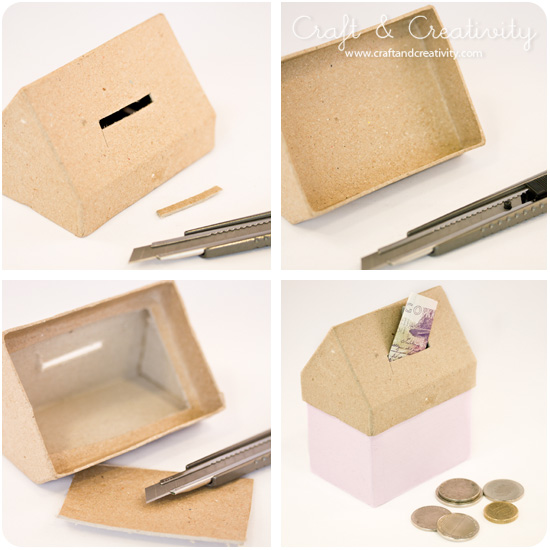 Ett hus fick bli sparbössa. Jag skar ut ett rektangulärt hål i taket med hjälp av en hobbykniv. Eftersom taket på dessa hus har en liten botten så skar jag bort den också, annars skulle inte pengarna kunna ramla ner i huset.
———–
I turned one of the houses into a money bank. I cut a rectangular hole in the roof with a hobby knife. Since the roof of these houses comes with a bottom, I removed this also. Otherwise the money would not fall down into the house, like I wanted it to. 
En annan idé jag fick var att täcka husaskar med washitejp (som med askarna jag dekorerade i höstas). Drömmer man, som jag, om en resa kan man göra ett "sparhus" för reskassan och täcka den med sidor ur en gammal kartbok.
Jag har fler planer för mina hus, plus att jag lovat barnen att de ska få dekorera några. Husaskarna kommer alltså säkert dyka upp fler gånger på bloggen framöver. Tänk er att skära ut fönster och dörr och lägga en liten ljusslinga i eller ett batteridrivet värmeljus. Kan bli fint, tror ni inte? Så många idéer – så lite tid. 😉 Ps. Apropå det, ta en titt på det här ljuvliga katthuset av flyttkartonger… ett sådant vill jag göra!
——
Another idea I got was to cover house boxes with washi tape (like the boxes I decorated last autumn). If you like me, have travelling plans, you can make a money bank for your travel cash and cover it with maps from an old atlas. 
I have additional plans for my houses, plus I promised the kids that they could decorate their own. In other words, the house boxes will probably turn up on the blog again in the future. Imagine cutting out windows and a door and add string lights or a battery-operated tea light inside. Wouldn't that look nice, you think? So many ideas – so little time. 😉 Ps. Speaking of which, have you seen this cute and original cat playhouse made of cardboard boxes? I need to make one!