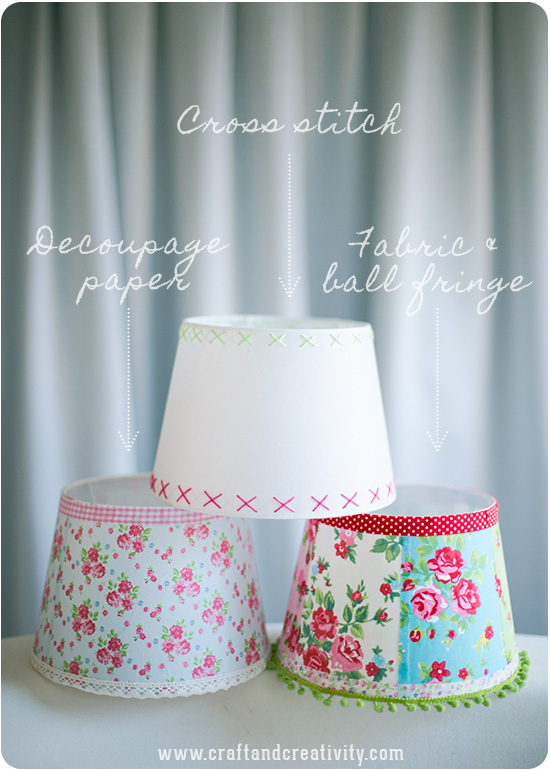 Maken kom hem med tre nya adventsstjärnor på fot innan jul och till dessa ingick förutom stjärnor även tre lampskärmar. Vita, odekorerade skärmar som jag inte kunde motstå att piffa till lite. Kanske inte helt i makens stil, men jag tror han överlever. 😉
————
My husband bought three new lamps before Christmas. White, plain lampshades that I couldn't resist to decorate. Perhaps not quite in my husband's preferred taste, but I think he can live it. 😉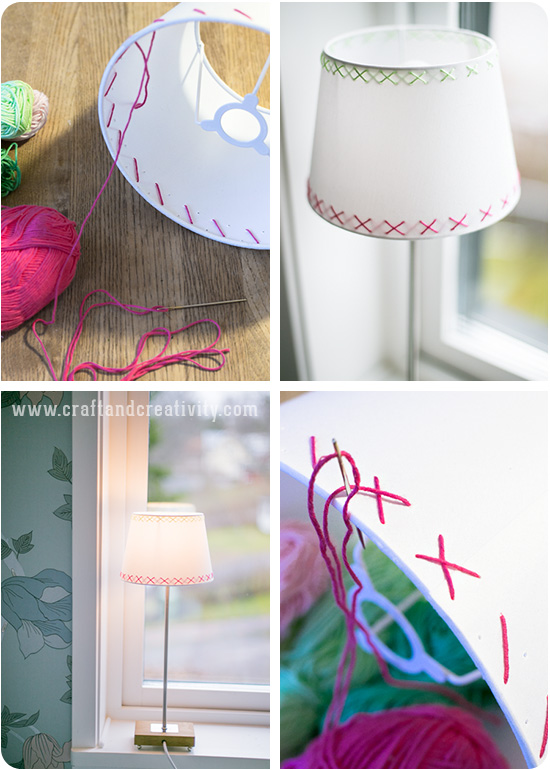 Lampskärm nr 1 valde jag att brodera på. Jag gjorde hål med en vass stoppnål och broderade korsstygn med bomullsgarn. En bonuseffekt med att jag bara broderade vartannat "kryss" är att kryssen som blev på baksidan av skärmen lyser igenom när man tänder lampan.
————
For lampshade No 1 I decided on cross stitches. I made holes with a sharp darning needle and cross stitched with cotton yarn. A bonus effect I didn't think of is that because I chose to only embroider every other cross, the crosses on the back side of the lampshade shines through when you switch on the lamp.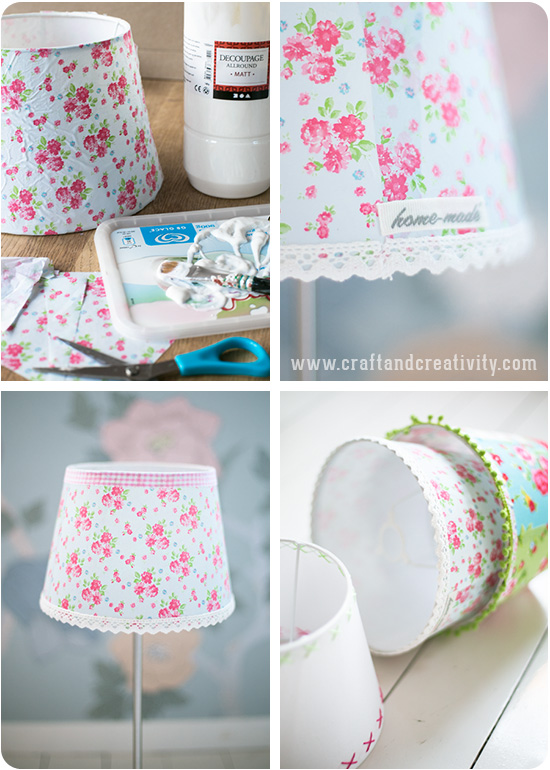 Lampskärm nr 2 penslade jag decoupagelim (matt) på, täckte skärmen med ett blommigt tunt decoupagepapper och penslade ett lager decoupagelim ovanpå. Precis på samma sätt som med mina glasflaskor och mina askar, som jag visat er förut. Papperet får man skarva lite men det syns knappt eftersom det är så tunt. Räkna med att papperet ser skrynkligt ut när det är blött men det slätar ut sig när allt torkat. Jag avslutade med att dekorera kanterna högst upp och längst ner med självhäftande tygtejp och spetstejp. Decoupagepapper och silkespapper finns även i tuffare mönster, om man tycker att blommor är lite för gulligt.
—————
I covered lampshade No 2 with decoupage lacquer, placed a sheet of light weight floral paper on top and brushed a layer of decoupage lacquer over to seal everything. The same way as I did with my glass bottles and my boxes, as I showed you before. The paper probably needs to be patched, but it's barely visible because it's so thin. You can expect the paper to crumple a bit when it's wet but it flattens when dried. I finished off by decorating the top and bottom with adhesive fabric tape.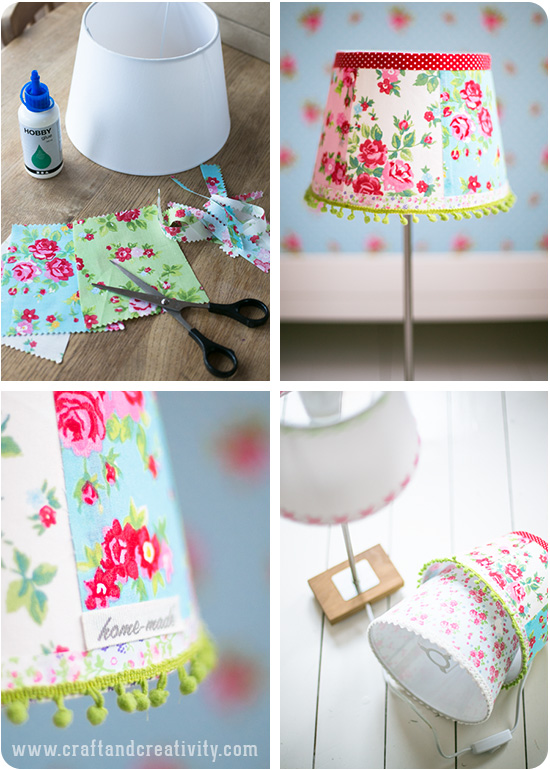 Den sista lampskärmen klädde jag med tyg. Jag använde färdigklippta tygbitar som jag trimmade lite eftersom mina lampskärmar är en aning konformade. Jag fäste tyget med hobbylim och när limmet torkat tejpade jag på tygtejp och limmade fast en bollfrans längst ner. Jag märkte alla tre lampskärmar med en bit tygband med texten "home-made", ifall nu någon mot förmodan skulle tvivla på att skärmarna är hemmapysslade… 😉
—————
The last shade I dressed with fabric. I used pre-cut pieces of fabric that I trimmed a bit because my lampshades are slightly tapered. I fixated the fabric with craft glue and when dry, I added fabric tape and a ball fringe at the bottom. I labeled all three lampshades with a piece of fabric ribbon with the text "home-made", as if anyone would doubt that these lampshades are home decorated … 😉