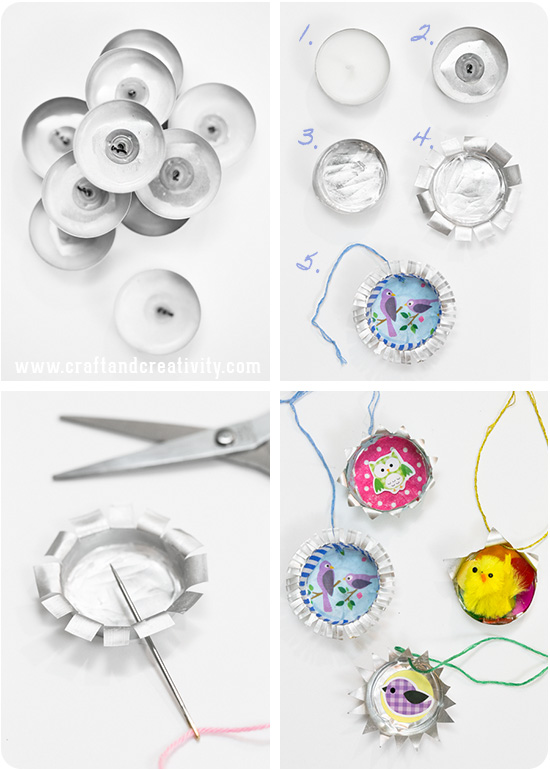 På ett år eldar vi i Sverige upp ca 300 miljoner värmeljus. Värmeljuskopparna är tillverkade av aluminium som går att återvinna och på så sätt sparar vi energi och värnar om miljön. Ett annat sätt är att återbruka dem och t ex göra söta hängen till påskriset eller julgranen. Börja med att ta bort metallbrickan i mitten (lägg den i metallåtervinningen) och skrapa ur resterna av stearin. Klipp till kanterna i önskat mönster, böj ut flikarna och dekorera dina ljuskoppar på valfritt sätt. Gör hål i kanten med en nål och trä ett snöre igenom.
—————-
In one year we use up about 300 million tealights, and that's only here in Sweden. Tealight cups are made of aluminum which can be recycled and thus we save energy and are kind to our environment. Another way to re-use them is to make cute pendants for your Easter Twig or Christmas tree. Start by removing the metal disk in the middle and scrape out the remains of the candle wax. Cut the edges of your cup in different patterns, bend the tabs outwards and start decorating your cups. Make holes in the top with a needle and thread a string for hanging.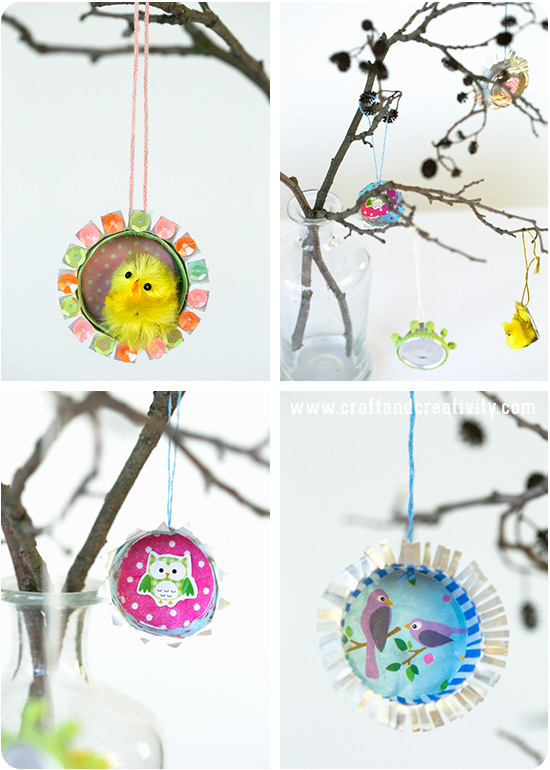 Detta pyssel kom till i lördags hemma hos Karin & Freja på Pysselbolaget då Karin föreslog att vi skulle göra påskhängen av värmeljuskoppar. Det är lätt att klippa i ljuskopparna och väldigt roligt att hitta på olika dekorationer. Använd gärna material som du har hemma – t ex knappar, washitejp, papper, klistermärken, små söta kycklingar, paljetter och fina band.
————
This is one of the crafts we created when visiting Karin & Freja at Pysselbolaget last Saturday. Karin suggested that we should make Easter decorations out of tealight cups. The cups are easy to cut and they are a blast to decorate. You can use supplies you have at home – such as buttons, washi tape, paper scraps, stickers, cute chickens, sequins and pretty ribbons.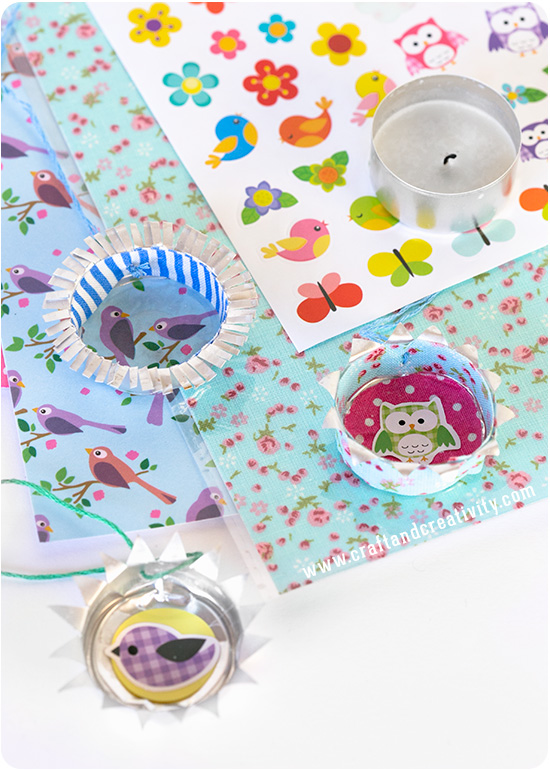 Jag dekorerade mina ljushållare med självhäftande bomullstyg, washitejp på A4-ark och söta klistermärken.
————
I decorated my tealight cups with adhesive fabric, washi paper sheets and cute stickers.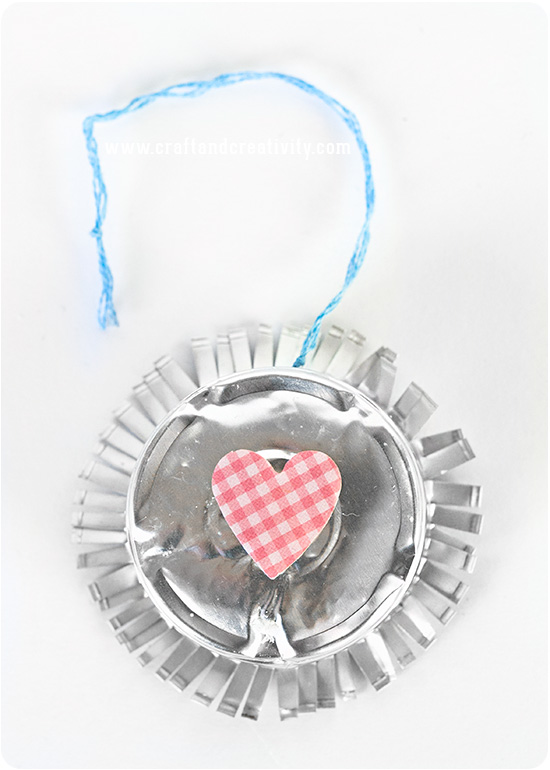 Även baksidan av värmeljuskopparna kan med fördel dekoreras.
——–
You can also decorate the back of the tealight cups.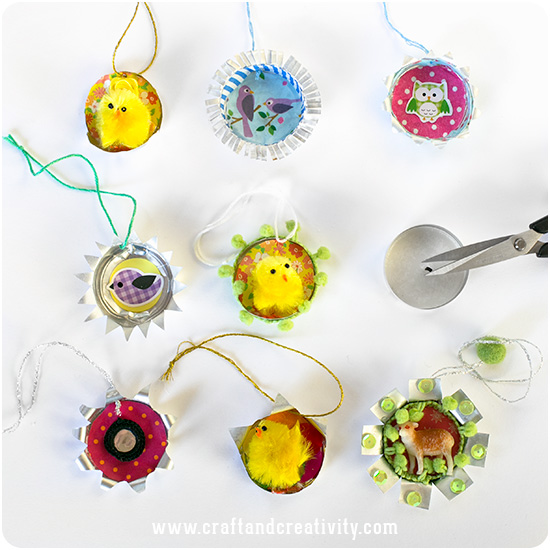 Här ser ni några av Karins, Frejas, mina & min dotter Annies alster samlade. Klicka er in till Pysselbolaget för att se mer!
————
Here you see some of Karin's, Freja's, my & my daughter Annie's creations gathered. Click your way to Pysselbolaget to see more! 
Visste du förresten att det är viktigt att peta bort den lilla metallbiten som håller fast veken innan man lämnar värmeljuskopparna till återvinning? Det är för att vekeshållaren är av järn, medan koppen är av aluminium. Om de smälts ner tillsammans så förloras möjligheten att återvinna aluminiumet. Sofia på Hildas hem skrev ett läsvärt blogginlägg om detta innan jul.
———
Did you know that it's important to remove the small metal piece that holds the candlewick before you leave the tealight cups at the recycling center? It's because the wick holder is made of iron, while the cup is made ​​of aluminum. If they are melted down together the ability to recycle the aluminum will be lost. Sofia at Hildas hem wrote an interesting blog post (in Swedish) about this before Christmas.