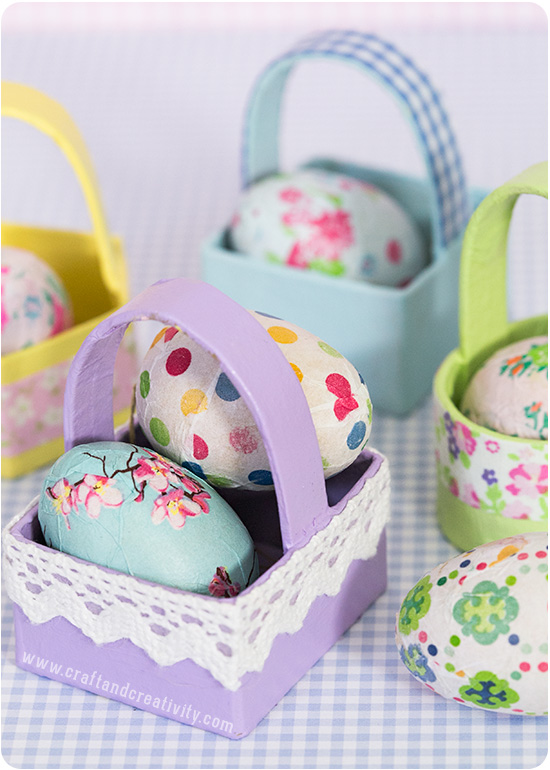 Jag förknippar påsk med pastellfärger. Faktum är att jag gillar pastellfärger året om! Här har jag roat mig med att göra ett gäng pastelliga dekorationer till påskriset.
——–
I associate Easter with pastel colors. In fact I love pastel colors all year round! Here I've made a bunch of decorations for our Easter twigs.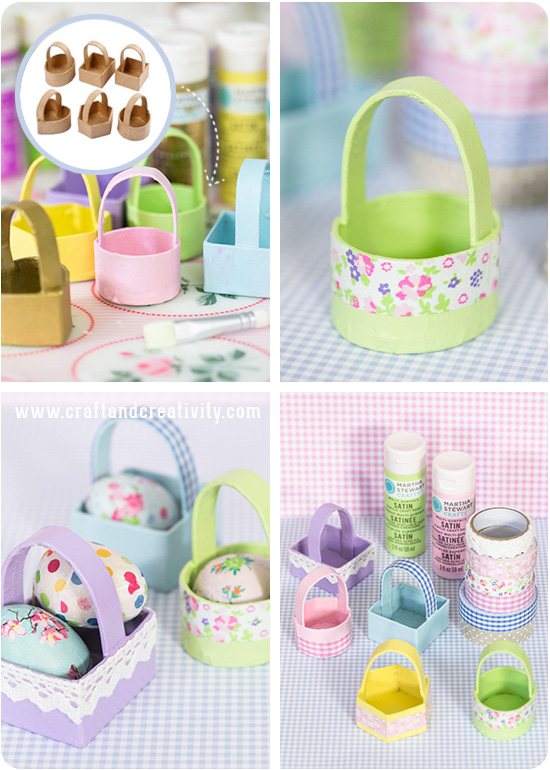 Jag började med att måla minikorgar av papier-maché med två lager färg från Martha Stewart Crafts®. Färgen torkar väldigt fort och när jag hade målat den sista korgen kunde jag börja från början igen med den första som då torkat tillräckligt. Som en extra dekoration tejpade jag korgarna med lite tygtejp/textiltejp.
————-
I began by painting papier-maché mini baskets with two coats of paint from Martha Stewart Crafts®. The paint dries very quickly and when I finished painting the last basket I could start again with the first one. I added fabric tape as a extra decoration.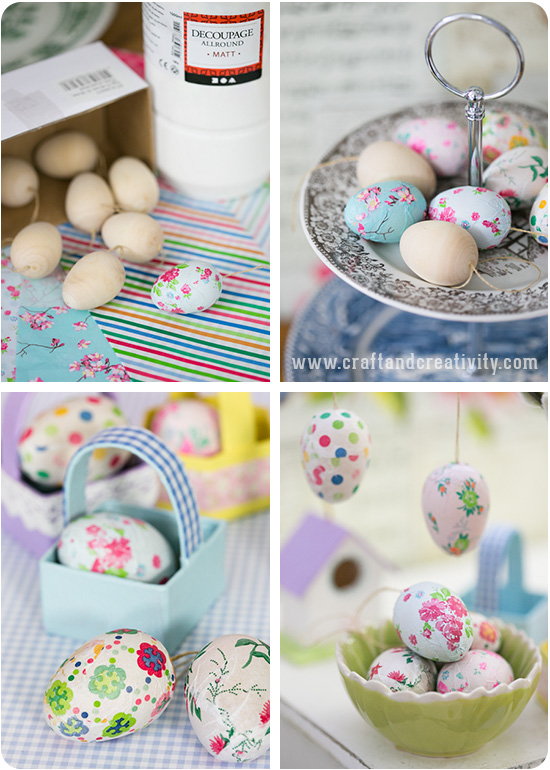 Förutom att måla korgar gjorde jag decoupage på små träägg (det finns även en liknande varianter i papier-maché). Jag klippte till bitar av decoupagepapper i fina mönster, penslade decoupagelack på ägget, placerade papperet runt ägget och strök det slätt med fingrarna. Slutligen lackade jag ytan med samma decoupagelack som jag använde att limma med. Dessa träägg har en tråd för upphängning redan från början och äggen fick hänga och torka på en videkvist.
————–
Besides from painting baskets I did a bit of decoupage on small wooden eggs. I cut pieces of pretty patterned decoupage paper, brushed decoupage lacquer on the egg, placed the paper on top and carefully wrapped it around the egg with my fingers. I finished off by adding a layer of the same decoupage lacquer on top. These wooden eggs comes with a thread and I hung them to dry on a willow twig.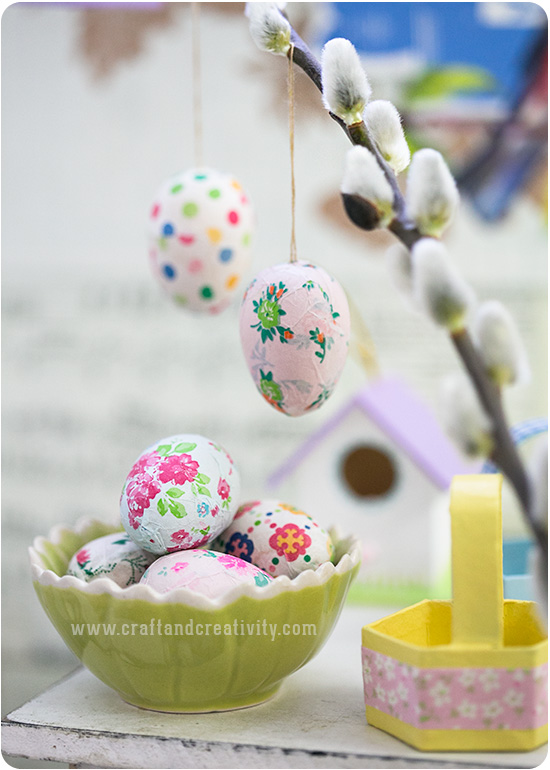 Äggen är små och söta och kan nästan misstas för chokladägg med papper runt. Jag avråder dock från att ta en smakbit…
———
These eggs are small and sweet and could almost be mistaken for chocolate eggs with paper wrapping. But please don't take a bite …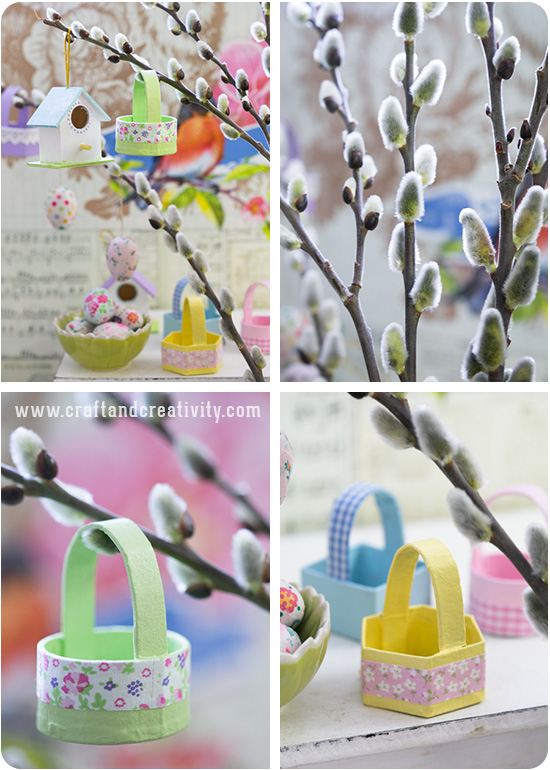 Videkvisten ger vårkänsla i pysselrummet. Tapeten i bakgrunden kommer från Pip Studio och heter Feeling Papergood.
———–
The willow twig adds a spring feeling to my craft room. The wallpaper in the background comes from Pip Studio and is called Feeling Papergood.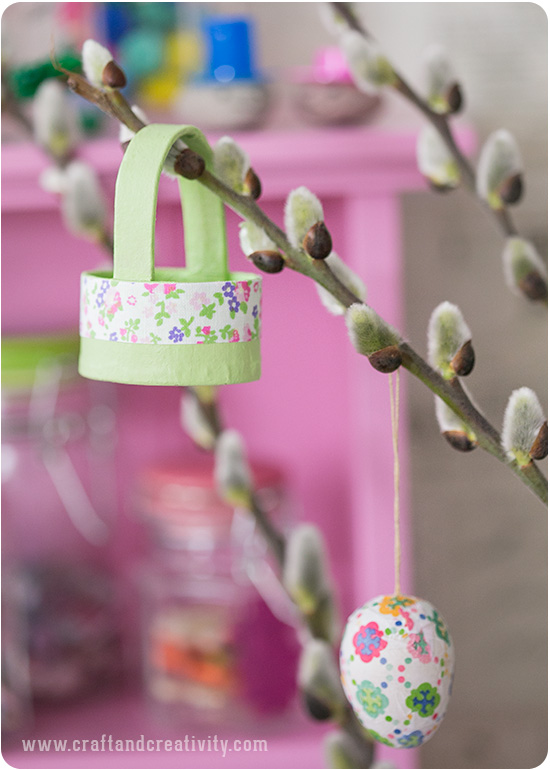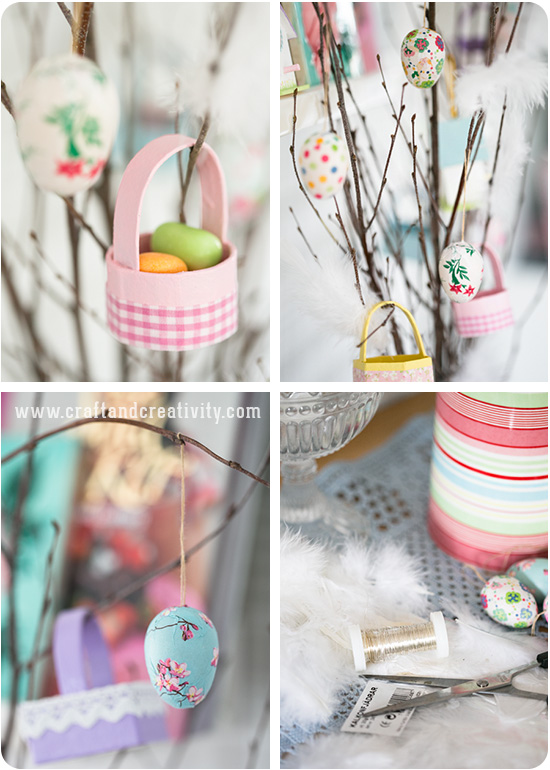 I köket står björkris som ännu ej slagit ut. Vi får se om den slår ut lagom till påsk. Jag har pyntat riset med några vita kalkonfjädrar som jag fäst med tunn silverfärgad metalltråd. Korgarna går att fylla med godis eller små påskpresenter.
———-
In the kitchen we have a birch twig that is not yet in bud. We'll see if it turns green in time for Easter. I decorated the twig with white turkey feathers and thin wire. The baskets can be filled with candy or small Easter gifts.