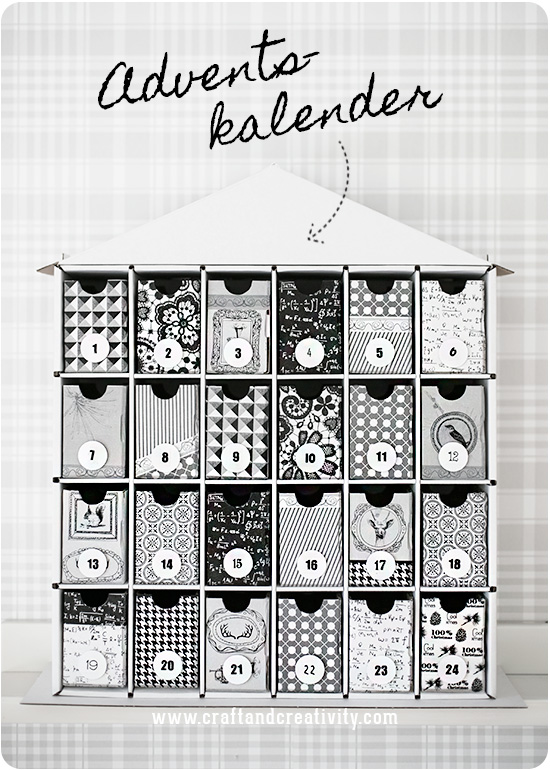 Jag visade min adventskalender från Make & Create på Instagram härom dagen och det var många som ville veta mer om den. Kanske är det fler än jag som har barn som väldigt gärna vill ha en prylkalender innan jul? 😉 Den här husformade adventskalendern är gjord i kraftig kartong och är 47,5 cm hög, 38,5 cm bred och 9,5 cm djup och innermåttet på lådorna är 8,5x5x8 cm. Kalendern kan minst lika gärna användas som hylla och förvara småsaker eller pysselmaterial i.
————-
I posted a picture of my Christmas calendar from Make & Create over on Instagram the other day and got many questions from people wanting more details. Perhaps there are more parents out there who's kids would like a Christmas calendar filled with gifts each day before Christmas? 😉 This house-shaped christmas calendar is made of heavy cardboard can also be used to store craft supplies or other little things.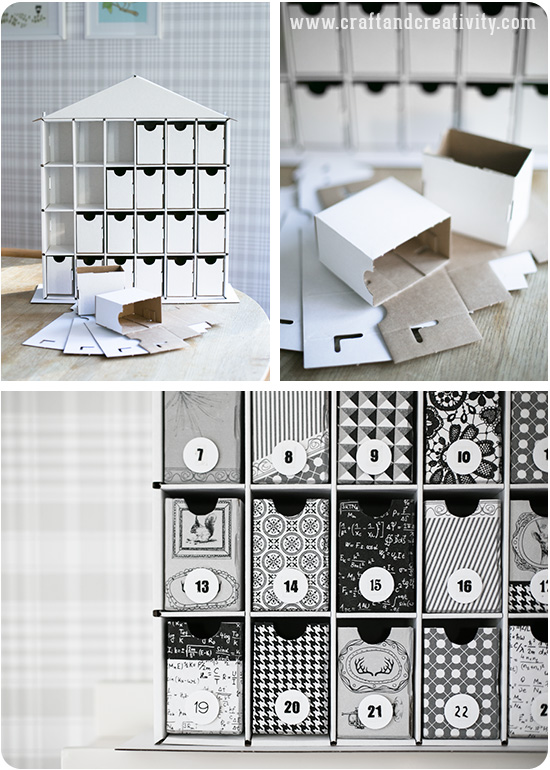 Kalendern levereras omonterad och odekorerad. Du väljer själv hur du vill dekorera den – med papper, färg, tyg, decoupage eller washitejp kanske? Beskrivning för hur man viker ihop adventskalendern ingår i förpackningen och följer man den steg för steg så är det inte svårt alls och kalendern blir väldigt stabil. Man behöver varken lim eller tejp till monteringen.
———-
This calendar comes in a flat pack and you can choose for myself how to decorate it – with paper, paint, fabric, decoupage or perhaps washi tape? It's easy to assemble if you follow the step by steps and you don't need any adhesives.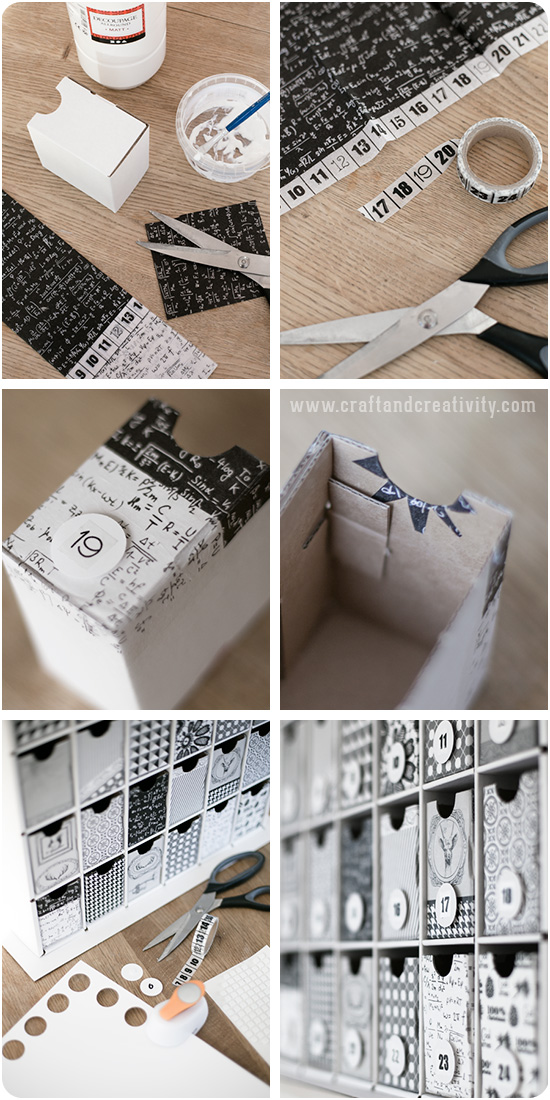 Jag valde att dekorera framsidan av varje låda med decoupagepapper "Paris" från Vivi Gade Design. Jag penslade decoupagelack på lådan, placerade papperet ovanpå och penslade ett lager decoupagelack över. För att få en snygg kant runt den halvmåneformade öppningen klippte jag små jack i papperet innan jag vek över det till insidan av lådan, se mittenbilderna ovan.
————-
I chose to decorate the front of each box with decoupage paper (the design is called "Paris" from Vivi Gade Design). I brushed a layer of decoupage lacquer on the box, placed the paper on top and added another layer of decoupage. In order to get a neat edge around the crescent-shaped opening, I cut the paper in small strips before I flipped it over to the inside of the box, as shown in the pictures above.
Med en figurstans stansade jag ut cirklar ur lite tjockare vitt papper som jag numrerade med en bit washitejp mönstrad med siffrorna 1-24. I serien "Paris" är ett av decoupagepapperen också mönstrat med siffror om man vill klippa ut och använda dem istället för washitejpen. Sifferskyltarna fäste jag på lådorna med en dubbelhäftande skumkuddar för att få en 3D-effekt.
———-
I punched circles of white paper with a lever punch and numbered them with pieces of washi tape with the numbers 1-24. I placed the number plates on the boxes using double-sided adhesive foam pads to create a 3D effect.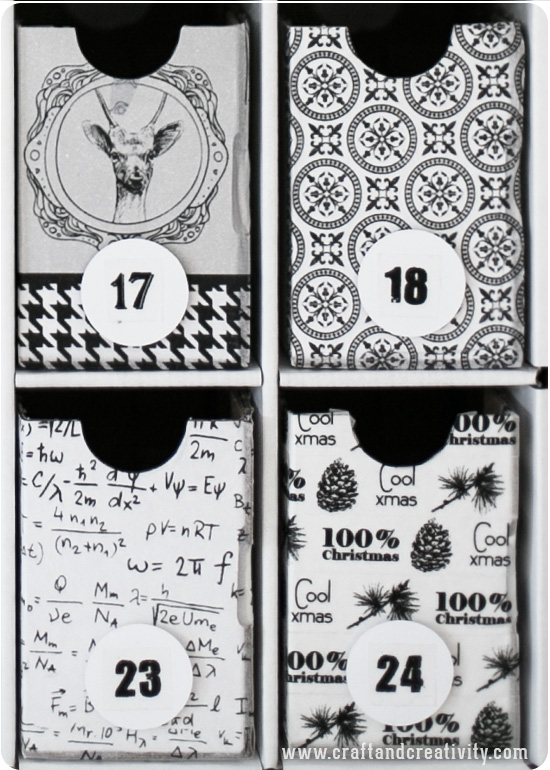 Låda nr 24 är också tejpad med washitejp. Jag tyckte mönstret 100% Christmas passade bra på själva julafton. 🙂 Mina barn har beställt var sin kalender till jul och jag kommer blogga om hur den andra varianten blev en annan dag.
———–
The box No. 24 is covered with washi tape. I thought the 100% Christmas pattern was fitting for Christmas Eve. 🙂 My girls want one Christmas calendar each and I will show you another way to decorate them in another blog post.