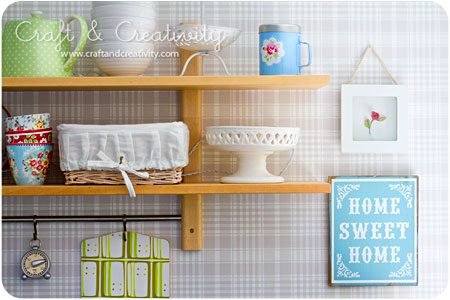 När vi gjorde om vårt kök i våras hade jag en tydlig vision om hur jag ville att det skulle bli. Vitt som bas med pastelliga färgklickar, prickigt, rutigt och blommigt. Lite 50-talskänsla. Klicka här eller titta in på Flickr för fler bilder på vårt nya kök.
———-
When we redid our kitchen last spring, I had a clear vision of how I wanted it to turn out. White as a base with pastel color accents, polka dots, plaid and floral. A little bit of 50's flair. Click here or visit Flickr for more pictures of our new kitchen.
Här är en blandning av några av mina favoritsaker i vårt kök: /
Here is a mix of some of my favorite things in our kitchen: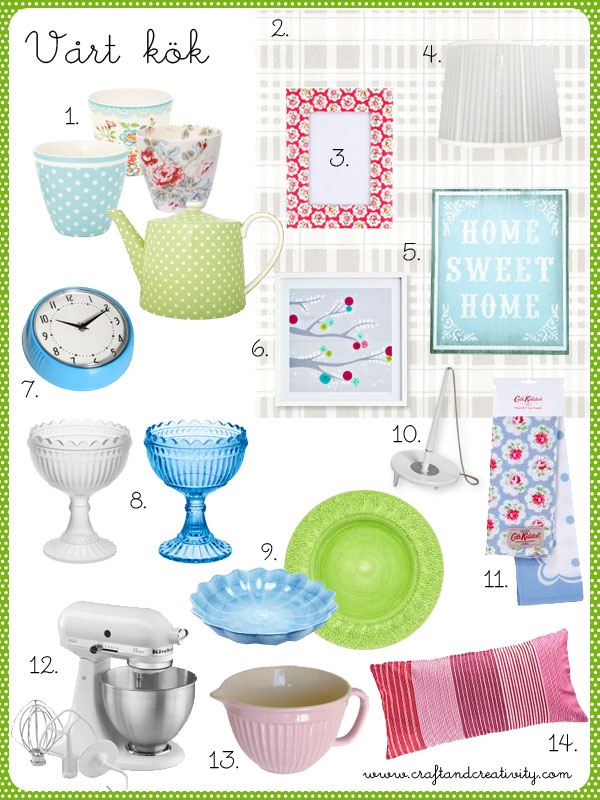 1. Muggar och Tekanna frånGreenGate via Syster Lycklig, 2. Tapet Rut från Sandberg, 3. Ram från Cath Kidston, 4. Taklampa från Clas Ohlson, 5. Home Sweet Home-skylt från Laura Ashley, 6. Tryck "Kvist" från Isa form, 7. Väggklocka från Färg Form Sweden via House of Hedda, 8. Glasskålar från Iittala via Scandinavian Design Center, 9. Fat från Matheus via Hvita Villan, 10. Ballografpenna från Grandpa, 11. Kökshandduk från Cath Kidston, 12. Köksassistent från KitchenAid via Bagaren & Kocken, 13. Vipsskål från Ib Laursen via Bagaren & Kocken, 14. Kudde från Åhléns.
Både före och efter vår renovering har jag sett bilder på kök som inspirerar mig. Se här till exempel: / Both before and after our redecoration I've seen pictures of kitchens that inspire me. Take a look at these for example: 

Från boken Embroidery Companion via Posie gets cozie
Yvonne Eijkenduijns kök, the Yvestown Blog

Foto: Steven Randazzo, Country Living

Sigbrit och Mats hem, från Hus & Hem

The junk house kitchen, Meadowbrook Farm

The junk house kitchen, Meadowbrook Farm

Underbara Claras kök, Underbara Claras värld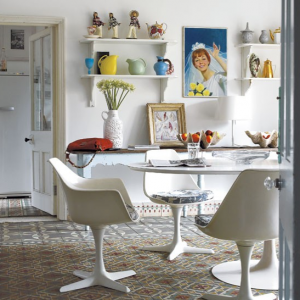 Stylisten Marianne Cotterills kök, från House to Home.