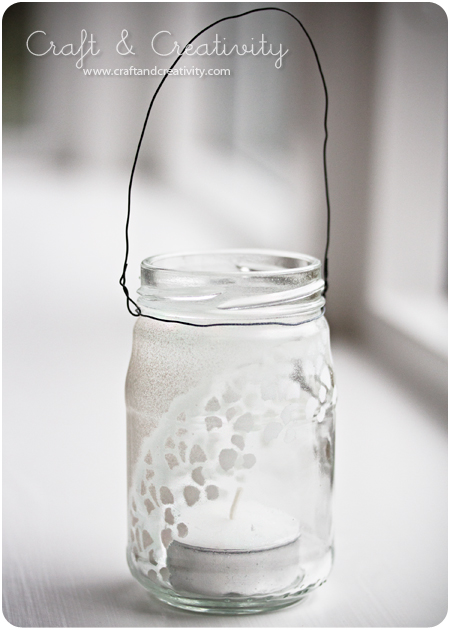 Det är mysigt med många tända ljus denna mörka årstid. Jag har gjort en ljuslykta av en gammal glasburk, vit sprayfärg, tårtpapper och ståltråd.
Det här behöver du:
– Glasburk
– Ståltråd
– Avbitartång
– Tårtpapper eller gammal spetsduk
– Vit sprayfärg
– Tejp, dubbelhäftande och vanlig
– Eventuellt ett bit band eller spets
Jag gjorde så här: 
Jag började med att ta bort den gamla etiketten från glasburken. Först lät jag den ligga en stund i ljummet vatten tills etiketten lossnade. De sista klisterresterna tog jag bort med lite aceton. Sedan fäste jag tårtpapperet på burken med hjälp av dubbelhäftande tejp och maskerade de delar jag inte ville ha färg på med vanlig tejp. Jag gick utomhus när det var dags att spraymåla burken för att minimera lukten. Jag använde ganska lite färg eftersom jag bara ville att det skulle bli lite "dimmigt". När färgen torkat tog jag bort tejpen och tårtpapperet och virade ståltråd runt öppningen. Jag böjde till en båge av en ny bit ståltråd som jag fäste på var sin sida av glasburken. Till sist klistrade jag på ett vitt bomullsband som jag hade i mina gömmor. Så var det klart!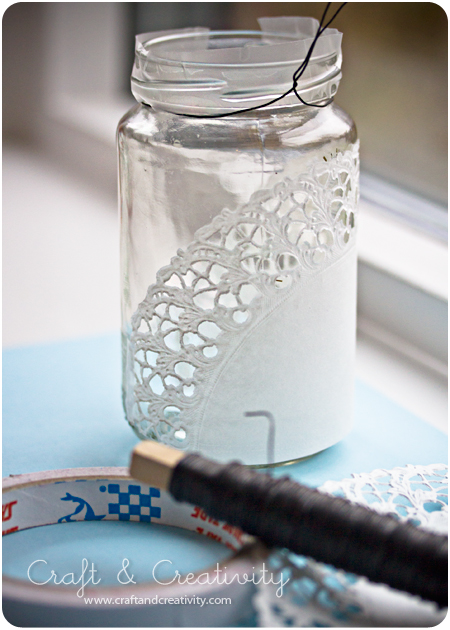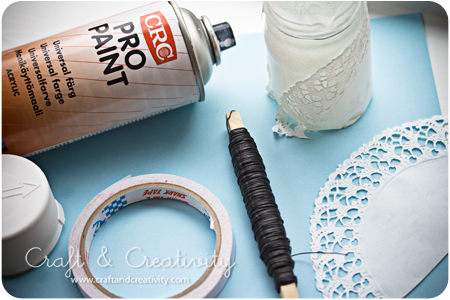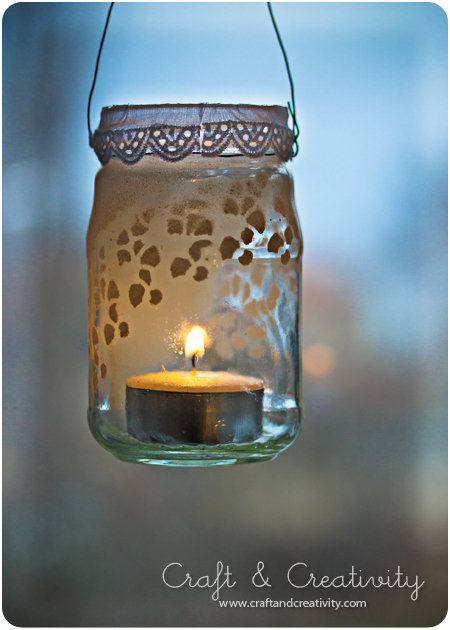 It's cozy to have many lighted candles this time of year, when it's so dark outside.
I made a glass lantern  of an old jar, white spray paint, cake paper and wire.
You will need:
– Glass jar
– Steel wire
– Wire cutter
– Cake paper doily or old lace doily
– White spray paint
– Tape, double-sided, and regular
– Possibly a piece of ribbon or lace
I did like this: 
I started by removing the old label from the jar. At first I let it soak in warm water for a while until the label was easy to pile off. I removed the last of the glue residue with some nail polish remover. Then I placed the cake paper on the jar using double-sided tape and masked the parts I didn't want paint on with ordinary tape. When it was time to spray paint I went outside to avoid the fuses. I didn't use much color because I just wanted a "frosty" feeling. When the paint had dried, I removed the tape and cake paper and wrapped the wire around the jar opening. I bent another piece of wire into a loop that I attached on either side of the jar. Finally, I glued on a white cotton band that I had stashed. And that's it!