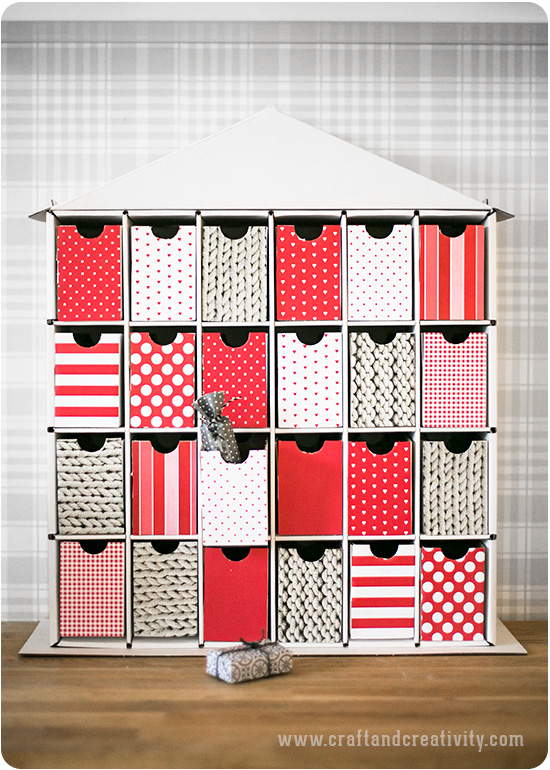 Som utlovat kommer här den andra versionen av adventskalendern vi dekorerade förra veckan. Denna kalender valde vi göra i mer klassiskt juliga färger och vi använde designpapper istället för decoupagepapper. Barnen är väldigt nyfikna på vad kalendrarna kommer fyllas med och gissa om de längtar till 1 december!
——-
As promised, here comes the 2nd version of the Christmas calendar we decorated last week. We chose to decorate this one in classic Christmas colors and used design paper instead of decoupage paper. The kids are very curious about the contents of the calendar and they are really looking forward to December 1st!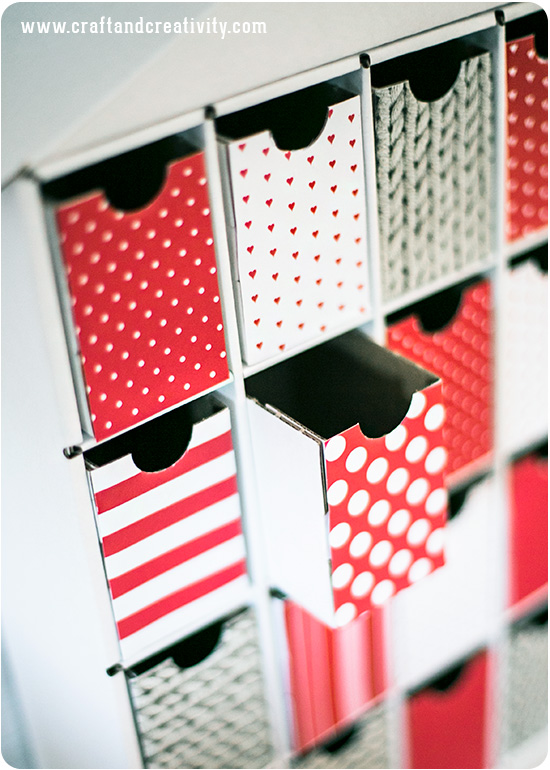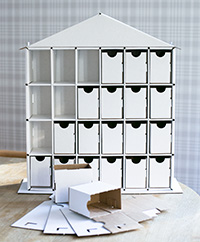 Jag klippte till bitar av mönstrat papper i måttet 8×5,5 cm och limmade fast på framsidan av lådorna med papperslim. Designpapper är ofta 30,5×30,5 cm och då räcker ett ark till 15 lådfronter. Många papper är dubbelsidiga och man får två mönster i ett. Använder man A4-papper räcker ett ark till 10 lådfronter.
———–
I cut patterned paper into 8×5,5 cm pieces and used paper glue to stick them to the front of the drawers. Design paper is often 12×12″ (30,5×30,5 cm) and one sheet will be enough to cover 15 drawer fronts.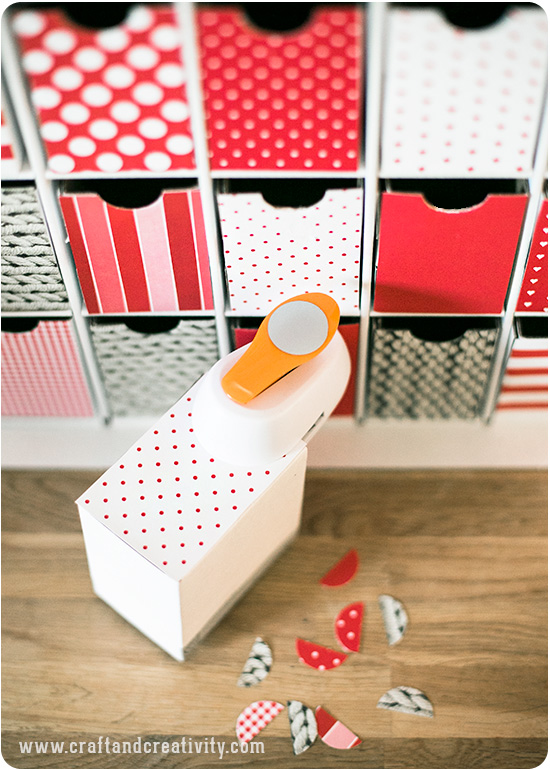 För att få till den runda öppningen använde jag en cirkelformad figurstans som är 25 mm i diameter och den passade precis. Det går förstås också att klippa till rundningen med en sax. Jag har inte satt några siffror på denna kalender men det finns t ex numrerade stickers att köpa.
———–
To form the round opening, I used a circular lever punch, 25 mm in diameter. You could also cut the half circled gap with a pair of scissors. I didn't put any numbers on this one, but you could for example use felt numbers or washi tape with printed numbers.