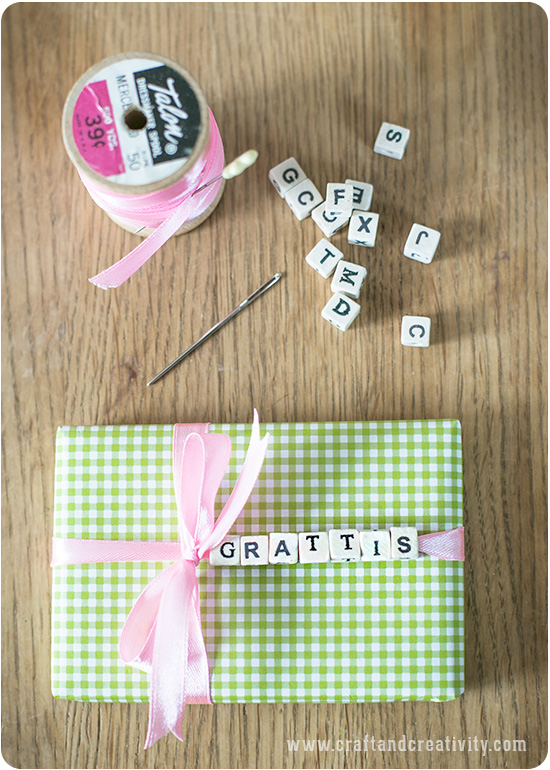 Idag för 2 år sedan skrev jag min första bloggpost på Craft & Creativity. Det är värt att fira!
————-
2 years ago, on this particular day, I wrote my first blog post here at Craft & Creativity. Worth celebrating! 
En av de roligaste sakerna med att ha en blogg är att jag får så mycket inspiration tillbaka. Idén till att trä bokstavspärlor på satinband och använda till presentinslagning fick jag från en av mina bloggbesökare – Petra på Popetotrora.
———
One of the best things about having a blog is getting so much inspiration back. One example is my blog reader Petra over at Popetotrora who used wooden letter beads for gift wrapping. She inspired me to try it out and I really like the result.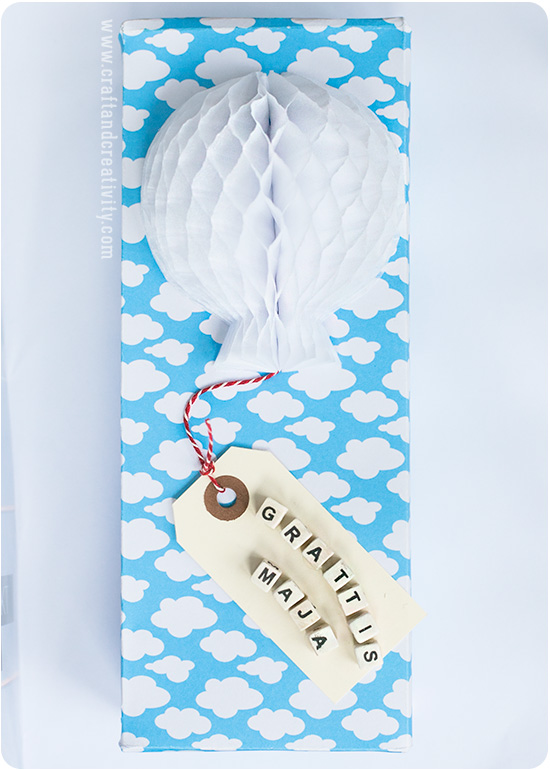 I bloggarnas värld är alla grannar och inspirationen kan likaväl komma från Sverige som Tyskland, Spanien, Australien eller som här från Los Angeles. Äldsta dottern skulle gå på kalas idag och vi fick tillfälle att testa en annan typ av presentinslagning, inspirerad av Kelly på Studio DIY. Besök gärna hennes blogg för en närmare beskrivning på hur man gör dessa luftballonger. Jag och dottern använde oss av molnmönstrat designpapper, manillamärken, tvinnat bomullssnöre, bokstavspärlor och dragspelspapper (s k "honeycomb paper").
———-
In the world of bloggers we are all neighbors and inspiration can be found anywhere, from for example Germany, Spain, Australia, Sweden or as in this example – from Los Angeles. Today, my oldest daughter was invited to a birthday party and we got the chance to try a new idea of gift wrapping, inspired by Kelly at Studio DIY. Please pay her a visit for a great tutorial on how to make these honeycomb balloon gift toppers.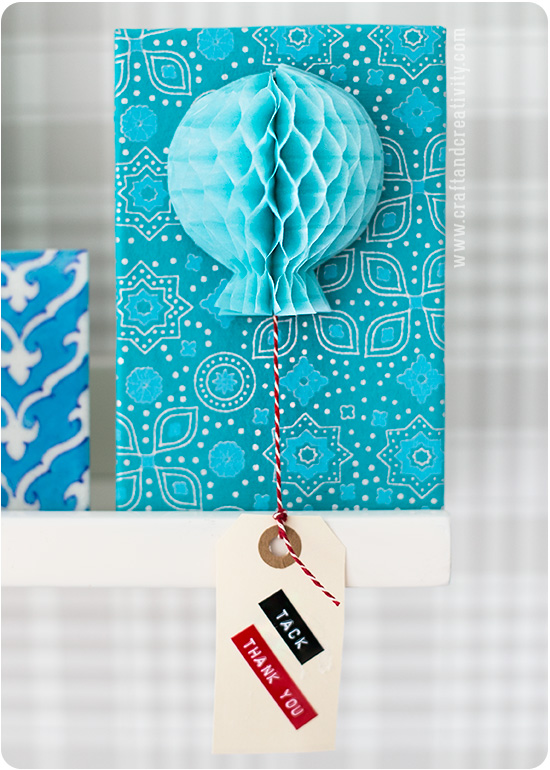 Asken ovan har jag klätt med handgjort papper och texten på manillamärket är skriven med vår label maker. Jag vill passa på och för två fantastiska år och för all inspiration och alla fina kommentarer som ni varit så generösa med. Jag hoppas få fortsätta med det jag gör i många år framöver!
———
I dressed this box with handmade paper and the text on the manilla tags was made with a label maker. I want to take the opportunity to thank you for two fantastic years, for all the inspiration and all the sweet comments you've been so generous with. I hope to be able to continue what I do for many years to come!