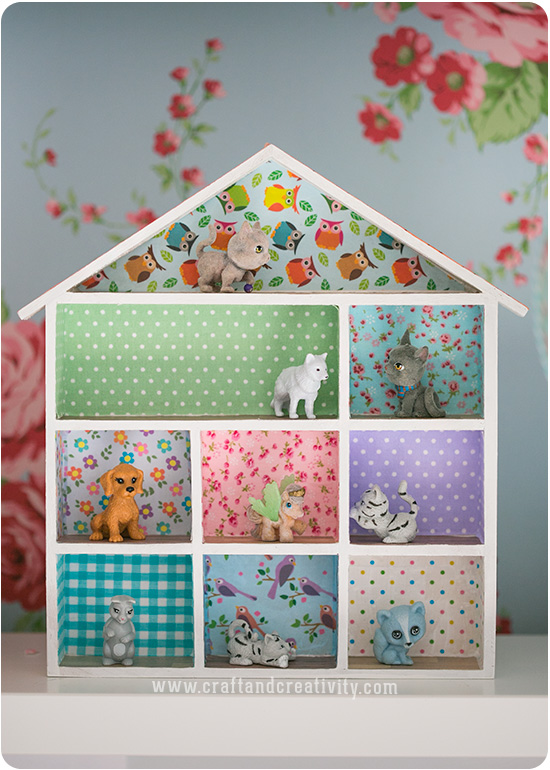 Jag har dekorerat ännu en hushylla, den här gången till min yngsta dotters rum. Tanken är att den ska fungera som ett dockhus i miniatyr till hennes små leksaksdjur.
———–
I have decorated a new house shaped shelf, this time for my youngest daughters room. The idea was to make it into a miniature dollhouse for her small toy animals.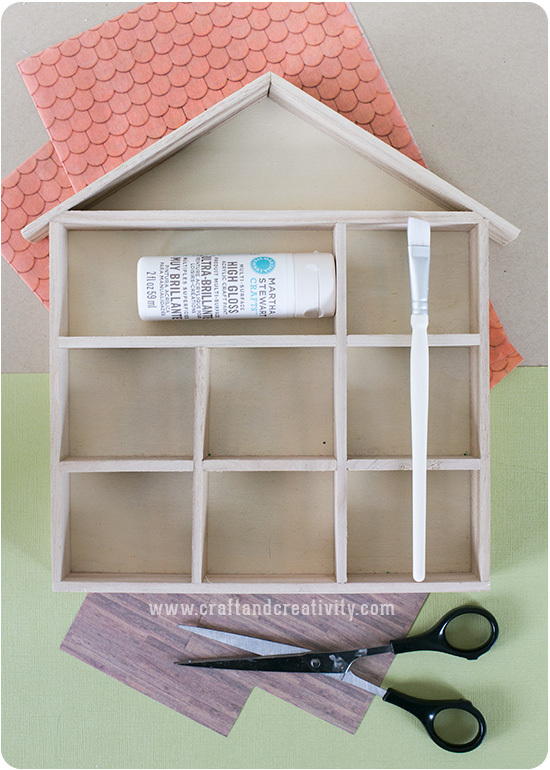 Jag började med att måla hushyllan med två lager högblank vit färg. Eftersom jag ville att min lilla hushylla skulle efterlikna ett dockhus täckte jag taket med deocupagepapper mönstrat som tegelpannor och täckte "golven" i de små rummen med origamipapper som ser ut som trägolv. Som lim använde jag decoupagelack och jag lackade även ytan med det efter att jag limmat fast pappret.
————-
I began by painting the house shelf with two coats of high gloss hobby paint. Since I wanted my shelf to look like a dollhouse I covered the roof with decoupage paper that looks like tile and covered the "floor" of the small rooms with origami paper that looks like wood flooring. I used decoupage lacquer as glue and to seal the surface.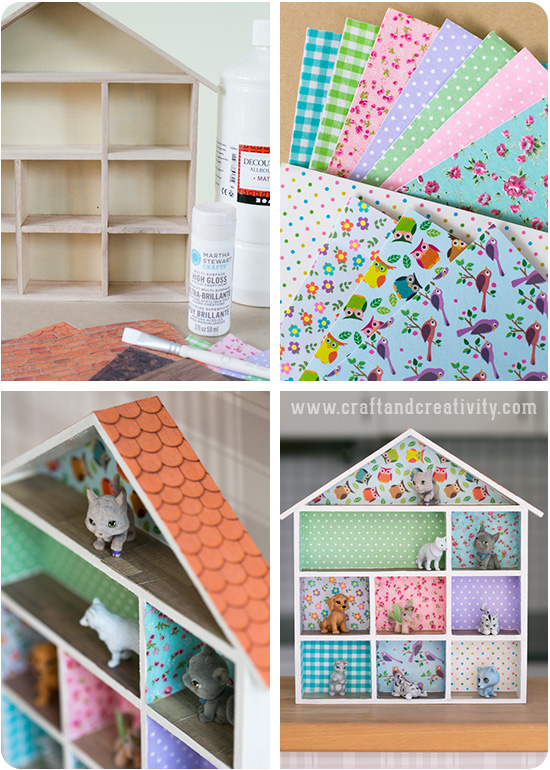 När taket och golvet var klätt så fortsatte jag med väggarna. Jag lät "taken" i rummen vara vita (som i ett riktigt dockhus) och tapetserade med självhäftande tyg och washipapper. Självhäftande ark är enkla att jobba med. Mät upp hur stor bit du behöver för att täcka ytan, klipp i washipappret/tyget i rätt mått, dra bort skyddspappret från baksidan och fäst mot underlaget, i det här fallet "väggarna".
———–
After covering the roof and floor I continued with the walls. I let the ceilings stay white (as in a regular dollhouse) and papered the walls with self-adhesive fabric and washi paper. Self-adhesive sheets are easy to work with. Measure what size you need to cover the area, cut the washipaper/fabric in the right size, remove the protective paper from the back and attach to the surface, in this case the "walls".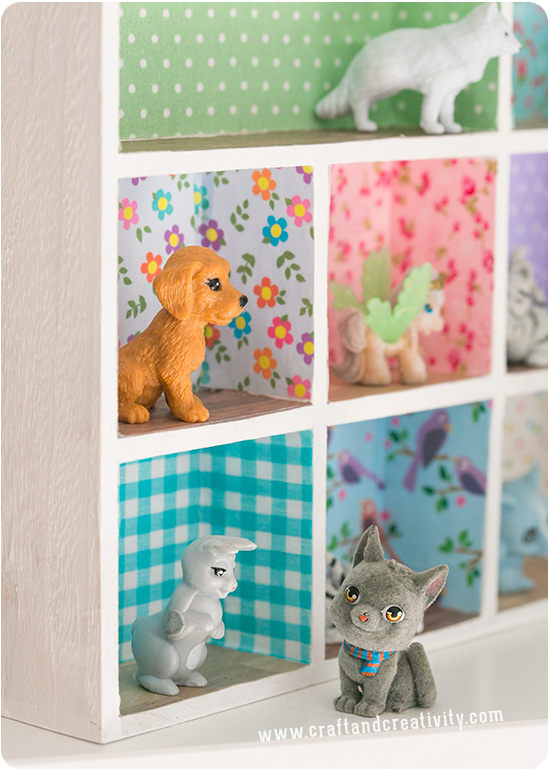 Nu har min dotters miniatyrdjur flyttat in i minidockhuset och vi har börjat spåna på hur vi ska göra lite egna möbler – kanske blir det ett bord av en liten trådrulle, en säng av en gammal tändsticksask och lite tavlor på väggarna. Rummen är 3,3 cm djupa och 5,5 cm höga så man får tänka riktigt smått…
———–
My daughter's toy animals have had a chance to move in and we're brainstorming on how to make some small furniture for the house – perhaps add a small table in the form of a wooden spool, make a bed out of an old matchbox and put some paintings on the wall. The "rooms" are about 3.3 cm (1.3 inch) deep and 5.5 cm (2.2 inch) high, so we have to think really small…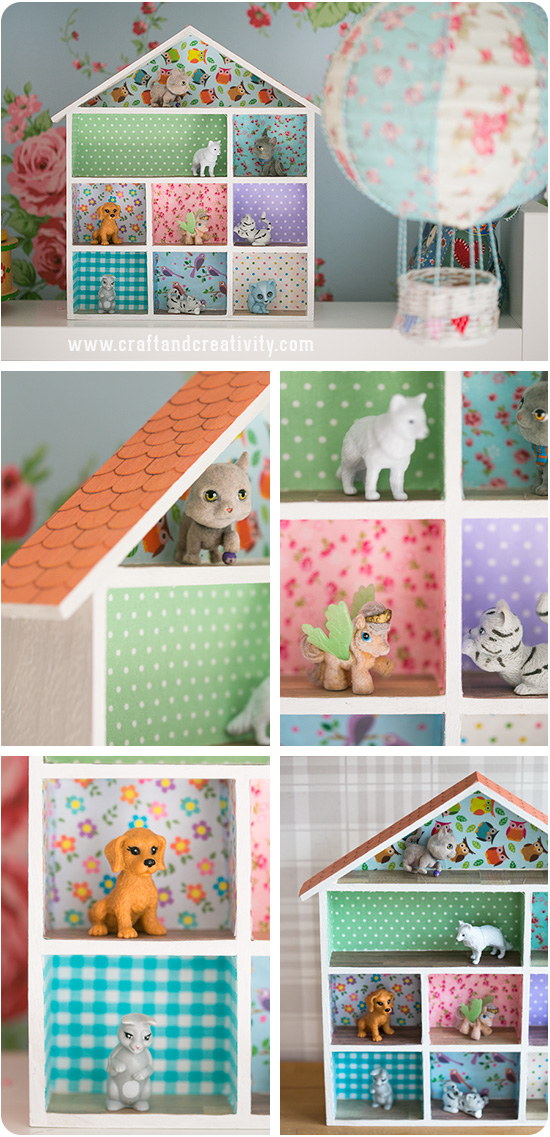 Högst upp i förgrunden skymtar ni en av de luftballonger jag gjorde av rislampor i vintras – ett av de roligaste pyssel jag gjort och jag blir glad varje gång jag ser dem.
———
In the top picture above you can spot one of the hot air balloons I made out of paper lanterns last winter – one of the most fun crafts I've made and I get happy every time I see them. 
Hushyllor dekorerade på fler sätt: / House shelves in more ways: