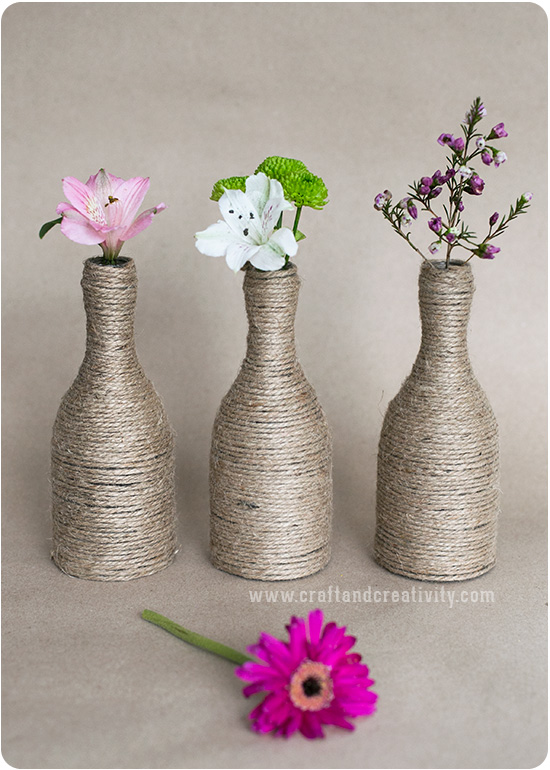 Det är roligt att återanvända gamla glasflaskor och burkar, istället för att bara slänga dem i glasåtervinningen. Här har jag virat naturfärgat linsnöre runt småflaskor och burkar för att skapa vaser och ljushållare. Fördelen med denna variant är att om du täcker hela flaskan/burken med snöre så behöver du inte ens ta bort etiketten först.
———–
It's fun to upcycle old glass bottles and jars, instead of just throwing them in the glass recycling. Here I wrapped flax twine around bottles and jars to create small vases and candle holders. What's great is that if you cover the whole bottle with twine, you don't even have to remove the label first.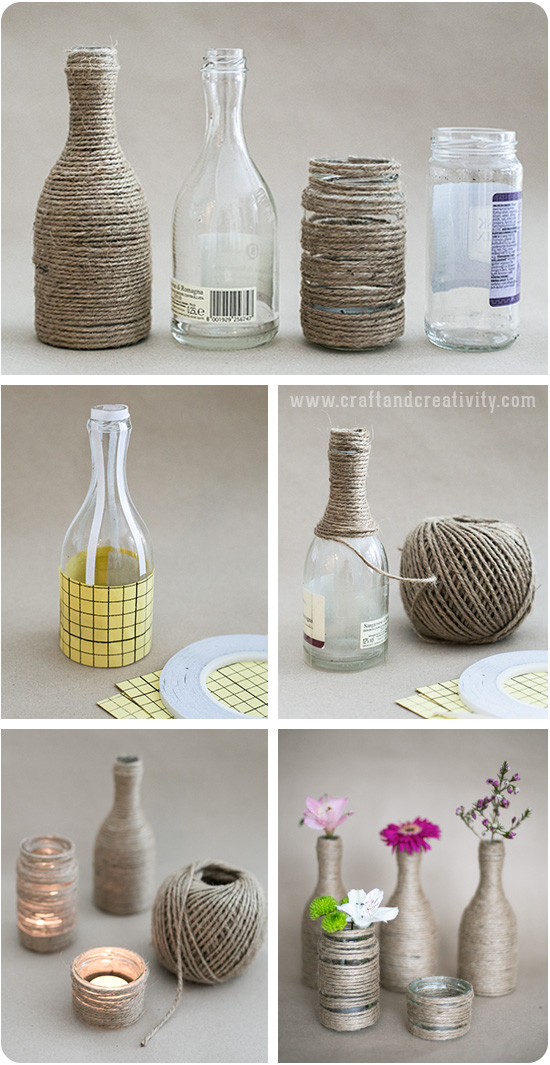 Du behöver: Diskade glasflaskor och burkar, linsnöre (jag använde 3 mm tjockt snöre), dubbelhäftande tejp och/eller dubbelhäftande klisterark och en sax.
Gör så här: Klipp till klisterfolien i en lagom bit som täcker den raka delen av din flaska eller burk. De förtryckta stödlinjerna gör det enkelt att klippa rakt. Dubbelhäftande klisterfolie har skyddspapper på båda sidorna. Tag bort pappret från den ena sidan och fäst folien runt flaskan eller burken. För välvda eller sluttande partier är det enklare att använda bitar av dubbelhäftande tejp, se bild ovan. Du kan även använda tejp på hela partiet och utesluta klisterfolien helt men jag tyckte det gick snabbast på det här sättet och linsnöret fäste ännu bättre. Dra bort skyddspappret från klisterfolien och den dubbelhäftande tejpen och börja vira linsnöret runt flaskan eller burken, så tätt eller glest som du önskar. Det går på ett kick! Ett alternativ för tejp är att använda lim (vilket jag testat förut), vilket också fungerar men blir betydligt kladdigare.
————
You will need: Clean glass bottles and jars, flax twine, double-sided adhesive tape and/or sticky tape sheets and a pair of scissors.
Do like this: Cut the sticky tape sheets into a piece or pieces big enough to cover the straight part of your bottle or jar. The sheets have protective paper on both sides. Remove the backing paper from one side and press the sticky tape around the bottle or jar. For curved or sloping parts it's easier to use pieces of double-sided adhesive tape, as shown in the picture above. Remove the backing paper from the sheets and the tape and start wrapping the twine around the bottle, as tight or sparsely as you wish. You will be done in a few minutes! As an alternative to tape you can use glue (I've tried that too), which also works but is a lot messier.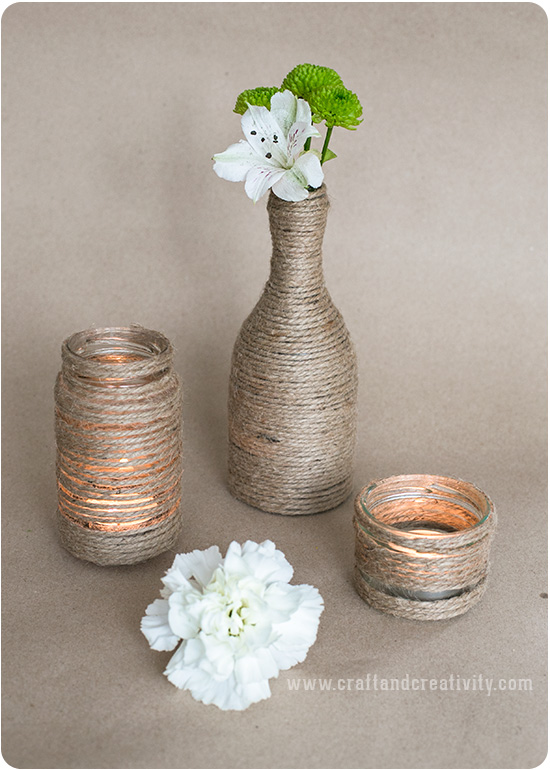 Burkarna valde jag att vira natursnöret ganska glest för att släppa igenom strimmor av ljus från de brinnande värmeljusen. Eftersom snöret sitter på utsidan av glasburkarna blir det ingen ökad brandrisk men tänk på att aldrig lämna brinnande ljus utan uppsikt.
———
I chose to wrap the jars somewhat sparsely to allow the light from the candles shine through the twine. Because the twine is on the outside of the glass there will be no increased fire risk, but please remember never to leave burning candles unattended.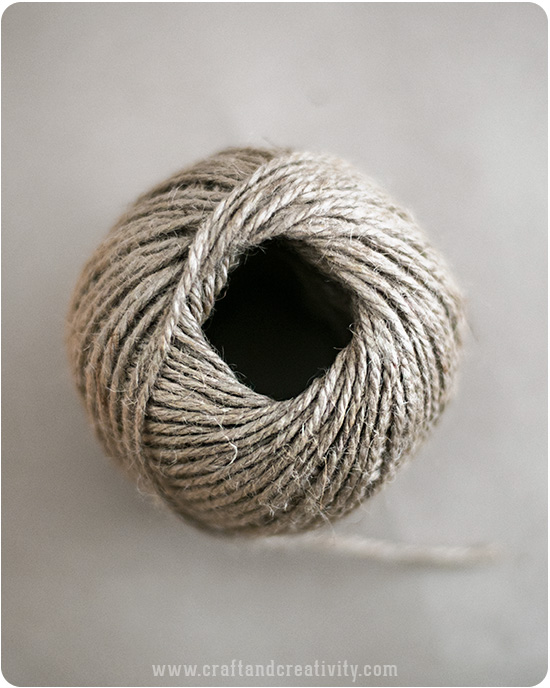 Natursnören är vackra material som inte kostar mycket. Jag brukar använda natursnöre till presentinslagning bland annat.
———–
Natural twine is a beautiful and affordable material. I use twine for gift wrapping among other things.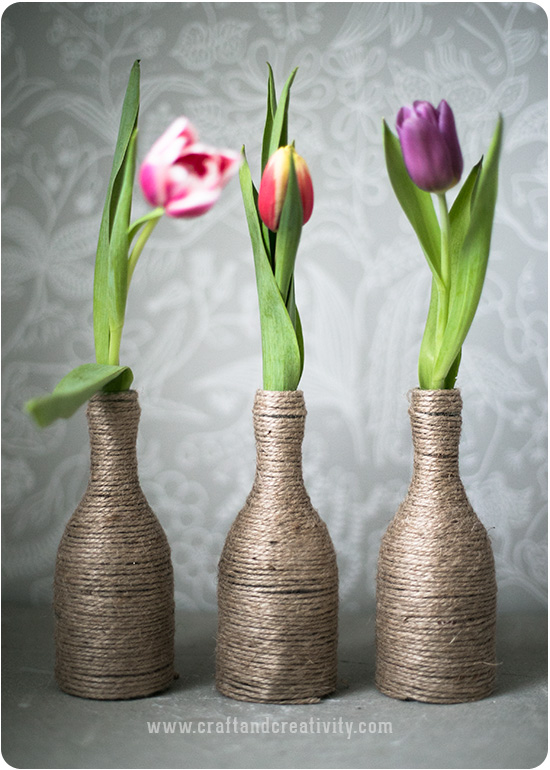 Tack vare att vaserna blev så enkla och stilrena så tycker jag att de framhäver själva blomman. / I think the vases highlight the flowers, thanks to their simplicity.
Fler av mina återbrukspyssel med glasflaskor och glasburkar: /
More of my upcycling ideas using glass bottles and jars: