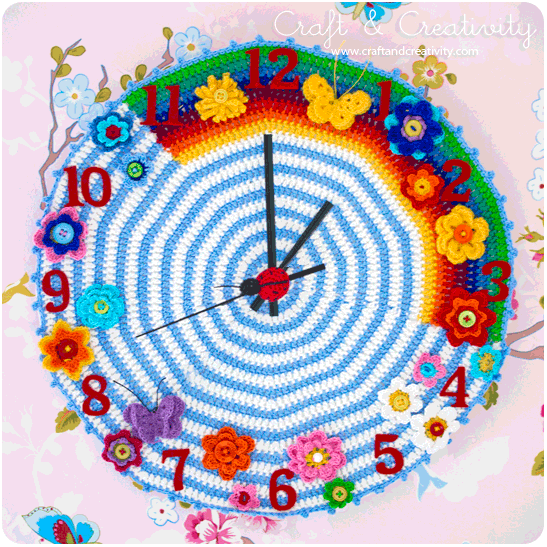 Min äldsta dotter önskade sig en klocka och det var ett utmaning som min mamma hade svårt att motstå, som den virkfantast och urmakardotter hon är. Mamma hade sett en fin virkad klocka på nätet som dök upp ur minnet och en kort tid senare var klockan klar! Som ni ser ovan så snurrar nyckelpigan i takt med sekundvisaren. <3
———-
My oldest daughter wished for a clock and my mother could not resist the challenge, being a watchmaker's daughter and a crochet pro. Mom had seen a pretty crocheted clock online that came to mind, and not before long she had made her own version! As you can see above, the ladybugs rotates in line with the clock's hand. <3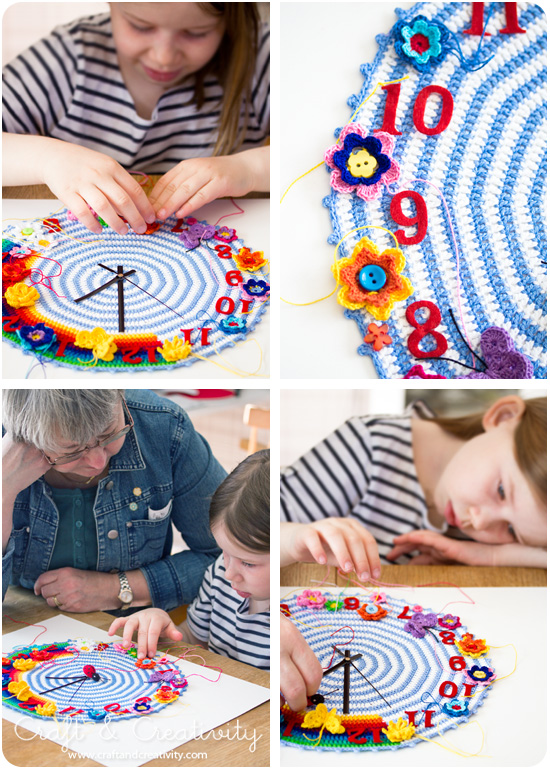 Tillsammans bestämde mormor & dotterdotter hur blommorna och fjärilarna skulle placeras. Virkgarn, urverk, knappar och filtsiffror har mamma köpt i min butik Make & Create. Vilken sponsor vi har, jag & mina kollegor!


———-
Grandmother & granddaughter decided together how to place all the flowers and the butterflies.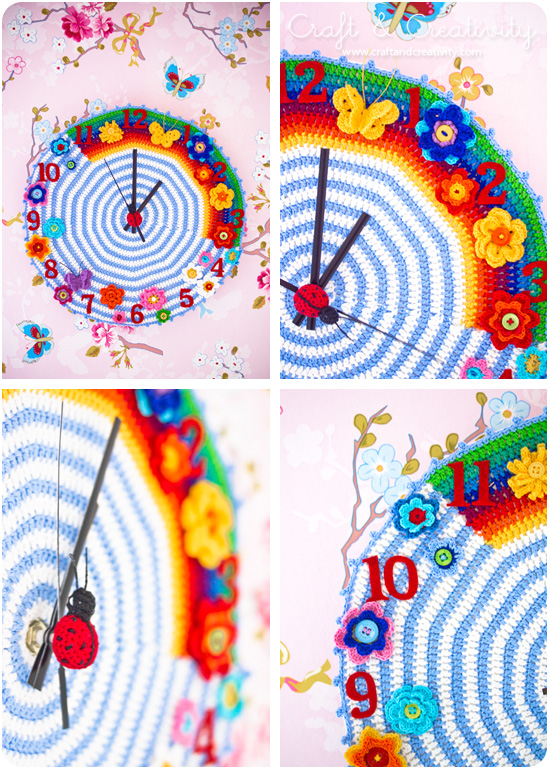 Mamma fick inspiration till klockan från duktiga According to Matt, där det även finns en utförlig engelsk beskrivning. Mamma skriver på Annie's Granny Design om hur hon gjorde sin klocka och där finns en svensk beskrivning, plus mammas eget mönster på nyckelpigan, mönster på fjärilarna och länkar till mönster på olika sorters virkade blommor. Vill man så kan man också dekorera klockan med filtblommor eller filtfjärilar t ex.
———–
My mother got the inspiration for this clock from the talented According To Matt, where you can find a detailed tutorial in English. At my mom's blog Annie's Granny Design, she writes about how she went about making her version of the clock. She shares patterns for the ladybug and the butterflies and links to a wide range of crochet flower patterns. 
Självklart ville lillasyster också ha en klocka och ovan ser ni hur den blev. En variant på samma tema men med turkosa ränder och en vit picotkant. Underbara glädjespridande klockor, båda två!
Sist men inte minst – ett behjärtansvärt tips till alla er som tycker om att virka: Virka en bläckfisk till ett för tidigt fött barn. Den ideella organisationen som anordnar detta har även en Facebook-sida.
————–
To no surprise, my youngest daughter also wanted her own clock and my mom gladly made one for her too. As you can see above, it's a variation on the same theme but with turquoise stripes and a white picot edge. Beautiful happy clocks, both of them!