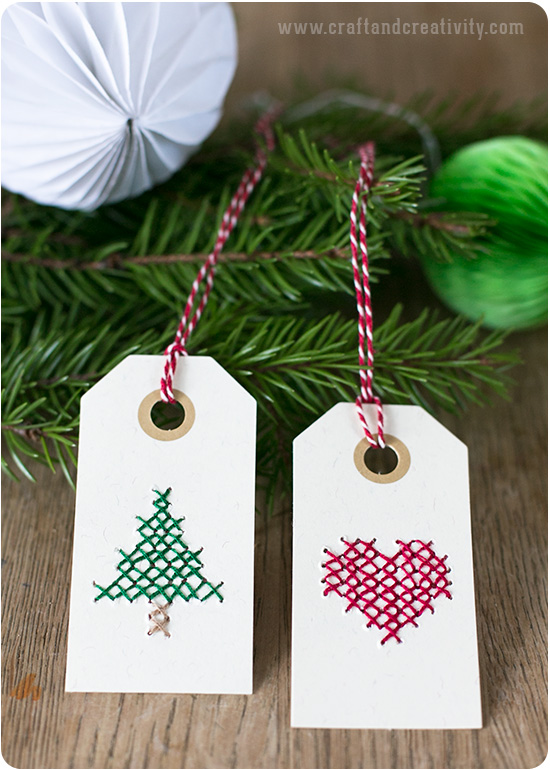 Att brodera på papper är kul och en del av er kanske minns min broderade pappväska och tändsticksaskarna som jag dekorerade med korsstygn. Efter att ha inspirerats en bild på Pinterest från den finska bloggen Oi Paketti fick jag idén att även brodera på manillamärken. De små honeycomb pappersbollarna finns hos Make & Create.
———-
Embroidery on paper is fun and some of you may remember my embroidered paper suitcase and my cross-stitched matchboxes. Having spotted a picture on Pinterest I got inspired to cross stitch on manila tags. The picture led me to the Finnish blog Oi Paketti, where you can find more inspiration.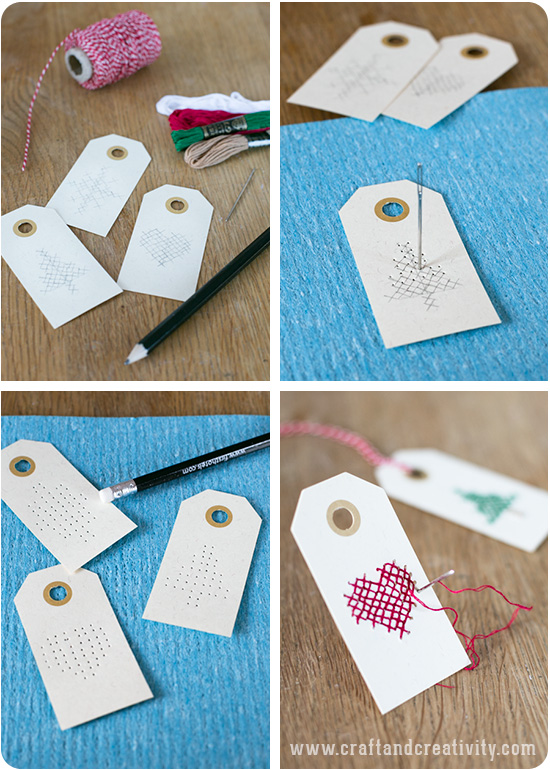 Jag skissade mina korsstygsmönster med blyerts. För att få ett mjukt underlag och inte skada bordet placerade jag mina manillamärken ovanpå en torr disktrasa innan jag stack hål med en stoppnål. När alla hål var klara suddade jag bort blyertsen och började brodera med broderigarn. Inspiration till korsstygnsmönster finns det massor av på Pinterest. Tycker man det är svårt att få kryssen raka kan man göra som Oi Paketti och skissa på ett rutat papper, lägga det ovanpå etiketten och sticka med nålen igenom båda lager.


———–
I drew my cross stitch patterns with a pencil. In order to get a soft padding and not damage the table I placed my manila tags on top of a dry washcloth before punching holes with a darning needle. When finished making the holes I erased all the pencil strokes and began embroidering. You can find a lot of cross stitch inspiration at Pinterest. If you need a bit of guidance to get your cross stitches strait you can make your sketches on a piece of graph paper, place it on top of the manila tags and push the needle through both layers, like Oi Paketti did.