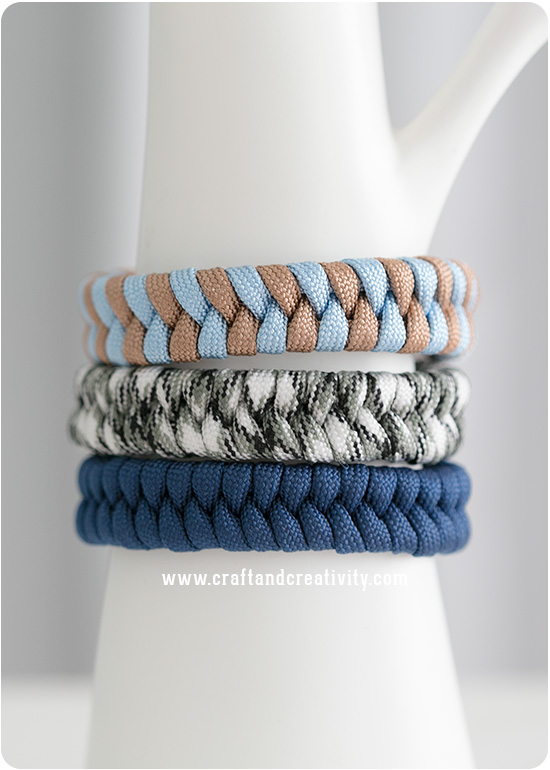 Armband av tjockt knytsnöre, s k Paracord, har blivit väldigt trendiga. Deras popularitet är lätt att förstå eftersom armbanden är enkla att göra och passar både killar och tjejer, barn och vuxna. Ursprungligen kallas dessa armband för överlevnadsarmband eftersom de efter uppflätning kan användas som t ex tältlina, till snaror och till att bygga vindskydd. Paracord är en typ av fallskärmslina av färgad nylon med en vit kärna med flera tunna trådar. Idag används armbanden kanske mest som en snygg accessoar.
————-
Paracord bracelets have become very trendy. It's easy to see why, since they are easy to make and look great on both boys and girls as well as grown-ups. These bracelets are originally called survival bracelets because they can be unraveled and used as tent rope, traps and to build shelters. Paracord is a type of parachute cord with a center of white inner strands. Apart from survival gear the bracelets are used as a stylish accessory. 
Jag har gjort en videobeskrivning som förklarar hur du går till väga för att göra den här varianten av makraméarmband med fiskbensmönster. Videon visar hur du gör ett tvåfärgat armband men det går förstås även bra att bara använda en färg.
———–
I've made a video tutorial that explains how to make a fishtail paracord bracelet. My video shows how to make a two-colored bracelet, but of course you can make them in one color as well.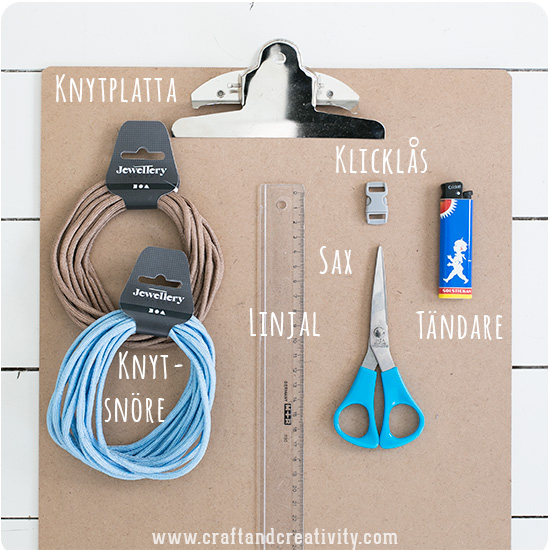 Det du behöver är: 2×1,3 m långt 5 mm tjockt knytsnöre, linjal, sax, klicklås och en tändare. En knytplatta underlättar arbetet och håller armbandet på plats under tiden som du knyter.
———–
What you need is: 2×1,3 m (2 x 4 ft) 5 mm thick cord, a ruler, a pair of scissors, buckles/clips and a lighter. A clipboard makes your work easier and keeps the bracelet in place.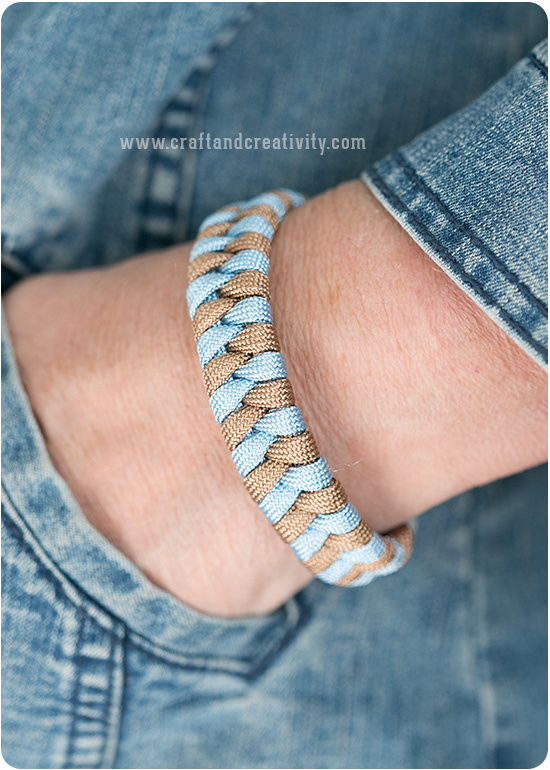 Att göra video var roligt och fler videobeskrivningar kommer framöver. Nästa gång tänkte jag visa hur man knyter ett klassiskt makraméarmband med samma typ av snöre som fiskbensarmbandet.
———-
Making videos was fun and I will make more videos in the future. Next time I thought I'd show you how to tie a classical paracord bracelet with the same type of cord as with this fishtail bracelet.