Nu kanske inte varken fjädrar eller fjärilar hör julen till men tycker ändå att dessa tags passar på julklapparna. Det gick på ett kick att dekorera etiketterna. Silikonstämplar sätter man på ett akrylblock som man sedan stämplar med. Fördelen med silikonstämplar är att de är genomskinliga och man ser precis var motivet hamnar. Snöret är en bit tvinnad svartvit Bakers twine (finns i en massa olika färger).
————
Neither feathers nor butterflies are very Christmassy but I actually think that these tags will fit nicely on my Christmas gifts, especially in combination with this black and white gift wrapping paper. The tags took me very little time to decorate. I placed my silicone rubber stamps on an acrylic block and use it to stamp with. One advantage with silicon stamps is that they are transparent and you can easily see through them when placing your motifs. The cotton string is a piece of Bakers twine which is available in many different colors.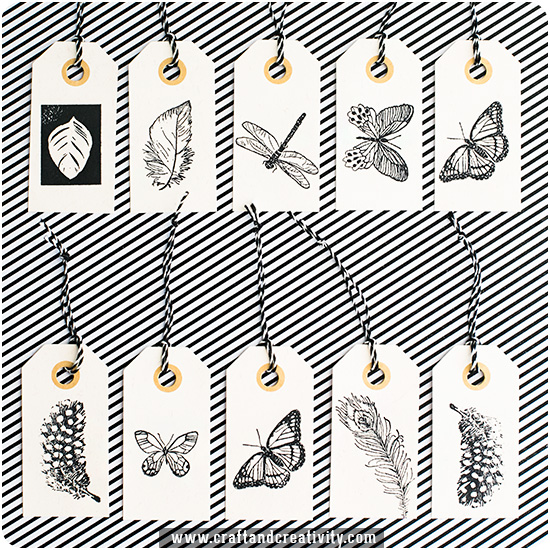 Mina etiketter är inspirerade av danska Vanilla Fly's fina manillamärken som jag fick upp ögonen för på Formex-mässan i augusti. Redan i juni stämplade jag presentpapper med mina silikonstämplar men tänkte inte då på att jag även kunde stämpla etiketter.
——–
My tags are inspired by Vanilla Fly's pretty manilla tags which I spotted at the Formex Fair in Stockholm in August. In June I stamped wrapping paper with my silicone stamps but I never thought of stamping tags before.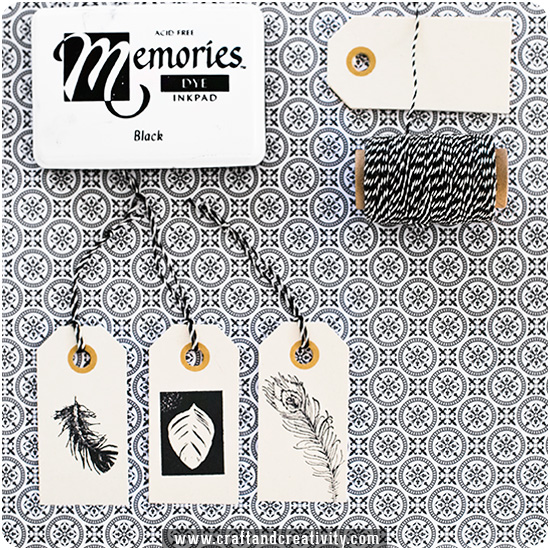 Silikonstämplar finns även som bokstäver för den som vill ha text på sina etiketter. Eller så använder man traditionella bokstavsstämplar av gummi & trä. Min favorit när det gäller stämpeldynor är Memories Dye som är vattenfast och snabbtorkande.
————
Silicone stamps are also available as letters for those who want to stamp text on their tags. Or simply use traditional letter stamps made of rubber & wood. When it comes to stamp pads my favorite is Memories Dye, which is water resistant and quick drying.