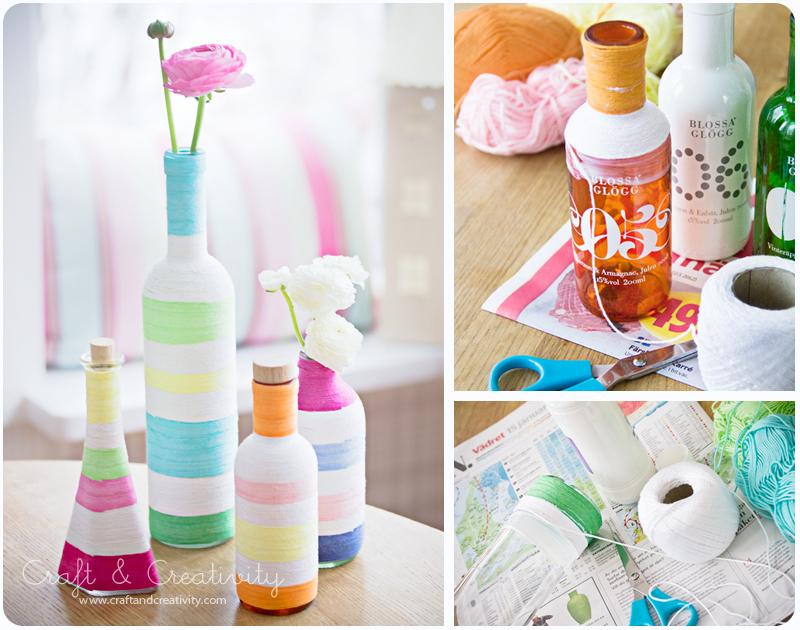 Allt du behöver är flaskor (gamla glöggflaskor är t ex perfekta!), garn, klister (t ex decoupagelim eller Mod Podge) och en sax. Det blir lite kladdigt men det är det värt!
Idén har jag inte hittat på själv utan jag fann inspiration på några olika ställen, t ex Style Me Pretty. Sedan gjorde jag lite som jag själv tyckte, som vanligt. 🙂 Detta pyssel gav mersmak och jag kunde nästan inte sluta. Började fundera på om man kan göra likadant med skokartonger, gamla konservburkar, krukor… Varför inte?
Och visst är det vackert med ranunkler? Den mest vårliga blomman av dem alla, i min mening. Faktum är att det känns som lite vår inne nu, trots snön som faller ute.
——-
All you need is some old bottles, yarn, glue (for example Mod Podge or decoupage glue) and a pair of scissors. It's gets a bit messy, but it's worth it! 
I didn't come up with this idea all by myself. The inspiration comes Style me Pretty. I also improvised a bit, as usual. 🙂 I had so much fun making these, I could hardly stop. I began to wonder if it would work to do the same thing with shoe boxes, old tin cans, pots … Why not? 
And aren't ranunculuses beautiful? It's the most spring like flower of them all, in my opinion. In fact, it now feels a little bit like spring in the house, despite the snow falling outside.
Några användbara tips: 
Börja från toppen av flaskan och arbeta dig neråt, från den smalare delen till den tjockare. Det är enklast, märkte jag efter mitt första försök då jag gjorde tvärtom.
Vid byte av färg på garnet, se till att byta på samma ställe hela tiden och använd den sidan som "baksida".
Pensla på lite klister i taget, det torkar ganska snabbt. Plus att du slipper bli kladdig i onödan.
Ju tjockare garn desto snabbare går det att täcka flaskorna. Men jag tycker samtidigt att det gav en fin effekt med mitt ganska tunna garn (för stickor nr 3). En smaksak, helt enkelt.
Om du vill använda flaskorna som vaser kan det vara en god idé att pensla lite genomskinlig lack eller vattenbeständigt klister högst upp på flaskhalsen när du virat klart, så att inte garnet lossnar när det kommer vatten på.
Some useful advice: 
Start from the top of the bottle and work your way down to the bottom. It the easiest way, I discovered after my first bottle when I did it the "hard" way. 
When changing the color of the yarn, make sure to change it in the same place all the time and use that side as the "back" of the vase.
Put on a little bit of glue at a time, it dries fairly quickly. Plus you won't get your fingers too sticky. 
The thicker the yarn, the faster you will cover the bottles. But at the same time, I think my thin yarn turned out to give a pretty nice effect. It's just a matter of taste, which ever you prefer. 
If you want to use the bottles as vases it can be a good idea to brush a little bit of transparent lacquer or water-resistant adhesive on top of the bottle neck when you finished wrapping, so that the yarn doesn't comes off when exposed to water.