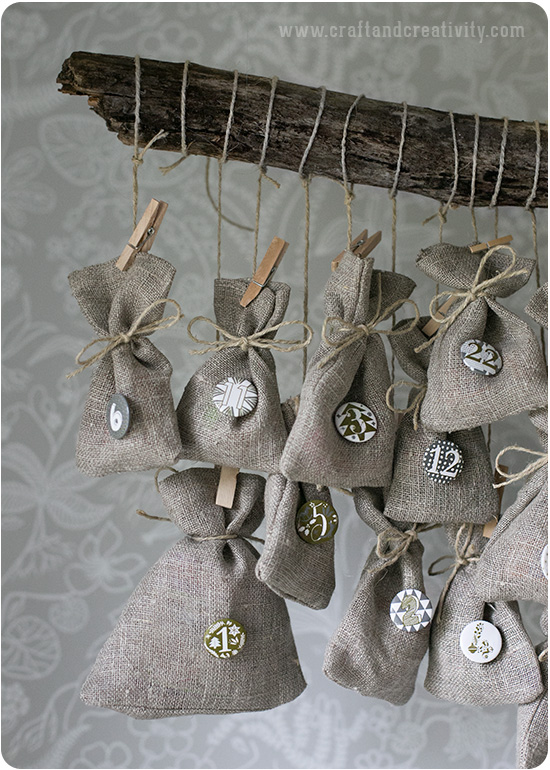 Förra helgen började jag förbereda årets paketkalender till mina döttrar. Nu återstår bara att fylla påsarna med små presenter att öppnas varje dag i december, fram till jul. Tanken är att påsar ska kunna återanvändas år efter år och knapparna kan man ta loss eftersom de har en säkerhetsnål på baksidan. Läs vidare så ska jag förklara hur jag gjorde påsarna.
————
Last weekend, I began to prepare this year's advent calendar for my daughters. All that is left is to fill the bags with small gifts to open every day in December until Christmas. The plan is to reuse these bags year after year and all the buttons can easily be detached since they have a safety pin on the back. Scroll down to follow my step-by-step tutorial.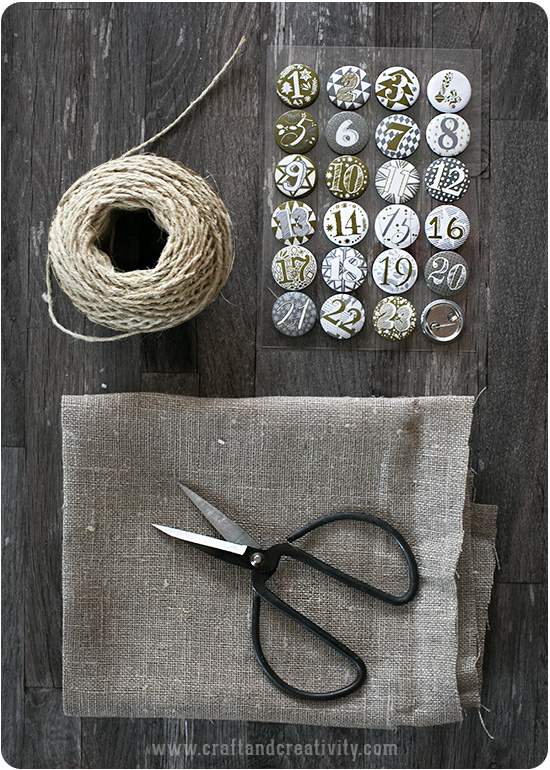 Du behöver: 140×50 cm naturlin, 24 st knappar med siffror och säkerhetsnål på baksidan (från Rico design), ca 15 meter natursnöre av lin (eller naturhampa), 24 st klädnypor (om du vill kunna hänga upp påsarna), en sax, beige eller grå sytråd och en symaskin.
—————–
You will need: 140×50 cm (55×20 inch) natural linen, 24 button badges with safety pins on the back (from Rico design), about 15 meters linen twine (or hemp twine), 24 clothespins (if you want to hang the bags), a pair of scissors, sewing thread and a sewing machine.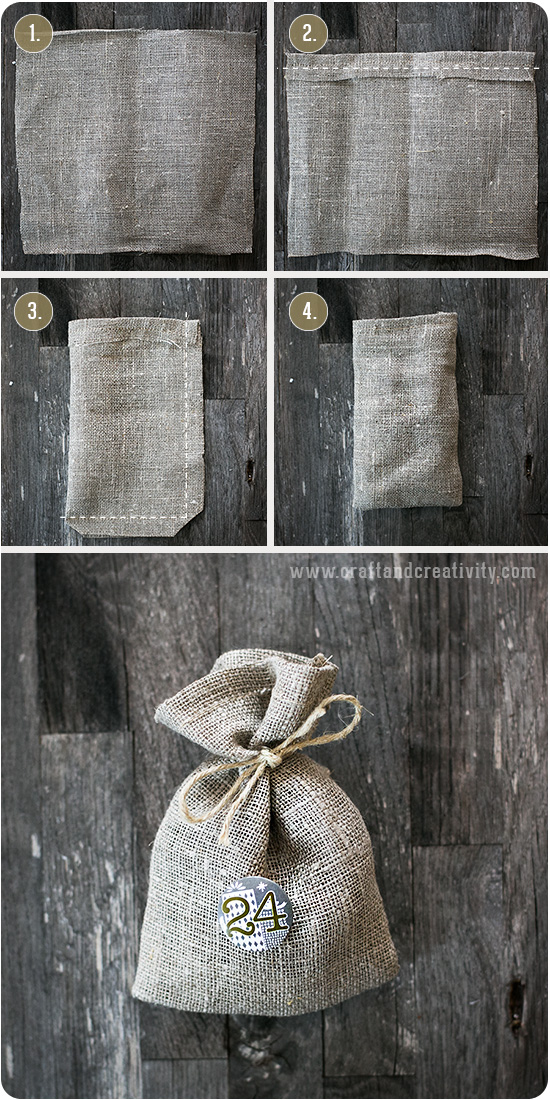 Gör så här: Klipp till 24 st bitar av naturlinet (varje bit viks senare dubbelt för att bilda en påse). Jag klippte mina i lite olika storlekar där de minsta påsarna blev ca 7×11,5 cm och de största blev ca 13,5×15 cm. Jag sicksackade inte kanterna och mätte inte heller så noga när jag klippte till bitarna utan det blev lite hipp som happ. Men resultatet blev ändå fint.
Vik ner den övre kanten ca 1,5 cm och sy med raksöm ca 1 cm från kanten.
Vik tyget dubbelt med den fållade kanten uppåt. Sy botten och sidan med ca 1-1,5 cm sömsmån. Klipp hörnen för att få snyggare hörn när du vänder påsen.
Vänd påsen så att du får sömsmånen inåt. Nu kan du fylla påsen, fästa knappen på framsidan med säkerhetsnålen och knyta ett natursnöre runt.
————
Do like this: Cut 24 pieces of natural linen (every piece is later folded twice to form a bag). I cut my pieces in different sizes and the smallest bags turned out to be about 7×11.5 cm (2.8″x4.5″) and the largest about 13,5×15 cm (5.3″x5.9″). I chose not to zigzag the edges. 

Fold down the top about 1.5 cm (0.6″) and sew straight stitches about 1 cm (0.4″) from the edge. 

Fold the fabric in half with the hemmed edge facing upwards. Sew the bottom and side with about 1-1.5 cm (0.5″) seam allowance. Trim the corners to get prettier corners when turning the bag inside out. 

Turn the bag inside out. Now you can fill the bag, pin the button badge to the front and tie a string around.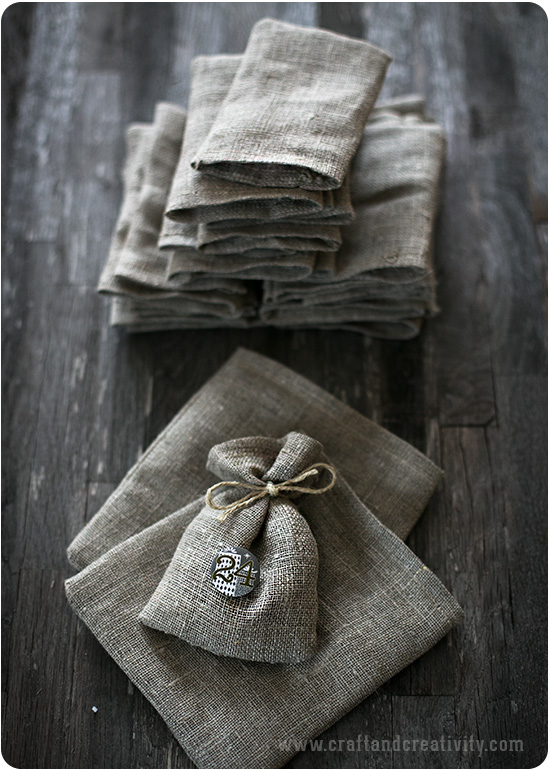 Istället för naturlin kan du självklart använda vilket tyg som helst till din adventskalender. Juteväv skulle t ex också kunna passa fint.
————
Instead of using natural linen you can use any fabric you like for your advent calendar.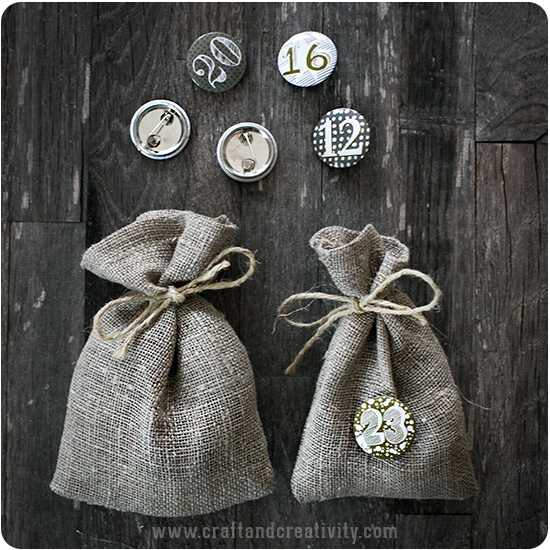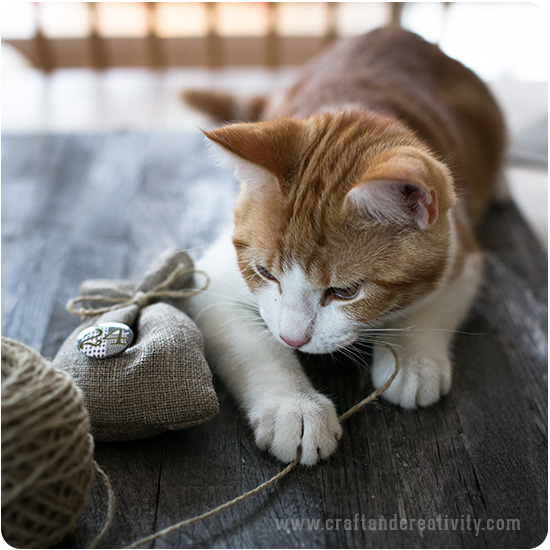 Som alltid när jag pysslar med snören så är katterna framme och vill busa…
———-
As always when I craft with string or yarn the cats come and want to play…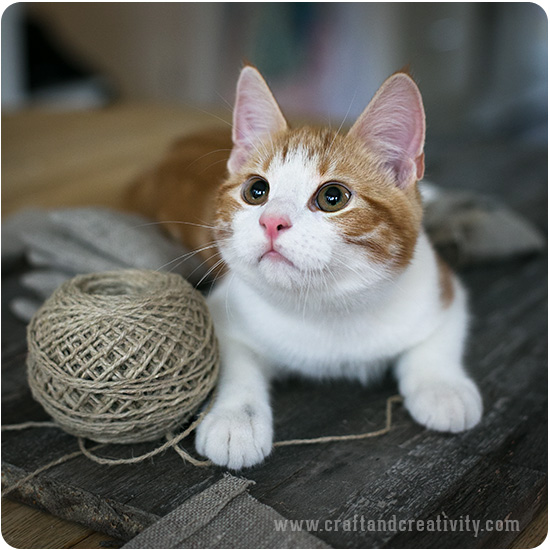 "-Snälla, kan jag få en bit av snöret att leka med…?" /
"-Please, can I get a piece of twine to play with…?"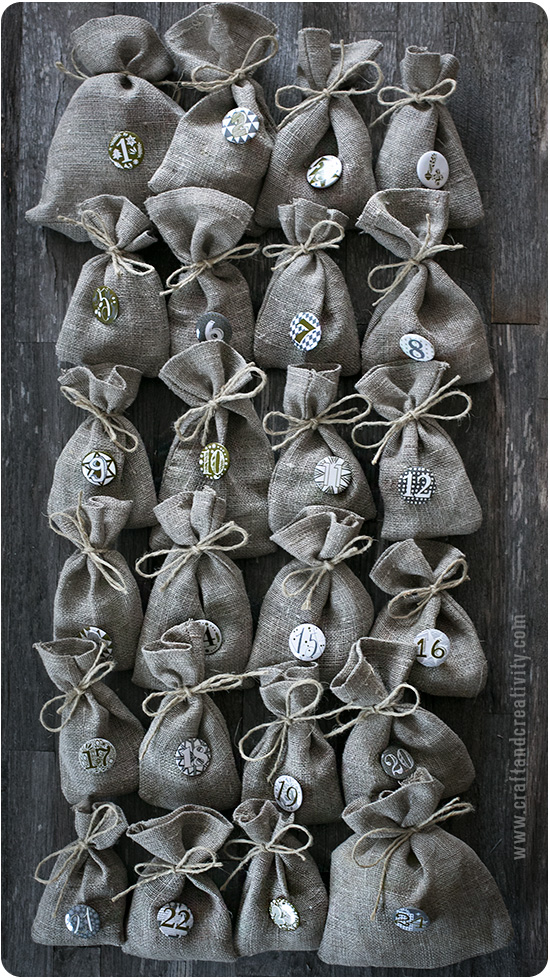 Du kan vara nybörjare vid symaskinen och ändå fixa att sy påsarna utan problem. Det tog mig drygt 1 timme att sy ihop alla påsarna.
———-
You can be a beginner at sewing and still manage sewing these bags without any problems. It took me a bit over an hour to sew all the bags.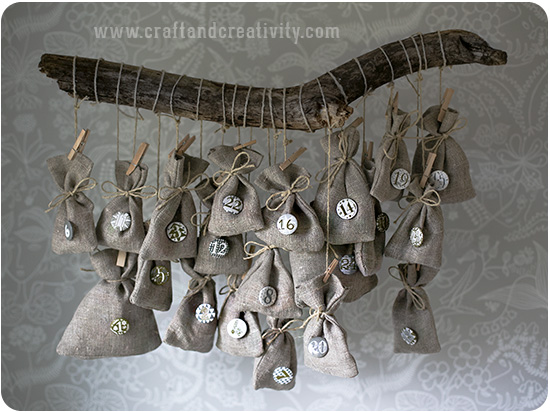 Jag hittade en tjock gren i trädgården och runt den knöt jag 24 olika långa bitar natursnöre. Vid varje ände klämde jag fast en påse med hjälp av klädnypor av trä. Grenen hängde jag i taket med stark genomskinlig nylontråd som gör att det ser ut som att grenen "svävar" i luften. Jag tror att mina tjejer kommer gilla att plocka ner påsarna en i taget när det väl blir december.
———–
I found a thick branch in the garden and around it I tied 24 pieces of linen twine. At each end I pinned a bag using wooden clothespins. I hung the branch from the ceiling with two pieces of strong transparent nylon thread, making the branch look like its "floating" in the air. I think my daughters will enjoy picking down the bags one by one, starting on the 1st of December.